Big ideas.
Once a week.
Subscribe to our weekly newsletter.
Is Philanthropy Driven by the Human Desire to Cheat Death?
George Bernard Shaw quipped that a rich man 'does not really care whether his money does good or not, provided he finds his conscience eased and his social status improved by giving it away'. Was he right?
20 November, 2017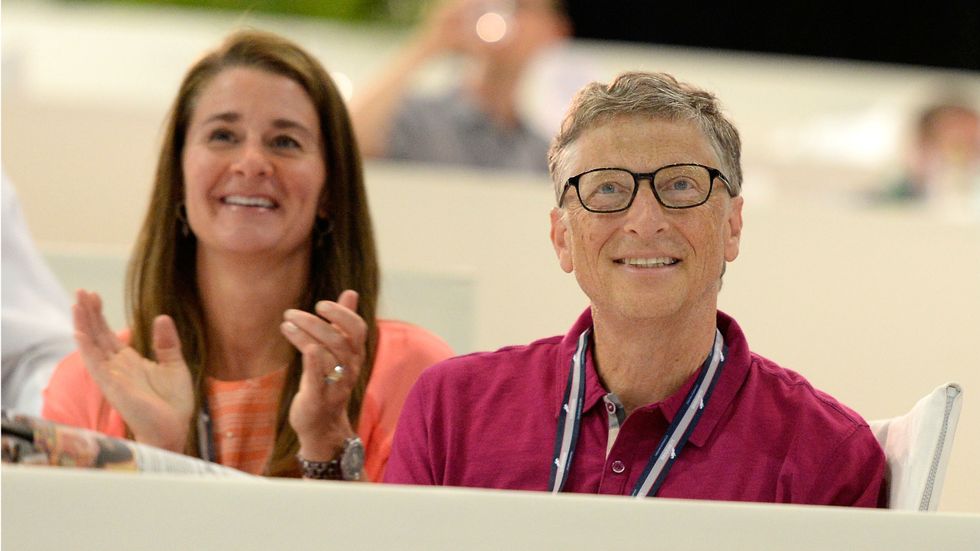 Bill and Melinda Gates watch their daughter Jennifer perform during The Hollywood Reporter Trophy class at Longines Los Angeles Masters. (Photo by Kevork Djansezian/Getty Images for Masters Grand Slam Indoor)
In Socialism for Millionaires (1896), the Irish playwright George Bernard Shaw quipped that a rich man 'does not really care whether his money does good or not, provided he finds his conscience eased and his social status improved by giving it away'. Was he right to be so cynical?
---
The reality today is that private wealth finances only a tiny fraction of social needs. According to Arton Capital and Wealth-X's philanthropy report (2015), ultra-high net-worth individuals in the United States (those who have $30 million and above in net assets) gave $49.2 billion to charities in 2015 – or 19 per cent of all individual philanthropic donations in the US. But if we bring in data from the Urban Institute, which puts the total revenue for US charities at $1.73 trillion in 2015, the super-rich contribute less than 3 per cent of the total.
At least we can console ourselves that non-profits will probably trundle on without donations from the very wealthy. But can the wealthy 'survive' without giving? What needs are fulfilled by philanthropy? Do we give to make the world a better place, to give back to the community? Or is charity motivated by reasons that are far less noble – peer pressure, social status, a version of conspicuous consumption? 
Studies show that, in general, people who feel good, do good – and likewise, people who do good, feel better. The rich are no exception. Giving to charity activates parts of the brain related to reward and pleasure. Yes, the rich do have some distinctive reasons for giving to charity, such as the desire not to 'morally corrupt' their heirs. But like others, they also give to strengthen their identity – and probably, to relieve their guilt. As Shaw said, with typical epigrammatic acuity: 'One buys moral credit by signing a cheque, which is easier than turning a prayer wheel.'
The first person to attribute the act of charity to improving one's public image was the 18th-century Scottish economist Adam Smith, who claimed that people make moral and ethical decisions based on how an impartial observer would judge them. This idea harks back to a dialogue about justice in Plato's Republic, in which Glaucon tells Socrates that people behave ethically only when they think others are watching. 
Fast-forward to 2009, when Dan Ariely, a behavioural economist at Duke University in North Carolina, co-conducted a study evaluating the motive of outward appearances in giving to charity. The research found that appearances are so important that they even trump financial incentives. In the experiment, participants were divided into two groups, where each group was asked to type a combination of letters on a keyboard. They were told that if they typed the combination correctly, some money would be donated in their name to the Red Cross, although never more than a few dollars.
In the 'private' group, members were exposed only to their own 'giving' scores, whereas in the 'public' group, each member was asked to publicly announce his or her donation to the others. In the end, members of the public group got the letter combination right twice as often as members of the private group. At a later stage of the experiment, researchers decided to test whether people would forgo a financial reward to look altruistic in the eyes of others. In the public group, adding a personal financial incentive had only a small effect on its success rate, whereas it increased the private group's success rate by 35 per cent.
There's no doubt that outward appearances help to explain the rise of modern philanthropy. In the early 20th-century US, giving was a way of gaining status for those who had recently acquired a fortune. 'New' and 'old' money competed for large-scale public projects, such as the American Museum of Natural History in New York and the New York City Opera. One can find the names of individual donors splashed across the programmes of philharmonic orchestras, in university brochures and on hospital walls. If donors were not concerned with their personal brand, these displays would be meaningless. In several documented cases at US universities, only around 1 per cent of donors requested to remain anonymous – a statistic often cited by those who argue that cachet and publicity are the main reasons that the rich give to such institutions. And when donations are publicly listed by category, most people donate equal to or slightly above the minimum amount required to secure their spot.
Some researchers explain donors' behaviour with an economic rationale: donors reap benefits from their contributions. When a person donates to a university, perhaps they expect their child to study there. When they donate to a hospital, they're thinking about the day they need its services. However, in 1990 the economist James Andreoni at the University of California, San Diego showed that this model, like that of pure altruism, doesn't capture all the reasons why people give. Perhaps donors enjoy a 'warm glow' from giving, he suggested. Art benefactors, for example, want to perceive themselves as art lovers, as much as they want to contribute to art.
Sometimes people donate when they'd rather not – simply because it's hard to refuse. Researchers at the University of California, Berkeley conducted an experiment in which they asked for donations door-to-door. Some of the houses got a flyer that announced an arrival time for collections, and the others got flyers without a fixed time. In the end, the sum collected from those notified was 17 per cent lower than from the others. The experiment was repeated, except this time the advance-notice flyer was accompanied by an optional 'do not disturb' tick box. The money raised from the group who ticked the box was 35 per cent less than that raised from the group who received no notice.
True, the majority of donations made by the very wealthy are not handed to anonymous fundraisers who knock on doors. Rather, many are made to colleagues and friends who are hard to refuse, especially when they ask for donations to the charities that they champion.
Let's remember, too, that the problems philanthropists want to solve are frequently the result of government decisions, resource allocation and the status of human and property rights. If philanthropists were to commit to deeper and more meaningful action – if they joined governments or other institutions – they could affect public welfare in a more enduring way. Instead philanthropists are often slow to get involved in public policy, and prefer to make donations that counteract the government's shortcomings. This reveals where their priorities really lie.
It's probably impossible to find one explanation for all these patterns. They operate in an intricate web of motives and interests, both altruistic and egoistic. The extent of egoistic motives varies across donors (due to individual diversity), but is linked to donation amount (size matters). Paul Schervish, a professor of sociology at Boston College, claims that an amalgamation of circumstances and on-the-go decisions compel the rich to give, rather than a defined set of psychological reasons. He came up with the term 'moral biography' to describe an individual's personal capacity and moral compass.
Perhaps the most original answer to the question of 'why they give' was offered by the psychologist Ernest Becker. In his Pulitzer-Prize-winning book The Denial of Death (1973), Becker explains that humans use culture to fight against our awareness of our own mortality. We try to give our life a meaning that will outlast us after death. That, or else we distract ourselves from the existential 'terror' by engaging in mind-numbing entertainments – which today might include reality television or social media.
Religious faith is one way we typically tackle the threat of mortality, but it's certainly not the only thing in humanity's toolbox. Hoarding (including money and assets), artistic creativity and even establishing a big family are all things that we hope will outlast us. So whether we leave a plaque with our name on a building, or tell ourselves that we promoted social change and helped the disadvantaged, are we all just trying to fulfil the human quest for meaning, a quest that might be nothing more than the defiance of death?

Jacob Burak
--
This article was originally published at Aeon and has been republished under Creative Commons.
The father of all giant sea bugs was recently discovered off the coast of Java.
SJADE 2018
Surprising Science
A new species of isopod with a resemblance to a certain Sith lord was just discovered.
It is the first known giant isopod from the Indian Ocean.
The finding extends the list of giant isopods even further.
Humanity knows surprisingly little about the ocean depths. An often-repeated bit of evidence for this is the fact that humanity has done a better job mapping the surface of Mars than the bottom of the sea. The creatures we find lurking in the watery abyss often surprise even the most dedicated researchers with their unique features and bizarre behavior.

A recent expedition off the coast of Java discovered a new isopod species remarkable for its size and resemblance to Darth Vader.
The ocean depths are home to many creatures that some consider to be unnatural.
Bathynomus raksasa specimen (left) next to a closely related supergiant isopod, B. giganteus (right)
Sidabalok CM, Wong HP-S, Ng PKL (ZooKeys 2020)
According to LiveScience, the Bathynomus genus is sometimes referred to as "Darth Vader of the Seas" because the crustaceans are shaped like the character's menacing helmet. Deemed Bathynomus raksasa ("raksasa" meaning "giant" in Indonesian), this cockroach-like creature can grow to over 30 cm (12 inches). It is one of several known species of giant ocean-going isopod. Like the other members of its order, it has compound eyes, seven body segments, two pairs of antennae, and four sets of jaws.
The incredible size of this species is likely a result of deep-sea gigantism. This is the tendency for creatures that inhabit deeper parts of the ocean to be much larger than closely related species that live in shallower waters. B. raksasa appears to make its home between 950 and 1,260 meters (3,117 and 4,134 ft) below sea level.
Perhaps fittingly for a creature so creepy looking, that is the lower sections of what is commonly called The Twilight Zone, named for the lack of light available at such depths.
It isn't the only giant isopod, far from it. Other species of ocean-going isopod can get up to 50 cm long (20 inches) and also look like they came out of a nightmare. These are the unusual ones, though. Most of the time, isopods stay at much more reasonable sizes.
The discovery of this new species was published in ZooKeys. The remainder of the specimens from the trip are still being analyzed. The full report will be published shortly.
What benefit does this find have for science? And is it as evil as it looks?
The discovery of a new species is always a cause for celebration in zoology. That this is the discovery of an animal that inhabits the deeps of the sea, one of the least explored areas humans can get to, is the icing on the cake.
Helen Wong of the National University of Singapore, who co-authored the species' description, explained the importance of the discovery:
"The identification of this new species is an indication of just how little we know about the oceans. There is certainly more for us to explore in terms of biodiversity in the deep sea of our region."
The animal's visual similarity to Darth Vader is a result of its compound eyes and the curious shape of its head. However, given the location of its discovery, the bottom of the remote seas, it may be associated with all manner of horrifically evil Elder Things and Great Old Ones.
Every star we can see, including our sun, was born in one of these violent clouds.
Credit
: NASA / ESA via Getty Images
Surprising Science
This article was originally published on our sister site, Freethink.
An international team of astronomers has conducted the biggest survey of stellar nurseries to date, charting more than 100,000 star-birthing regions across our corner of the universe.
Stellar nurseries: Outer space is filled with clouds of dust and gas called nebulae. In some of these nebulae, gravity will pull the dust and gas into clumps that eventually get so big, they collapse on themselves — and a star is born.
These star-birthing nebulae are known as stellar nurseries.
The challenge: Stars are a key part of the universe — they lead to the formation of planets and produce the elements needed to create life as we know it. A better understanding of stars, then, means a better understanding of the universe — but there's still a lot we don't know about star formation.
This is partly because it's hard to see what's going on in stellar nurseries — the clouds of dust obscure optical telescopes' view — and also because there are just so many of them that it's hard to know what the average nursery is like.
The survey: The astronomers conducted their survey of stellar nurseries using the massive ALMA telescope array in Chile. Because ALMA is a radio telescope, it captures the radio waves emanating from celestial objects, rather than the light.
"The new thing ... is that we can use ALMA to take pictures of many galaxies, and these pictures are as sharp and detailed as those taken by optical telescopes," Jiayi Sun, an Ohio State University (OSU) researcher, said in a press release.
"This just hasn't been possible before."
Over the course of the five-year survey, the group was able to chart more than 100,000 stellar nurseries across more than 90 nearby galaxies, expanding the amount of available data on the celestial objects tenfold, according to OSU researcher Adam Leroy.
New insights: The survey is already yielding new insights into stellar nurseries, including the fact that they appear to be more diverse than previously thought.
"For a long time, conventional wisdom among astronomers was that all stellar nurseries looked more or less the same," Sun said. "But with this survey we can see that this is really not the case."
"While there are some similarities, the nature and appearance of these nurseries change within and among galaxies," he continued, "just like cities or trees may vary in important ways as you go from place to place across the world."
Astronomers have also learned from the survey that stellar nurseries aren't particularly efficient at producing stars and tend to live for only 10 to 30 million years, which isn't very long on a universal scale.
Looking ahead: Data from the survey is now publicly available, so expect to see other researchers using it to make their own observations about stellar nurseries in the future.
"We have an incredible dataset here that will continue to be useful," Leroy said. "This is really a new view of galaxies and we expect to be learning from it for years to come."
Tiny specks of space debris can move faster than bullets and cause way more damage. Cleaning it up is imperative.
Videos
NASA estimates that more than 500,000 pieces of space trash larger than a marble are currently in orbit. Estimates exceed 128 million pieces when factoring in smaller pieces from collisions. At 17,500 MPH, even a paint chip can cause serious damage.
To prevent this untrackable space debris from taking out satellites and putting astronauts in danger, scientists have been working on ways to retrieve large objects before they collide and create more problems.
The team at Clearspace, in collaboration with the European Space Agency, is on a mission to capture one such object using an autonomous spacecraft with claw-like arms. It's an expensive and very tricky mission, but one that could have a major impact on the future of space exploration.
This is the first episode of Just Might Work, an original series by Freethink, focused on surprising solutions to our biggest problems.

Catch more Just Might Work episodes on their channel: https://www.freethink.com/shows/just-might-work
Personal Growth
Metal-like materials have been discovered in a very strange place.
Scroll down to load more…