Big ideas.
Once a week.
Subscribe to our weekly newsletter.
How do we understand sexual pleasure in this age of 'consent'?
Debates about the kind of sex that we should be having are focused on the issue of individual choice and sexual autonomy. We are living, it seems, in the age of consent.
07 March, 2018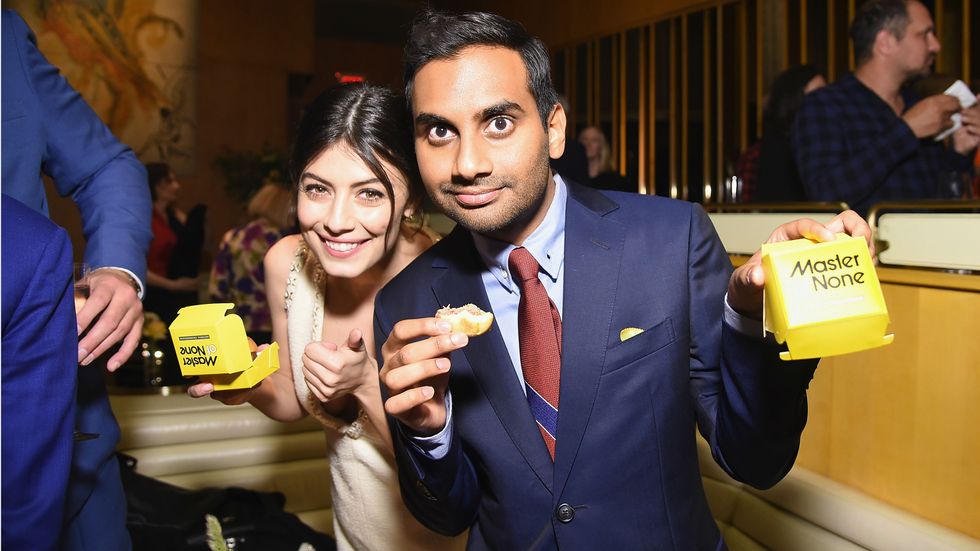 Actress Alessandra Mastronardi and Co-creator, Executive Producer and Actor Aziz Ansari attend the Netflix Master Of None S2, Premiere NY Screening 2017 on May 11, 2017 in New York City. (Photo by Michael Loccisano/Getty Images for Netflix)
Societies tell us a lot about themselves by how they struggle over sex. Different places and generations have distinct sexual battlegrounds. From anti-miscegenation laws to criminal prohibitions of same-sex intimacy and sex work, these contests address with whom we can have sex, when, and under what conditions. At present, debates about the kind of sex that we should be having are focused on the issue of individual choice and sexual autonomy. We are living, it seems, in the age of consent.
---
The idea that consent to sexual activity should be the benchmark for deciding what constitutes legally permissible and socially desirable sex is far from obvious. This is in part because sex means very different things in different moments. Paid sex might indeed be conducive to transactional, negotiated terms in which the parties bargain and consent to specific acts for a set price. But not all sex can be – or should be – reduced to an atomistic meeting of the minds of two individuals. Sometimes what we want is not fully known to us in advance. The details of desire and satisfaction are often discovered, and produced, in the sexual moment. Rather than a question of individual will, sexual autonomy can be expressed through the interaction of two (or more) partners. Sex can be a uniquely utopian experience, in that the act of sexually relating creates novel ways of being together socially.
Women's sexual pleasure is often viewed as more complicated and less predictable than men's. Historically, this assumption has contributed to the over-regulation of female sexual and reproductive capacities. Rather than the exception, ambiguity about exactly what is desired, and how that desire should be expressed, is the sexual norm. Women's emancipatory projects should therefore focus on ways of incorporating this fact, rather than shunning it.
The actualisation of the sexual self can happen at the same time that degrees of fear, repulsion and uncertainty – as well as excitement and intrigue – are present on both sides. In these moments, allowing ourselves to engage in intense personal vulnerability can make space for the production of liminal trust. This trust is based not on consent, but on a shared commitment to embrace the fact that sexual pleasure and danger often occupy the same space. Although sexual liminality encompasses the risk that conduct can cross over into the realm of bad sex, it can also be empowering because it acknowledges the potential for sexual encounters to change us, to recreate us, in unplanned ways.
Like informed consent to medical procedures, sexual consent is a contested legal construct that has evolved over time. It is a concept that the law uses to distinguish between criminal and non-criminal sex. But how do we determine whether consent is present or absent? Even the most affirmative consent-based sexual-assault jurisdictions, where consent is understood as the subjective product of the complainant's mind at the time of the alleged assault, rely on judicial constructs of consent. Outside emphatic 'yes' or 'no' situations, complainant testimony is combined with other kinds of evidence, including the verbal and non-verbal behaviour of both parties throughout the encounter. The judge must then decide whether, on the whole, both the claim of non-consent is believable, and whether the accused knew, or should have known, that consent was not present or had been withdrawn. From beginning to end, the law relies on different kinds of evidence and signs, direct and indirect, to build a construct of consent.
What this means is that consent is not a thing-in-itself, out there to be found, either by a sexual partner or by a judge or jury. Consent is no more, or less, than an indicator of how a given society understands particular sexual behaviour. We declare consent to be absent at the point where we decide that sexual conduct crosses the threshold of what we consider a culturally acceptable level of coercion, compromise and risk.
Many feminists will respond that the problem is not with the nature of consent, but that the law does not go far enough. The law, in other words, should be adapted to track the cultural shifts demanded by #MeToo. Proponents of affirmative consent argue that sexual partners should actively seek clear signs of consent throughout a sexual encounter. 'Consent is sexy,' we are told. When a woman alleges an assault, we should believe her. The burden should shift to the defendant to show that he took reasonable steps in the circumstances to ascertain her consent. Changing our sexual behaviour to fit these expectations, we are told, will make for both a safer and sexier culture. What feminist in her right mind could disagree with that?
There are two major problems with this logic. First, as both conservative and 'pro-sex' feminists have long acknowledged, the binary on/off approach present in consent discourse does not reflect sexual reality in either a cultural or a legal sense. 'Consent' weaves in and out of sexual encounters in complex and unpredictable ways. The same sexual encounter, taken as a whole, can be variously humiliating yet titillating, disgusting yet intriguing, frightening and yet compelling. What is more, consensual sex is not the same thing as wanted sex; conversely, non-consensual sex is not the same as unwanted sex. Equating consent with unambiguous desire significantly alters the sort of sex that society deems permissible in troubling, namely regressive, directions.
The 'enthusiastic' consent frame advanced by other feminists, including Robin West, accounts for these difficulties by going even further. Highlighting the conditions of female oppression under which 'normal', heterosexual relations take place, including within marriage, these feminists argue for the criminalisation of any sex – whether consensual or not – that is the product of coercion. Law, and society, should endorse only genuinely desired sex.
However, there is no reason to believe that even truly wanted sexual encounters correlate with good sex. Unwanted, or partially wanted, sex can still be sexy and transformative. Experimenting with pain or fear can shift previously anticipated sexual boundaries precisely because it engages vulnerable states of being. One can imagine that the appeal of choking, for example, resides at least partly in the genuineness of the fear that it provokes.
This is not to say that there are no limits in sex, but rather to propose that we devise limits that align with the erotic potential of the sexual encounter. Liminal trust is a space in which partners can explore the value of sexual experiences precisely because they directly engage the line between permissibility and impermissiblity. Both affirmative and enthusiastic consent cast this kind of sexuality as deviant and criminal. That is a mistake.
#MeToo explicitly relies on patriarchy as both cultural context and target. It sees women as objects of sexualised male domination. Men, we are told, have an interest in furthering, or at least maintaining, misogynistic forms of social control over women. They are assumed to want to go 'as far' as they can before being confronted with a woman's expression of non-consent to sex. This picture provides, at best, an idiosyncratic and regressive picture of human sexuality. At worst, it encourages us to police sexuality in conservative ways. The real promise of the contemporary sex debate is that it opens up a new space in which to theorise the limits of truly adventurous and fulfilling sex.

Heidi Matthews
This article was originally published at Aeon and has been republished under Creative Commons.
Geologists discover a rhythm to major geologic events.
Surprising Science
It appears that Earth has a geologic "pulse," with clusters of major events occurring every 27.5 million years.
Working with the most accurate dating methods available, the authors of the study constructed a new history of the last 260 million years.
Exactly why these cycles occur remains unknown, but there are some interesting theories.
Our hearts beat at a resting rate of 60 to 100 beats per minute. Lots of other things pulse, too. The colors we see and the pitches we hear, for example, are due to the different wave frequencies ("pulses") of light and sound waves.
Now, a study in the journal Geoscience Frontiers finds that Earth itself has a pulse, with one "beat" every 27.5 million years. That's the rate at which major geological events have been occurring as far back as geologists can tell.
A planetary calendar has 10 dates in red
Credit: Jagoush / Adobe Stock
According to lead author and geologist Michael Rampino of New York University's Department of Biology, "Many geologists believe that geological events are random over time. But our study provides statistical evidence for a common cycle, suggesting that these geologic events are correlated and not random."

The new study is not the first time that there's been a suggestion of a planetary geologic cycle, but it's only with recent refinements in radioisotopic dating techniques that there's evidence supporting the theory. The authors of the study collected the latest, best dating for 89 known geologic events over the last 260 million years:
29 sea level fluctuations
12 marine extinctions
9 land-based extinctions
10 periods of low ocean oxygenation
13 gigantic flood basalt volcanic eruptions
8 changes in the rate of seafloor spread
8 times there were global pulsations in interplate magmatism
The dates provided the scientists a new timetable of Earth's geologic history.
Tick, tick, boom
Credit: New York University
Putting all the events together, the scientists performed a series of statistical analyses that revealed that events tend to cluster around 10 different dates, with peak activity occurring every 27.5 million years. Between the ten busy periods, the number of events dropped sharply, approaching zero.

Perhaps the most fascinating question that remains unanswered for now is exactly why this is happening. The authors of the study suggest two possibilities:
"The correlations and cyclicity seen in the geologic episodes may be entirely a function of global internal Earth dynamics affecting global tectonics and climate, but similar cycles in the Earth's orbit in the Solar System and in the Galaxy might be pacing these events. Whatever the origins of these cyclical episodes, their occurrences support the case for a largely periodic, coordinated, and intermittently catastrophic geologic record, which is quite different from the views held by most geologists."
Assuming the researchers' calculations are at least roughly correct — the authors note that different statistical formulas may result in further refinement of their conclusions — there's no need to worry that we're about to be thumped by another planetary heartbeat. The last occurred some seven million years ago, meaning the next won't happen for about another 20 million years.
Research shows that those who spend more time speaking tend to emerge as the leaders of groups, regardless of their intelligence.
Credit: Adobe Stock / saksit.
Surprising Science
A new study proposes the "babble hypothesis" of becoming a group leader.
Researchers show that intelligence is not the most important factor in leadership.
Those who talk the most tend to emerge as group leaders.
If you want to become a leader, start yammering. It doesn't even necessarily matter what you say. New research shows that groups without a leader can find one if somebody starts talking a lot.
This phenomenon, described by the "babble hypothesis" of leadership, depends neither on group member intelligence nor personality. Leaders emerge based on the quantity of speaking, not quality.
Researcher Neil G. MacLaren, lead author of the study published in The Leadership Quarterly, believes his team's work may improve how groups are organized and how individuals within them are trained and evaluated.
"It turns out that early attempts to assess leadership quality were found to be highly confounded with a simple quantity: the amount of time that group members spoke during a discussion," shared MacLaren, who is a research fellow at Binghamton University.
While we tend to think of leaders as people who share important ideas, leadership may boil down to whoever "babbles" the most. Understanding the connection between how much people speak and how they become perceived as leaders is key to growing our knowledge of group dynamics.
The power of babble
The research involved 256 college students, divided into 33 groups of four to ten people each. They were asked to collaborate on either a military computer simulation game (BCT Commander) or a business-oriented game (CleanStart). The players had ten minutes to plan how they would carry out a task and 60 minutes to accomplish it as a group. One person in the group was randomly designated as the "operator," whose job was to control the user interface of the game.
To determine who became the leader of each group, the researchers asked the participants both before and after the game to nominate one to five people for this distinction. The scientists found that those who talked more were also more likely to be nominated. This remained true after controlling for a number of variables, such as previous knowledge of the game, various personality traits, or intelligence.
How leaders influence people to believe | Michael Dowling | Big Think www.youtube.com
In an interview with PsyPost, MacLaren shared that "the evidence does seem consistent that people who speak more are more likely to be viewed as leaders."

Another find was that gender bias seemed to have a strong effect on who was considered a leader. "In our data, men receive on average an extra vote just for being a man," explained MacLaren. "The effect is more extreme for the individual with the most votes."
The great theoretical physicist Steven Weinberg passed away on July 23. This is our tribute.
Credit
: Billy Huynh via Unsplash
13-8
The recent passing of the great theoretical physicist Steven Weinberg brought back memories of how his book got me into the study of cosmology.
Going back in time, toward the cosmic infancy, is a spectacular effort that combines experimental and theoretical ingenuity. Modern cosmology is an experimental science.
The cosmic story is, ultimately, our own. Our roots reach down to the earliest moments after creation.
When I was a junior in college, my electromagnetism professor had an awesome idea. Apart from the usual homework and exams, we were to give a seminar to the class on a topic of our choosing. The idea was to gauge which area of physics we would be interested in following professionally.
Professor Gilson Carneiro knew I was interested in cosmology and suggested a book by Nobel Prize Laureate Steven Weinberg: The First Three Minutes: A Modern View of the Origin of the Universe. I still have my original copy in Portuguese, from 1979, that emanates a musty tropical smell, sitting on my bookshelf side-by-side with the American version, a Bantam edition from 1979.
Inspired by Steven Weinberg

Books can change lives. They can illuminate the path ahead. In my case, there is no question that Weinberg's book blew my teenage mind. I decided, then and there, that I would become a cosmologist working on the physics of the early universe. The first three minutes of cosmic existence — what could be more exciting for a young physicist than trying to uncover the mystery of creation itself and the origin of the universe, matter, and stars? Weinberg quickly became my modern physics hero, the one I wanted to emulate professionally. Sadly, he passed away July 23rd, leaving a huge void for a generation of physicists.
What excited my young imagination was that science could actually make sense of the very early universe, meaning that theories could be validated and ideas could be tested against real data. Cosmology, as a science, only really took off after Einstein published his paper on the shape of the universe in 1917, two years after his groundbreaking paper on the theory of general relativity, the one explaining how we can interpret gravity as the curvature of spacetime. Matter doesn't "bend" time, but it affects how quickly it flows. (See last week's essay on what happens when you fall into a black hole).
The Big Bang Theory
For most of the 20th century, cosmology lived in the realm of theoretical speculation. One model proposed that the universe started from a small, hot, dense plasma billions of years ago and has been expanding ever since — the Big Bang model; another suggested that the cosmos stands still and that the changes astronomers see are mostly local — the steady state model.
Competing models are essential to science but so is data to help us discriminate among them. In the mid 1960s, a decisive discovery changed the game forever. Arno Penzias and Robert Wilson accidentally discovered the cosmic microwave background radiation (CMB), a fossil from the early universe predicted to exist by George Gamow, Ralph Alpher, and Robert Herman in their Big Bang model. (Alpher and Herman published a lovely account of the history here.) The CMB is a bath of microwave photons that permeates the whole of space, a remnant from the epoch when the first hydrogen atoms were forged, some 400,000 years after the bang.
The existence of the CMB was the smoking gun confirming the Big Bang model. From that moment on, a series of spectacular observatories and detectors, both on land and in space, have extracted huge amounts of information from the properties of the CMB, a bit like paleontologists that excavate the remains of dinosaurs and dig for more bones to get details of a past long gone.
How far back can we go?
Confirming the general outline of the Big Bang model changed our cosmic view. The universe, like you and me, has a history, a past waiting to be explored. How far back in time could we dig? Was there some ultimate wall we cannot pass?
Because matter gets hot as it gets squeezed, going back in time meant looking at matter and radiation at higher and higher temperatures. There is a simple relation that connects the age of the universe and its temperature, measured in terms of the temperature of photons (the particles of visible light and other forms of invisible radiation). The fun thing is that matter breaks down as the temperature increases. So, going back in time means looking at matter at more and more primitive states of organization. After the CMB formed 400,000 years after the bang, there were hydrogen atoms. Before, there weren't. The universe was filled with a primordial soup of particles: protons, neutrons, electrons, photons, and neutrinos, the ghostly particles that cross planets and people unscathed. Also, there were very light atomic nuclei, such as deuterium and tritium (both heavier cousins of hydrogen), helium, and lithium.
Cosmic alchemy
So, to study the universe after 400,000 years, we need to use atomic physics, at least until large clumps of matter aggregate due to gravity and start to collapse to form the first stars, a few millions of years after. What about earlier on? The cosmic history is broken down into chunks of time, each the realm of different kinds of physics. Before atoms form, all the way to about a second after the Big Bang, it's nuclear physics time. That's why Weinberg brilliantly titled his book The First Three Minutes. It is during the interval between one-hundredth of a second and three minutes that the light atomic nuclei (made of protons and neutrons) formed, a process called, with poetic flair, primordial nucleosynthesis. Protons collided with neutrons and, sometimes, stuck together due to the attractive strong nuclear force. Why did only a few light nuclei form then? Because the expansion of the universe made it hard for the particles to find each other.
What about the nuclei of heavier elements, like carbon, oxygen, calcium, gold? The answer is beautiful: all the elements of the periodic table after lithium were made and continue to be made in stars, the true cosmic alchemists. Hydrogen eventually becomes people if you wait long enough. At least in this universe.
In this article, we got all the way up to nucleosynthesis, the forging of the first atomic nuclei when the universe was a minute old. What about earlier on? How close to the beginning, to t = 0, can science get? Stay tuned, and we will continue next week.
To Steven Weinberg, with gratitude, for all that you taught us about the universe.
Surprising Science
Long before Alexandria became the center of Egyptian trade, there was Thônis-Heracleion. But then it sank.
Scroll down to load more…