Big ideas.
Once a week.
Subscribe to our weekly newsletter.
William Mortensen: The Anti-Christ of American Photography?
31 October, 2014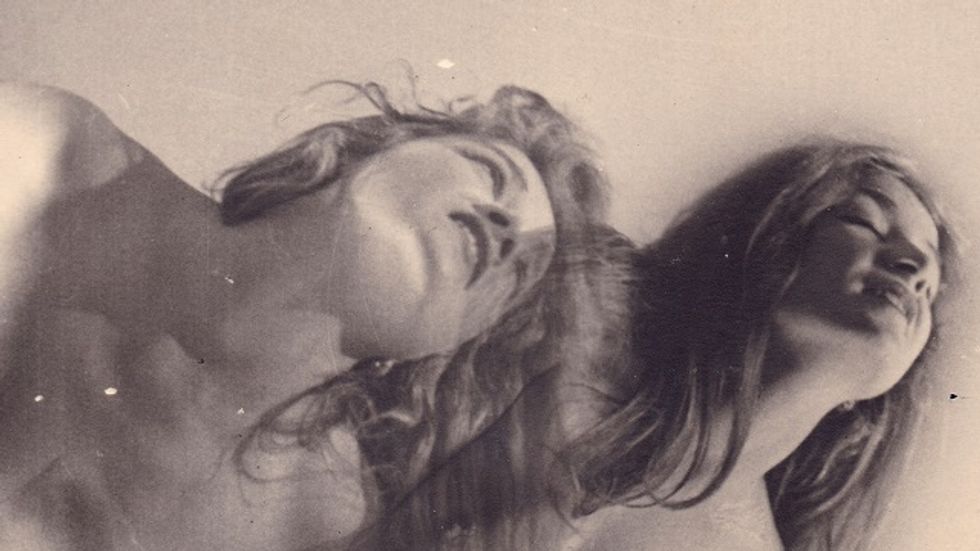 Photographer Ansel Adams, whose beautiful black and white landscapes full of mountains still grace both museum and office walls, called fellow photographer William Mortensen "the anti-Christ" for what he did to the art of photography. Mortensen inspired a great passion in his near-contemporary Adams thanks to the Pictorialism of his images, whose illusions and painterly gestures offered a devilish alternative to Adams' "straight," realistic photography. In the exhibition William Mortensen: American Grotesque, which runs through November 30, 2014 at Stephen Romano Gallery, Brooklyn, NY, Ansel Adams worst nightmare comes true, as his personal "anti-Christ" rises from the grave of unfair neglect to collect fresh converts to the eerie beauty of his decades-before-their-time artistry.
---
Mortensen's path to becoming the "father of Pictorialism" in American photography began with his training as a painter at The Art Student's League in New York after serving in World War I. In 1920, Mortensen traveled to Greece, Italy, Egypt, and Constantinople to see the old world as well as the Old Masters, who would be a lasting influence on and ideal of his photography. Upon his return, a friend asked him to escort his teenage sister to Hollywood and, she hoped, a career in the movies. That friend's sister was Fay Wray, who after a decade of bit parts found lasting fame as the object of King Kong's affections in 1933. Mortensen initially found work as a gardener in Hollywood before a chance encounter with director Cecil B. DeMille led to a job in the studios.
Mortensen quickly rose in the ranks from set mask maker (examples of which appear in the exhibition) to still photographer of DeMille's epics. While other still photographers would wait until the shooting stopped and ask the actors to restage the scene, Mortensen took his photographs during the shooting, capturing the sense of movement amidst epic proportions of such movies as DeMille's 1927 film The King of Kings. DeMille's sprawling, prop-laden sets became Mortensen's playground as he experimented with his still camera to create his earliest photographs full of fantasy and fantastic beauty.
With the portraitist approach of the Old Masters in mind, Mortensen began taking portraits of the elite of early Hollywood: Norma Shearer, Rudolph Valentino, Clara Bow, Marlene Dietrich, and others. Vanity Fair published many of Mortensen's glamour shots of the stars, making him a key cog in the mythologizing machine of the movie industry. In many ways, Mortensen's career parallels the history of the silent film as his Pictorialism perfectly matched the romanticism and fantasy that dominated movies of the 1920s. As an old documentary on Mortensen suggests, the heights of the macabre in many 1920s films, as epitomized by director Tod Browning's work with legendary horror actor Lon Chaney, may have inspired the grotesque images Mortensen staged with costumes and makeup.
Similarly, the sexual freedom of 1920s Pre-Code Hollywood found its way into Mortensen's nudes, many of which incorporated in tandem elements of the macabre. Mortensen's Untitled (detail shown above) photo of two nude women from 1926 or 1927 from his series "A Pictorial Compendium of Witchcraft" exemplifies this still startlingly fresh but then deeply controversial aspect of Mortensen's work. The models in these images seem as modern as anything in contemporary advertising, yet this exhibition comes on the half century anniversary of Mortensen's death. What today's photographers do through digital manipulation, Mortensen pioneered with texture screens and other hands-on techniques in the darkroom.
Truly before his time in technique as well as subject matter, despite being deeply steeped in art history, Mortensen shocked many with these highly sexual, occult photographs. Among the shocked were Fay Wray's mother, who upon a visit in 1931 to Mortensen's studio in Hollywood saw these nudes (some of which may have included Fay herself). When Mrs. Wray vowed to drag her daughter back to the safety and morality of Utah as King Kong was in mid-production, studio executives kept their leading lady in Hollywood by giving in to Mrs. Wray's demand for Mortensen to be fired. Severed from Hollywood, Mortensen slipped into obscurity, now rejected both by the film industry and the photographic community led by Adams and other anti-Pictorialists. In 1936, Mortensen staged a photo simply titled L'Amour in which an amorous ape drools over a helpless, half-naked woman stretched on the ground before him—a King Kong in miniature and perhaps a personally defiant gesture towards Hollywood, Mrs. Wray, and all those who Puritanically rejected his work while hypocritically profiting from the combination of sex and violence that survived the Hays Code.
Despite these setbacks, Mortensen continued to take his type of pictures and even opened up his own school of photography, which drew in thousands of students—amateurs and professionals—over the years, mostly through the beguiling power of his photographs. Unfortunately, lasting damage had been done. As A.D. Coleman writes in his introduction to the exhibition's catalog, "Anathematized, ostracized, and eventually purged from the dominant narratives of 20th-century photography due to the biases of a small but influential cluster of historians, curators, and photographers, Mortensen plunged into an obscurity so deep that by 1980 most considered him unworthy of even a footnote." Factoring in Mortensen's own uncompromising ruthlessness that drove him to take a razor to any photograph below his exacting standards and, as Coleman puts it "the apparently haphazard dispersal of his archive… scattered and, for the most part, presumed lost," William Mortensen: American Grotesque emerges not only as a valuable correction to an unjust error, but also a miraculous resurrection from the critical graveyard.
In 1932, Mortensen titled a photograph Human Relations. It shows a bejeweled arm reaching up and gouging out the eyes from a defenseless head. "Hatred is frequently the emotion that lies behind grotesque art," Mortensen later said of this possible self-portrait. Referring to the Great Depression then ravaging America when he made that image, Mortensen continued, "These were the days when stocks were stopping dividends, when lives of thrift and industry were being wiped out by the foreclosing of mortgages and the closing of banks… Everywhere there was the spirit of 'Take what you can, and to hell with your neighbor.' Those who were strong seemed to be, in sheer wantonness, gouging the eyes of humanity." Ansel Adams, Hollywood, and other power players stuck a finger in Mortensen's artistic eye long ago, but now, 50 years after his death, William Mortensen: American Grotesque challenges us to open our eyes to an artist whose honesty and humanity allowed him to picture a dark and ugly side of life inseparable from its beauty that others refused to acknowledge.
[Image: William Mortensen. Untitled (detail), c 1926-1927. From the series "A Pictorial Compendium of Witchcraft." Courtesy The Museum of Everything, London, UK, via Stephen Romano Gallery, Brooklyn, NY.]
[Many thanks to Stephen Romano Gallery, Brooklyn, NY, for providing me with the image above and other press materials related to the exhibition, William Mortensen: American Grotesque, which runs through November 30, 2014.]
Welcome to the world's newest motorsport: manned multicopter races that exceed speeds of 100 mph.
Credit: Airspeeder
Technology & Innovation
Airspeeder is a company that aims to put on high-speed races featuring electric flying vehicles.
The so-called Speeders are able to fly at speeds of up to 120 mph.
The motorsport aims to help advance the electric vertical take-off and landing (eVTOL) sector, which could usher in the age of air taxis.
The way you speak might reveal a lot about you, such as your willingness to engage in casual sex.
Surprising Science
A new study finds a deeper voice is associated with self-reported extraversion, dominance, and casual sex.
It was the first study on the topic to objectively measure voice pitch.
The authors suggest that hormones like testosterone might explain their findings.
We make snap decisions about other people based on information that we can gather quickly. One of the many ways that we do this is by making bold conclusions about other people's personalities based on their voices alone. Various studies demonstrate that people associate a deep voice with dominance, but those with higher pitched voices are perceived as nervous or neurotic. Popular culture seems to agree with and reinforce these stereotypes.
Are these perceptions accurate? Maybe. A new study by an international team of researchers with the goal of more accurately determining what our voices reveal about us has demonstrated that there is some connection between how we sound and who we think we are.
The voice-personality connection
Lead author Dr. Julia Stern of the University of Göttingen explained:
"Even if we just hear someone's voice without any visual clues — for instance on the phone — we know pretty soon whether we're talking to a man, a woman, a child, or an older person. We can pick up on whether the person sounds interested, friendly, sad, nervous, or whether they have an attractive voice. We also start to make assumptions about trust and dominance. The first step was to investigate whether voices are, indeed, related to people's personality."
The study included data from 2,000 people from four countries involved in eleven previous independent studies focused on other questions. Each of these studies involved some kind of self-reporting of personality traits and vocal recordings. The recordings were analyzed with Praat, software that determined the frequencies of the participants' speaking voices.
The study is the largest ever conducted on the topic and the first to use an objective measure of pitch rather than subjective rankings such as "high pitched" or "deep." Each participant's vocal pitch was then compared to the self-reported personality data they provided.
Pitch perfect
The findings associated self-reported levels of dominant tendencies, extroversion, and increased interest in and acceptance of sociosexuality (casual sex or sex outside of a relationship) with a lower pitched voice. This was true for men and women of any age. The findings were in line with the previous, less robust studies on the subject.
Other stereotypes, like if a higher pitched voice hints at neuroticism, openness to new experiences, or agreeableness, were impossible to determine with the data at hand.
Voice isn't everything
It should be remembered that the personality traits that this study associates with vocal pitch are self-reported, so there are some serious limitations. For instance, it is entirely possible that vocal pitch is associated with thinking you're extroverted when you actually aren't. Furthermore, all four countries in the study are WEIRD, so the findings probably cannot be universalized.
Additionally, there are plenty of examples of people for whom the voice-personality link doesn't apply. For example, Teddy Roosevelt, an extremely extroverted, dominating man, had a fairly high pitched voice.
The authors do speculate that there could be a connection between testosterone levels in men, their vocal pitch, and their perceived level of dominance that would be supported by previous studies. However, they have no hypothesis explaining why that same relationship exists for women.
The authors suggest that further studies in this area could focus on finding a possible physical connection between these traits and vocal pitch and to determine if they hold for traits which are not self-reported.
Who needs steroids when you have the placebo effect?
Surprising Science
A study suggests that the effectiveness of sports drinks may depend in part on their color.
Runners who rinsed with a pink liquid ran better than those who consumed the same but colorless drink.
Improvement in their performance is likely due to a placebo effect.
The "placebo effect" is real. It's the name for a strange phenomenon that most notably occurs during clinical trials. People who are given an inactive substance, like a sugar pill, often experience the same therapeutic benefit as those who are given actual medicine. It's not their imagination — it really happens. (Even better, recent research suggests that therapeutic benefits occur even when the person knows that they were given a placebo.)

Now, a new study from the University of Westminster (UOW) Centre for Nutraceuticals in London and published in Frontiers in Nutrition suggests that the placebo effect may explain yet another phenomenon: Athletic performance.
The research showed that treadmill runners who rinsed their mouths with a pink liquid increased their performance over runners who swished with exactly the same liquid but without the coloring. Why pink? The color is generally linked to sweetness, and the researchers wondered if that association would subconsciously trick the runners into an expectation of more carbohydrates and thus energy.
Author Sanjoy Deb explains:
"The influence of color on athletic performance has received interest previously, from its effect on a sportsperson's kit to its impact on testosterone and muscular power. Similarly, the role of color in gastronomy has received widespread interest, with research published on how visual cues or color can affect subsequent flavor perception when eating and drinking."
Running for science
Credit: Ryan De Hamer / Unsplash
For the study, the researchers recruited ten healthy adults — six men, four women. All were regular exercisers, with an average age of 30. The participants were told that they would be testing the relative benefits of two commercial sports drinks after watching a brief video explaining the value of such beverages. Previous research found that mid-exercise rinsing with such drinks can reduce the perceived intensity of exercise.

The drinks consisted of 0.12 grams of sucralose dissolved in 500 mL of plain water — an artificially sweetened rinse low in calories. The liquids contained no other additives common to sports drinks such as caffeine. The pink version had non-caloric coloring added but was otherwise identical.
After a 12-minute warmup phase of jogging followed by running, the athletes ran at a difficult pace for 30 minutes, rinsing with their drinks as they ran. Following a brief cool-down, they were interviewed to capture their impressions of the exercise session. (Each runner tested both drinks.)
Think pink
The researchers found that when the volunteers used the pink rinse, they ran an average of 212 meters farther and 4.4 percent faster. They also enjoyed the exercise more.
Deb said, "The findings from our study combine the art of gastronomy with performance nutrition, as adding a pink colorant to an artificially sweetened solution not only enhanced the perception of sweetness, but also enhanced feelings of pleasure, self-selected running speed, and distance covered during a run."
The researchers also plan to dig deeper into the phenomenon by investigating the possibility that the pinkness of the beverage is somehow directly activating the brain's reward areas.
Surprising Science
Like autism, ADHD lies on a spectrum, and some children should not be treated.
Scroll down to load more…