Do These Images Show a 'Beautiful' Side to War?
The New York Times and other media make war too pretty for our own good.
25 November, 2015
Like so many of us, author David Shields followed news of the Afghanistan and Iraq wars through the pages of The New York Times, specifically the front page and the striking, full-color photography designed to catch the eye and bring the war home. "My attraction to the photographs evolved into a mixture of rapture, bafflement, and repulsion," Shields confesses in his new book, War Is Beautiful: The New York Times Pictorial Guide to the Glamour of Armed Conflict. As the wars and their coverage continued, Shields "realized that these photos glorified war through an unrelenting parade of beautiful images whose function is to sanctify the accompanying descriptions of battle, death, destruction, and displacement." In War Is Beautiful, Shields tries to rip the same veil from our eyes and reveal these photos for what they really are — images that make war too pretty for our own good that add up to a national fatal attraction.
---
But isn't The New York Times the home of the "lamestream" media rife with godless, anti-establishment liberals? Shields says no; rather, "the Times, though considered 'liberal,' never strays far from a normative position," namely the "governing ethos ... that glamourized war and the sacrifices made in the service of war." Shields sees the cozy relationship between government power and the establishment media resulting in the Times and others "know[ing] precisely what truth the power wants told and then print[ing] this truth as the first draft of history." Photography "writes" this first draft of history most vividly and convincingly. "The program of the photos is the same as that of the Iliad," Shields concludes, citing the oldest source of war propaganda in the book, "the preservation of power."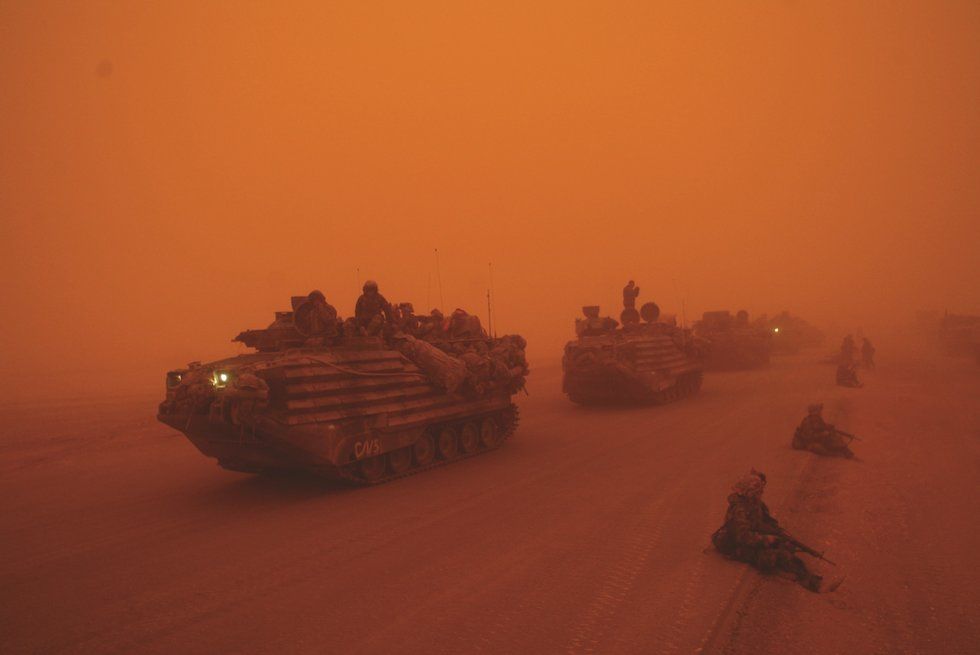 Shields took his suspicion about the Times front-page war photos and carefully examined them going all the way back to 2001. Finding his suspicion troublingly confirmed, Shields felt compelled to write War Is Beautiful as "witness to a graveyard of horrendous beauty." The more you look at Shields' selection of images (and the categories he organizes them under to great effect), the deeper you'll find yourself lost in that same graveyard — entranced by the beauty, yet troubled by the horror hidden beneath. For example, despite war photojournalist Ashley Gilbertson calling Iraq "a flat, ugly, Middle Eastern country with a shitload of oil," he and others still managed to produce through skill and technology captivatingly beautiful images such as Ozier Muhammad's photo of American tanks in a reddish-golden sandscape (shown above). Such pictures (which Shields lumps together under "Nature") trick the eye to trick the heart and mind to see something natural and more beautiful than reality's truer, uglier brutality.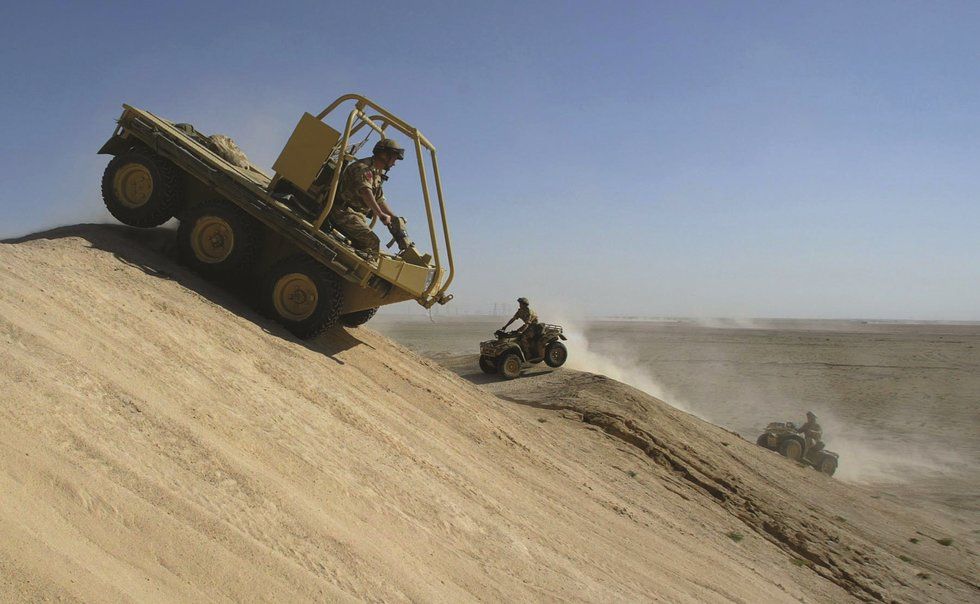 For the category "Playground," Shields writes, "War is the playground that authorizes the male psyche to exercise its passions." Looking at Chris Ison's photo of soldiers practicing driving all-terrain vehicles over the dunes of Kuwait (shown above), you can almost hear them hooting and hollering with joy. War, amazingly, becomes fun, which makes us forget the price being paid in lives and treasure. Not for nothing did the standard military jargon for the Middle East theaters of war become "the sandbox."  Here, photography transforms grown men into boys "playing" war games and, by extension, inviting us to play along with the deception.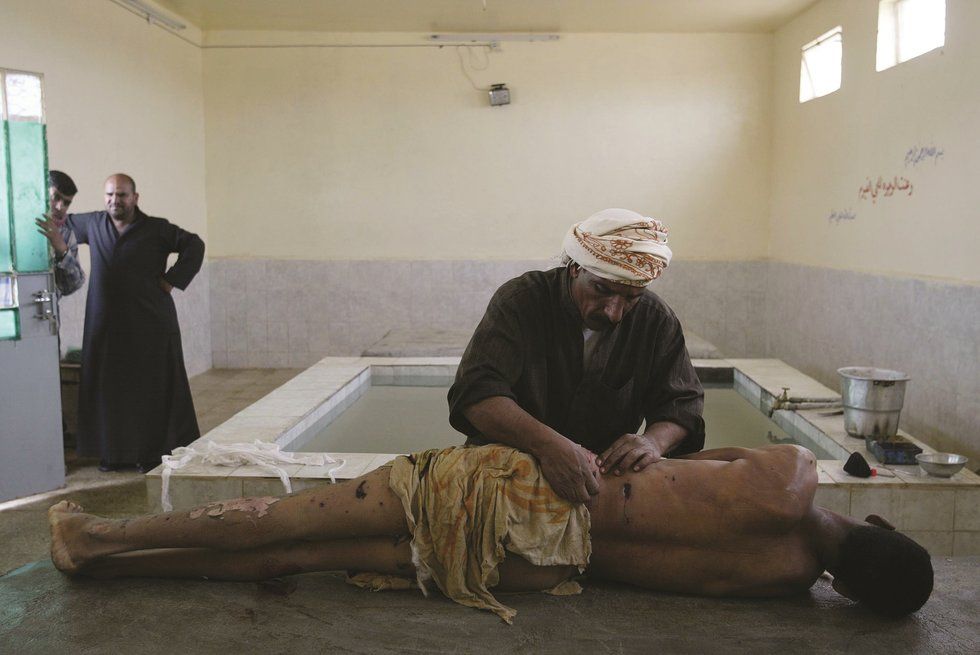 For those with an art history background or just a built-in visual library of visual tropes of Western civilization, many of the photos in War Is Beautiful seem to echo images of the past.  For example, Joao Silva's photograph of a "professional body washer" preparing a bombing victim for a proper Muslim burial (shown above) provides just one of the many Renaissance-like images Shields groups under "Pieta." In this case, the body of the dead Iraqi stands in for the dead Christ. In other images in this group, children or soldiers play the Christ role, with others serving as the Virgin Mary holding, caring, and mourning the loss of life. Regardless of whether the photographers intentionally framed these photos in such an art historical way, the echo effect resonates powerfully, tugging at our heartstrings and turning tragedy into art.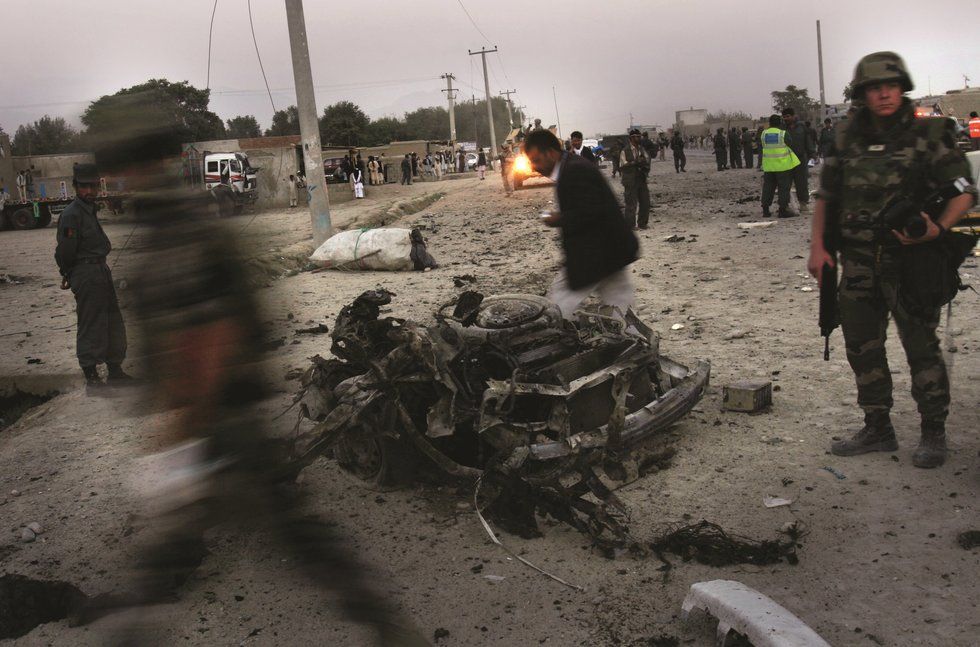 In a short essay complementing Shields' introduction, Dave Hickey digs deeper into the art historicity of these photos. For Hickey, these photos "are no longer 'lifelike,' but rather 'picture-like.'" Whereas combat photography up through World War II documented violence for the home front in the name of education to elicit empathy and support, Hickey sees today's combat photography as acting differently and serving a different purpose. World War II combat photography used what Hickey calls "the 'snapshot esthetic': the blur, the swipe, and the flying dirt" — all natural results of photography on the fly. Combat photography today, however, deliberately uses these effects, thus creating photos "aestheticized or anesthetized."
Hickey says photography such as the blurred soldiers racing about in Rodrigo Abd's picture (shown above) "will not create new art in its wake, because it has been made out of art." The self-consciousness of modern combat photography robs it of authenticity and the ability to convey truth. "The Western pictorial tradition intervenes between the image and the beholder," Hickey argues, thus turning every combat image into ancient myth before it can exist as present truth.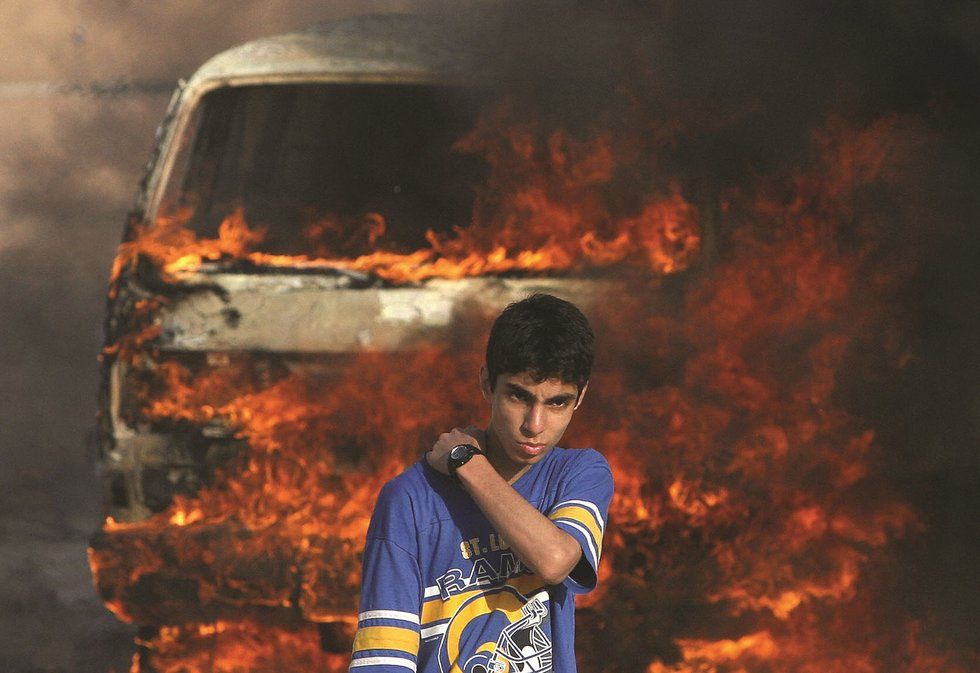 Perhaps the most damning section of War Is Beautiful is the one titled simply "Movie." Mohammed Abed's photo of a Palestinian boy in an American football jersey framed by a burning vehicle (shown above) seems like a Jerry Bruckheimer production minus the Top Gun theme. War becomes just another version of our favorite violent movies or video games, rather than the reverse. The New York Times becomes just another provider of "war porn" to keep the masses happy and clapping for more.
"It is well that war is so terrible," Confederate General Robert E. Lee once told one of his officers, "otherwise we should grow too fond of it." David Shields' War Is Beautiful: The New York Times Pictorial Guide to the Glamour of Armed Conflict charges Americans with growing too fond of war through their complicity with the media's visual cheerleading. "Who is culpable?" Shields asks. "We all are; our collective psyche and memory are inscribed in these photographs." He blames the media for playing these games, but blames us more for playing along. Vowing himself never to read the Times again, Shields calls on us to do the same. Like Chris Hedges' War Is a Force That Gives Us Meaning, Shields' study compels us to ask how we use war as life by other means and to break through the frames that hold us and our foreign policy from pursuing other, truly beautiful solutions.
--
[Image at top of post: Photo Credit: Mohammed Abed/Agence France-Presse-Getty Images. From War is Beautiful by David Shields, published by powerHouse Books.]
[Many thanks to powerHouse Books for providing me with the images above from and a review copy of David Shields' War Is Beautiful: The New York Times Pictorial Guide to the Glamour of Armed Conflict.]
[Please follow me on Twitter (@BobDPictureThis) and Facebook (Art Blog By Bob) for more art news and views.]
Big Think Edge
The meaning of the word 'confidence' seems obvious. But it's not the same as self-esteem.
Confidence isn't just a feeling on your inside. It comes from taking action in the world.
Join Big Think Edge today and learn how to achieve more confidence when and where it really matters.
The team caught a glimpse of a process that takes 18,000,000,000,000,000,000,000 years.
Image source: Pixabay
Surprising Science
In Italy, a team of scientists is using a highly sophisticated detector to hunt for dark matter.
The team observed an ultra-rare particle interaction that reveals the half-life of a xenon-124 atom to be 18 sextillion years.
The half-life of a process is how long it takes for half of the radioactive nuclei present in a sample to decay.
Researchers hope the technology will further our understanding of the brain, but lawmakers may not be ready for the ethical challenges.
Still from John Stephenson's 1999 rendition of Animal Farm.
Surprising Science
Researchers at the Yale School of Medicine successfully restored some functions to pig brains that had been dead for hours.
They hope the technology will advance our understanding of the brain, potentially developing new treatments for debilitating diseases and disorders.
The research raises many ethical questions and puts to the test our current understanding of death.
The image of an undead brain coming back to live again is the stuff of science fiction. Not just any science fiction, specifically B-grade sci fi. What instantly springs to mind is the black-and-white horrors of films like Fiend Without a Face. Bad acting. Plastic monstrosities. Visible strings. And a spinal cord that, for some reason, is also a tentacle?
But like any good science fiction, it's only a matter of time before some manner of it seeps into our reality. This week's Nature published the findings of researchers who managed to restore function to pigs' brains that were clinically dead. At least, what we once thought of as dead.
What's dead may never die, it seems
The researchers did not hail from House Greyjoy — "What is dead may never die" — but came largely from the Yale School of Medicine. They connected 32 pig brains to a system called BrainEx. BrainEx is an artificial perfusion system — that is, a system that takes over the functions normally regulated by the organ. The pigs had been killed four hours earlier at a U.S. Department of Agriculture slaughterhouse; their brains completely removed from the skulls.
BrainEx pumped an experiment solution into the brain that essentially mimic blood flow. It brought oxygen and nutrients to the tissues, giving brain cells the resources to begin many normal functions. The cells began consuming and metabolizing sugars. The brains' immune systems kicked in. Neuron samples could carry an electrical signal. Some brain cells even responded to drugs.
The researchers have managed to keep some brains alive for up to 36 hours, and currently do not know if BrainEx can have sustained the brains longer. "It is conceivable we are just preventing the inevitable, and the brain won't be able to recover," said Nenad Sestan, Yale neuroscientist and the lead researcher.
As a control, other brains received either a fake solution or no solution at all. None revived brain activity and deteriorated as normal.
The researchers hope the technology can enhance our ability to study the brain and its cellular functions. One of the main avenues of such studies would be brain disorders and diseases. This could point the way to developing new of treatments for the likes of brain injuries, Alzheimer's, Huntington's, and neurodegenerative conditions.
"This is an extraordinary and very promising breakthrough for neuroscience. It immediately offers a much better model for studying the human brain, which is extraordinarily important, given the vast amount of human suffering from diseases of the mind [and] brain," Nita Farahany, the bioethicists at the Duke University School of Law who wrote the study's commentary, told National Geographic.
An ethical gray matter
Before anyone gets an Island of Dr. Moreau vibe, it's worth noting that the brains did not approach neural activity anywhere near consciousness.
The BrainEx solution contained chemicals that prevented neurons from firing. To be extra cautious, the researchers also monitored the brains for any such activity and were prepared to administer an anesthetic should they have seen signs of consciousness.
Even so, the research signals a massive debate to come regarding medical ethics and our definition of death.
Most countries define death, clinically speaking, as the irreversible loss of brain or circulatory function. This definition was already at odds with some folk- and value-centric understandings, but where do we go if it becomes possible to reverse clinical death with artificial perfusion?
"This is wild," Jonathan Moreno, a bioethicist at the University of Pennsylvania, told the New York Times. "If ever there was an issue that merited big public deliberation on the ethics of science and medicine, this is one."
One possible consequence involves organ donations. Some European countries require emergency responders to use a process that preserves organs when they cannot resuscitate a person. They continue to pump blood throughout the body, but use a "thoracic aortic occlusion balloon" to prevent that blood from reaching the brain.
The system is already controversial because it raises concerns about what caused the patient's death. But what happens when brain death becomes readily reversible? Stuart Younger, a bioethicist at Case Western Reserve University, told Nature that if BrainEx were to become widely available, it could shrink the pool of eligible donors.
"There's a potential conflict here between the interests of potential donors — who might not even be donors — and people who are waiting for organs," he said.
It will be a while before such experiments go anywhere near human subjects. A more immediate ethical question relates to how such experiments harm animal subjects.
Ethical review boards evaluate research protocols and can reject any that causes undue pain, suffering, or distress. Since dead animals feel no pain, suffer no trauma, they are typically approved as subjects. But how do such boards make a judgement regarding the suffering of a "cellularly active" brain? The distress of a partially alive brain?
The dilemma is unprecedented.
Setting new boundaries
Another science fiction story that comes to mind when discussing this story is, of course, Frankenstein. As Farahany told National Geographic: "It is definitely has [sic] a good science-fiction element to it, and it is restoring cellular function where we previously thought impossible. But to have Frankenstein, you need some degree of consciousness, some 'there' there. [The researchers] did not recover any form of consciousness in this study, and it is still unclear if we ever could. But we are one step closer to that possibility."
She's right. The researchers undertook their research for the betterment of humanity, and we may one day reap some unimaginable medical benefits from it. The ethical questions, however, remain as unsettling as the stories they remind us of.
A scientific look into a ubiquitous phenomenon.
Big think's weekly newsletter.
Get smarter faster from the comfort of your inbox.
See our newsletter privacy policy
here
Most Popular
Most Recent
Big think's weekly newsletter.
Get smarter faster from the comfort of your inbox.
See our newsletter privacy policy
here
© Copyright 2007-2019 & BIG THINK, BIG THINK EDGE,
SMARTER FASTER trademarks owned by The Big Think, Inc. All rights reserved.