The Man Who Turned American Movies Into Art
Before #OscarsSoWhite and #MoviesSoBland, William Cameron Menzies turned American movies into art.
18 February, 2016
When they announce the nominees for the best production design at this year's Oscars, you'll recognize the names of the films (The Martian, The Revenant, etc.) more than the names of the nominees. But there's one name you've probably never heard of that should be listed with all of those films — the man who inspired film producer David O. Selznick to create the title of production designer in the first place: William Cameron Menzies. Film historian James Curtis' new book William Cameron Menzies: The Shape of Films to Come restores Menzies to his rightful place in movie lore as the forgotten figure who turned American movies into art.
---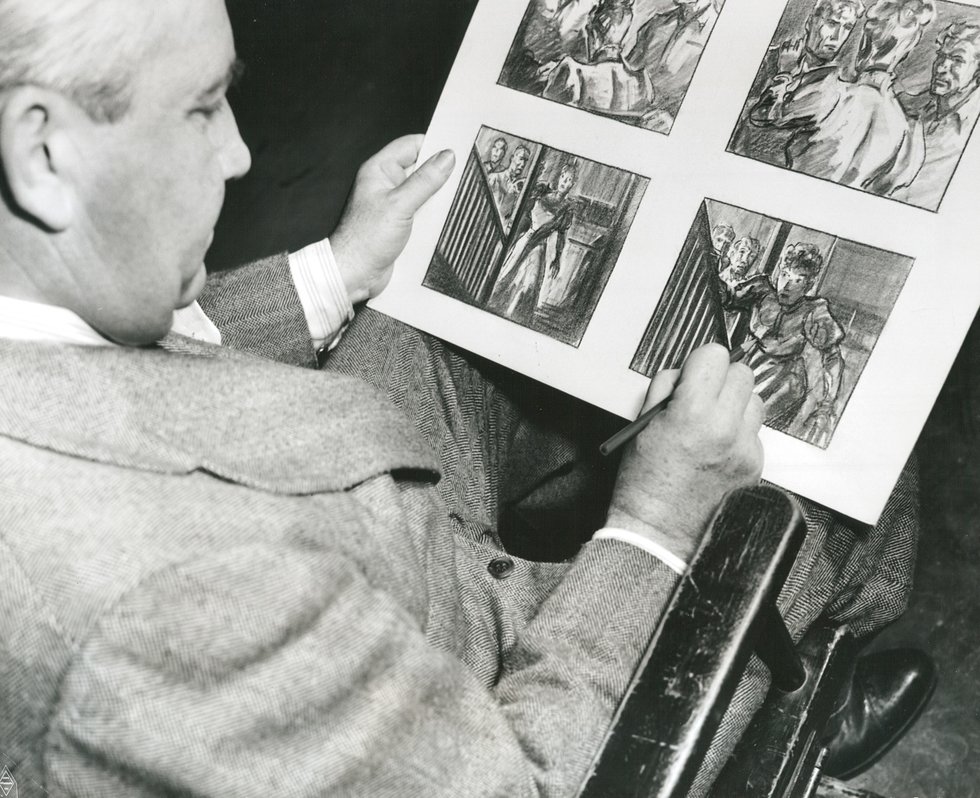 Image: Taking his thumbnail sketches up large, Menzies demonstrates how he refines them into a continuity board. When the Breen Office cautioned the studio over the scene in Kings Row (1942) in which Drake (Ronald Reagan) discovers his legs have been amputated. Menzies threw the visual emphasis to Randy (Ann Sheridan) by reflecting in her anguished reaction shots the depth of Drake's horror. (James Curtis' collection.) Image courtesy of Pantheon Books.
"[Menzies]' not just the father of production design." Orson Welles once wrote in a letter. "He's the only one who ever did it in his own time." At a time when filmmaking still mimicked the stage, Menzies — a former art student and insatiable drawer — saw the potential for more. "He brought the illustrator's eye to the camera and graphic validity to an art form that was all too often theatrical rather than cinematic," Curtis writes. By introducing the ideas of storyboarding and visualizing every scene first (example shown above), Menzies "revolutionized the look and technique of American motion picture production," Curtis argues.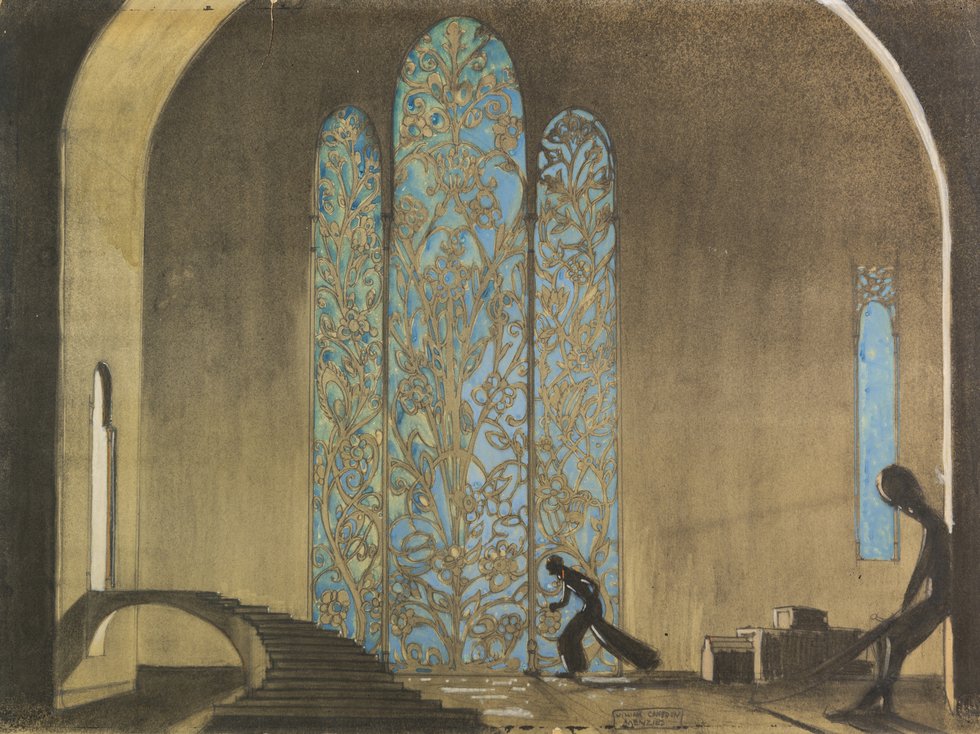 Image: One of Menzies' production designs for The Thief of Bagdad (1924), starring Douglas Fairbanks, Sr. A soaring pattern of ornate grillwork stimulates interest in the Thief's midnight approach. "They let me take on detail and feature the devil out of it," Menzies said. "That's the way to get effects into pictures — height. That's the one dimension that lets loose the imagination." (Menzies Family Collection.) Image courtesy of Pantheon Books.
After studying architecture at Yale, a stint in the Army during World War I, and more study at the Art Students League of New York, Menzies got his start as an assistant to Anton Grot working on silent films in the first "Hollywood" — Fort Lee, New Jersey. Under Grot, Menzies learned that illustrations were useless if they couldn't be translated for the camera. Menzies quickly built a reputation as "an advocate of the 'artistic' picture — staging a film with an illustrator's values," Curtis writes. Menzies lent directors "an extra measure of artistry" through his illustrations and architectural set models. Menzies' breakout moment as a designer, however, came in the production of Douglas Fairbanks, Sr.'s The Thief of Bagdad (example shown above).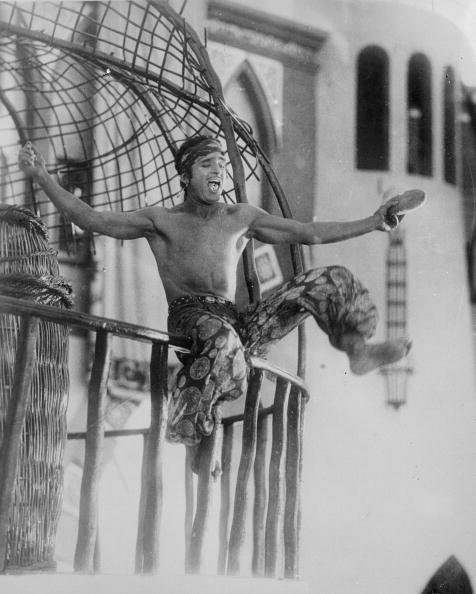 Image: 1924: Douglas Fairbanks (1883-1939) plays the dashing hero in the United Artists' silent film The Thief of Bagdad. (Photo by General Photographic Agency/Getty Images)
Production for The Thief of Bagdad languished as Fairbanks and his producers struggled with the look of the film. Upon seeing Menzies' designs, however, Fairbanks (shown above, in character) jumped at the chance to jump about the world Menzies envisioned. "What Fairbanks saw bore little resemblance to what most art directors produced at the time," Curtis explains. "Instead of presenting empty rooms of charcoal or crayon, Menzies had approached the subject as if illustrating a storybook, rendering Bagdad in ink and vibrant watercolors and placing Fairbanks' muscular character in the center of each scene." As workmen built the sets, Fairbanks insisted every detail match Menzies' illustrations. Raoul Walsh may have directed the film, but he followed Menzies' vision, which set new standards for movies as art. "Whatever else Bill Menzies did in his life," Curtis emphasizes, "he would always be remembered, first and foremost, as the designer of The Thief of Bagdad."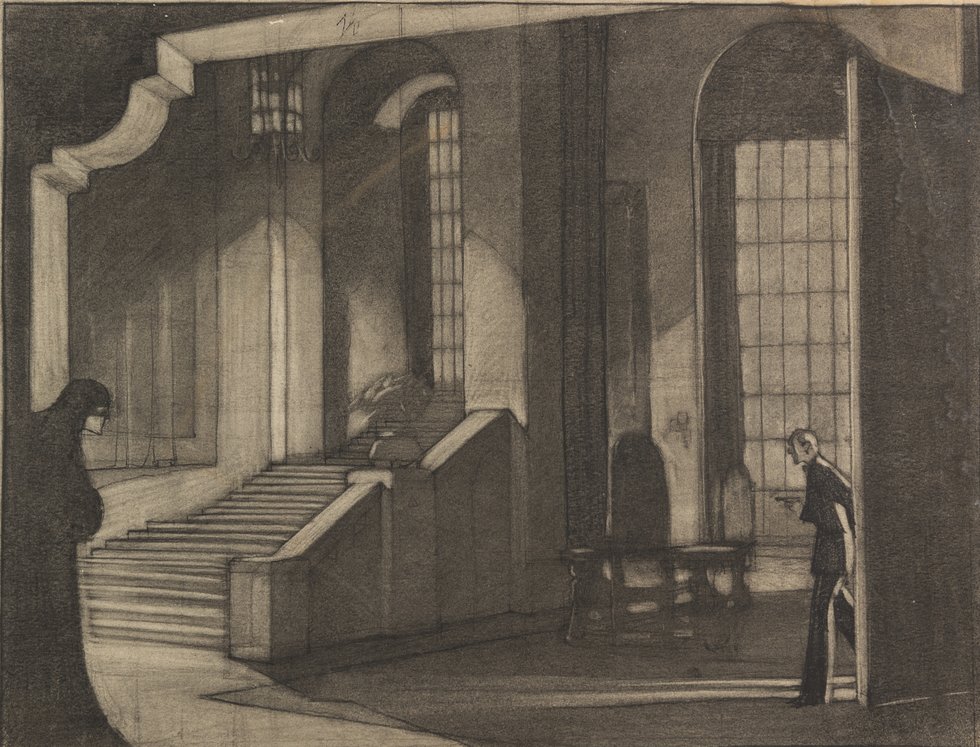 Image: Menzies designed The Bat (1926) to a scale impossible to achieve on the stage. Note the similarity of the caped figure at the left of this drawing to Bob Kane's later conception of Batman. (Menzies Family Collection.) Image courtesy of Pantheon Books.
Curtis follows Menzies path through the film industry with energetic writing and meticulous research. What becomes clear quickly is Menzies' great energy, imagination, and versatility. He's seemingly everywhere in film history, working with all the great actors, standing alongside legendary directors from D.W. Griffith to Alfred Hitchcock, and turning every mood and genre into cinema. As big, bright, and bold as The Thief of Bagdad was, 1926's The Bat (example shown above) exemplified the opposite. "The [opening] sequence sets the tonal palette for the movie," Curtis explains, "long shadows, stark shafts of light, towering windows, a brooding sense of dread." Adapted from a successful stage play of the same name, the movie version of The Bat went places visually that the original play couldn't thanks primarily to Menzies.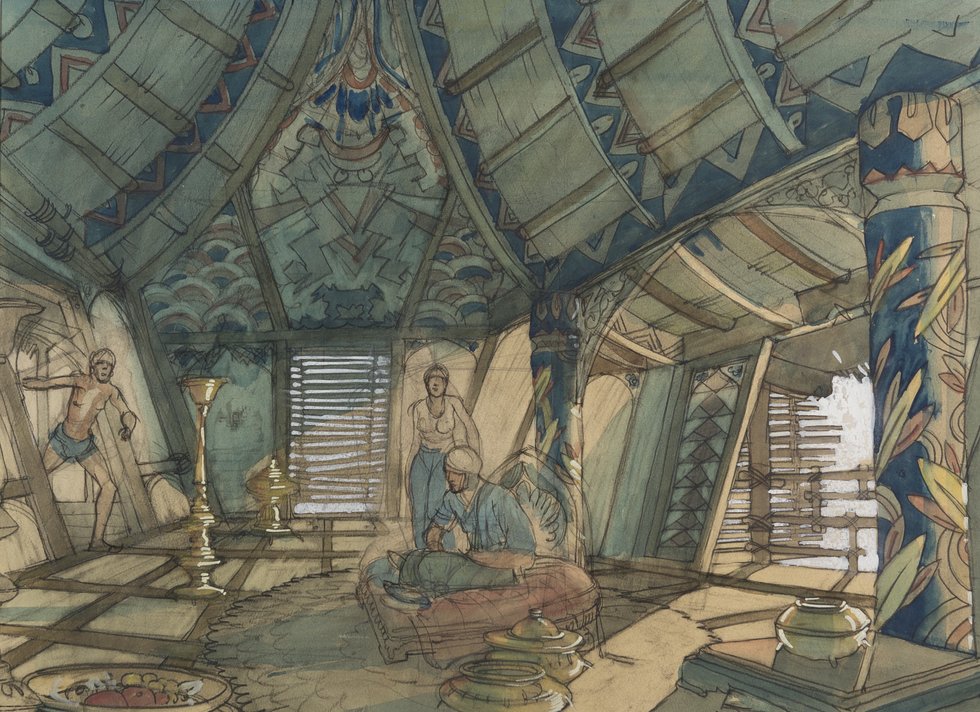 Image: Menzies' original rendering of Ahmed's desert retreat for The Son of the Sheik (1926). Economies scotched the design, a shame considering it would be Rudolph Valentino's final film and a formidable commercial success. (Pamela Lauesen.) Image courtesy of Pantheon Books.
Great visuals don't come cheap, alas, and some designs never found a home on the screen. For example, Menzies' original vision for the title character's desert retreat for The Son of the Sheik broke the budget, so we can only imagine Rudolph Valentino chewing up that scenery in his final film. Fortunately, Menzies survived the transition to sound pictures and "overc[ame] the cumbersome limitations of the new technology with a shrewd hybrid of mobility and voice, boldly applying the conventions of German Expressionism to the demands of the talking screen," Curtis writes. Just as filmmaking evolved in response to new technologies, Menzies' style evolved, moving toward a "fluidity of montage and a purer form of cinema," which Curtis demonstrates with a series of drawings from 1928's The Woman Disputed. Even in films largely forgotten today, you can see how deeply the DNA of modern cinema borrows from the bloodline of Menzies' work.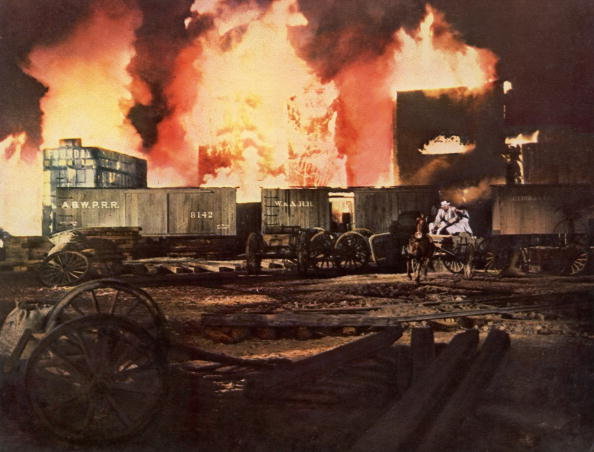 Image: The hero and heroine drive through the burning city of Atlanta in a dramatic scene from the MGM film Gone with the Wind. (Photo by MGM Studios/Archive Photos/Getty Images)
Perhaps Menzies' most lasting work in the public imagination is his vision for 1939's epic Gone with the Wind, the film that inspired producer David O. Selznick to dub Menzies with the title of production designer. Curtis chooses to begin the book with a breathless description of the filming of the burning of Atlanta scene that Menzies conceived and oversaw to the last detail. Curtis beautifully explains how Menzies used "a pastel look that lent itself to variations in tone and intensity according to the dramatic needs of a scene," thus creating "moods and passages of color that brought about a symphonic cohesion to the action and built to the highpoints in the narrative." Unable to categorize Menzies' achievement, the Motion Picture Academy created an Oscar category especially for Menzies' artistry in Gone With the Wind, "For Outstanding Achievement in the Use of Color for the Enhancement of Dramatic Mood."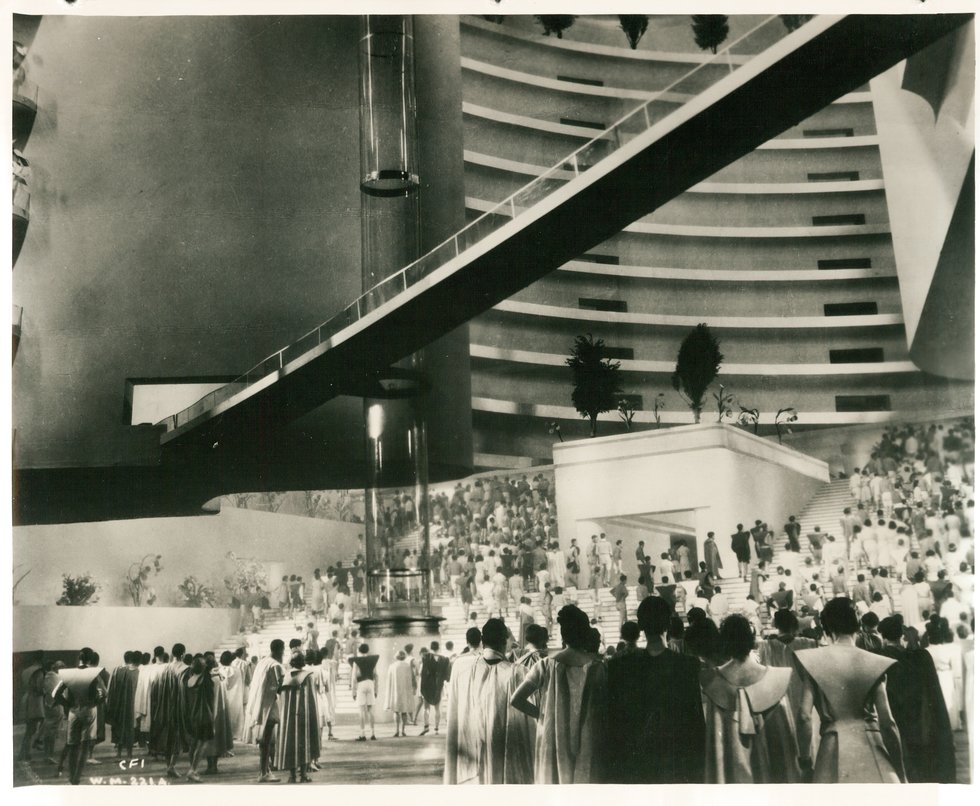 Image: The subterranean Everytown of the year 2036, probably the most famous single image from Things to Come. Generally credited to Menzies, who would have influenced the composition, it is more likely the work of Vincent Korda, who drew upon a range of influences to produce what Christopher Frayling has called "a grandiose fusion of Le Corbusier and American streamlining." (James Curtis' collection.) Image courtesy of Pantheon Books.
Menzies tried his hand at producing and directing (including the 1936 science fiction film Things to Come, shown above), but never matched his influence as a production designer. Menzies worked uncredited on so many films and influenced so many other film artists that it's hard to understand where the man ends and the wider idea of production design begins. Sadly, in his final years, when the demand for his work sharply declined, "it's possible Bill Menzies went to his grave convinced he had been forgotten," Curtis wonders. Fortunately, William Cameron Menzies: The Shape of Films to Come by James Curtis ensures that he won't be forgotten. As much as Menzies' storyboards remain a staple of filmmaking today, Curtis concludes, Menzies' true legacy lies in "show[ing] Hollywood it was possible to bring unity and purpose to the look of a film, conveying unspoken information in a way that broadened and deepened the emotional impact of the drama." No matter who wins the 2016 Oscar for production design, the real name on the award should read William Cameron Menzies.
[Image at top of post: William Cameron Menzies. Image courtesy of Pantheon Books.]
[Many thanks to Pantheon Books for providing me with the images above and a review copy of William Cameron Menzies: The Shape of Films to Come by James Curtis.]
[Please follow me on Twitter (@BobDPictureThis) and Facebook (Art Blog By Bob) for more art news and views.]
Antimicrobial resistance is growing worldwide, rendering many "work horse" medicines ineffective. Without intervention, drug-resistant pathogens could lead to millions of deaths by 2050. Thankfully, companies like Pfizer are taking action.
Image courtesy of Pfizer.
Antimicrobial-resistant pathogens are one of the largest threats to global health today.
As we get older, our immune systems age, increasing our risk of life threatening infections. Without reliable antibiotics, life expectancy could decline for the first time in modern history.
If antibiotics become ineffective, common infections could result in hospitalization or even death. Life-saving interventions like cancer treatments and organ transplantation would become more difficult, more often resulting in death. Routine procedures would become hard to perform.
Without intervention, resistant pathogens could result in 10 million annual deaths by 2050.
By taking a multi-faceted approach—inclusive of adherence to good stewardship, surveillance and responsible manufacturing practices, as well as an emphasis on prevention and treatment—companies like Pfizer are fighting to help curb the spread.
Sponsored
No, the Syrian civil war is not over. But it might be soon. Time for a recap
Strange Maps
The War in Syria has dropped off the radar, but it's not over (yet)
This 1-minute video shows how the fronts have moved – and stabilised – over the past 22 months
Watching this video may leave you both better informed, and slightly queasy: does war need a generic rock soundtrack?
Sarco assisted suicide pods come in three different styles, and allow you to die quickly and painlessly. They're even quite beautiful to look at.
The Sarco assisted suicide pod
Technology & Innovation
Death: it happens to everyone (except, apparently, Keanu Reeves). But while the impoverished and lower-class people of the world die in the same ol' ways—cancer, heart disease, and so forth—the upper classes can choose hip and cool new ways to die. Now, there's an assisted-suicide pod so chic and so stylin' that peeps (young people still say peeps, right?) are calling it the "Tesla" of death... it's called... the Sarco! 
Entrepreneur and author Andrew Horn shares his rules for becoming an assured conversationalist.
content.jwplatform.com
Videos
To avoid basing action on external validation, you need to find your "authentic voice" and use it.
Finding your voice requires asking the right questions of yourself.
There are 3-5 questions that you would generally want to ask people you are talking to.
Big think's weekly newsletter.
Get smarter faster from the comfort of your inbox.
See our newsletter privacy policy
here
Most Popular
Most Recent
Big think's weekly newsletter.
Get smarter faster from the comfort of your inbox.
See our newsletter privacy policy
here
© Copyright 2007-2018 & BIG THINK, BIG THINK EDGE,
SMARTER FASTER trademarks owned by The Big Think, Inc. All rights reserved.