The Man Who Turned American Movies Into Art
Before #OscarsSoWhite and #MoviesSoBland, William Cameron Menzies turned American movies into art.
18 February, 2016
When they announce the nominees for the best production design at this year's Oscars, you'll recognize the names of the films (The Martian, The Revenant, etc.) more than the names of the nominees. But there's one name you've probably never heard of that should be listed with all of those films — the man who inspired film producer David O. Selznick to create the title of production designer in the first place: William Cameron Menzies. Film historian James Curtis' new book William Cameron Menzies: The Shape of Films to Come restores Menzies to his rightful place in movie lore as the forgotten figure who turned American movies into art.
---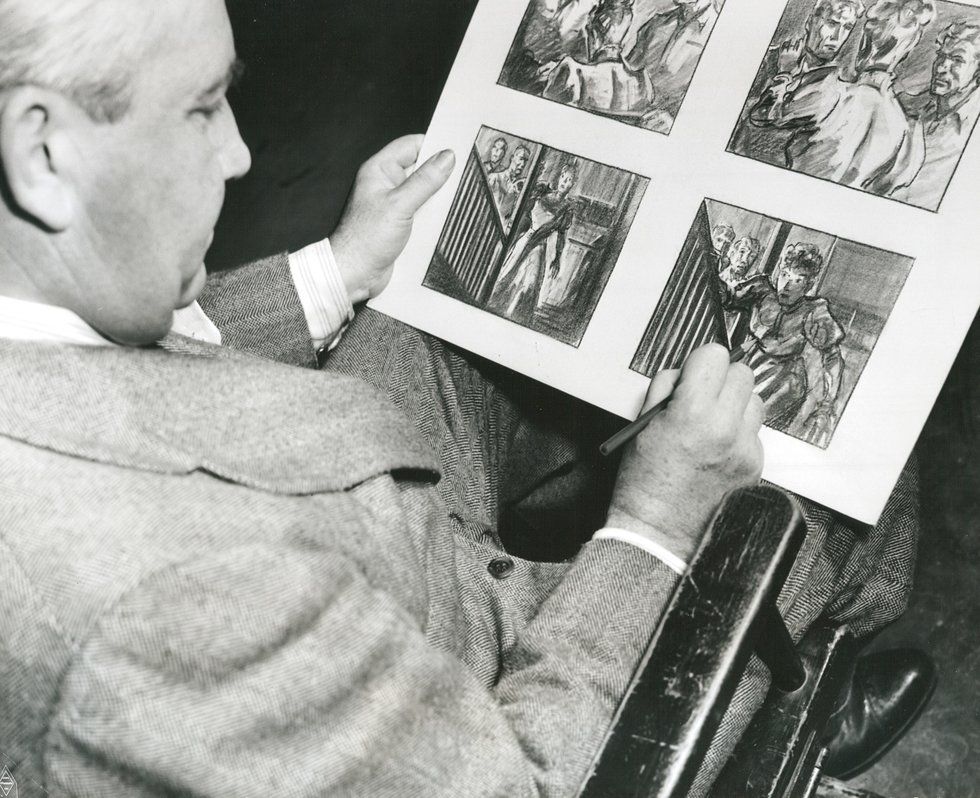 Image: Taking his thumbnail sketches up large, Menzies demonstrates how he refines them into a continuity board. When the Breen Office cautioned the studio over the scene in Kings Row (1942) in which Drake (Ronald Reagan) discovers his legs have been amputated. Menzies threw the visual emphasis to Randy (Ann Sheridan) by reflecting in her anguished reaction shots the depth of Drake's horror. (James Curtis' collection.) Image courtesy of Pantheon Books.
"[Menzies]' not just the father of production design." Orson Welles once wrote in a letter. "He's the only one who ever did it in his own time." At a time when filmmaking still mimicked the stage, Menzies — a former art student and insatiable drawer — saw the potential for more. "He brought the illustrator's eye to the camera and graphic validity to an art form that was all too often theatrical rather than cinematic," Curtis writes. By introducing the ideas of storyboarding and visualizing every scene first (example shown above), Menzies "revolutionized the look and technique of American motion picture production," Curtis argues.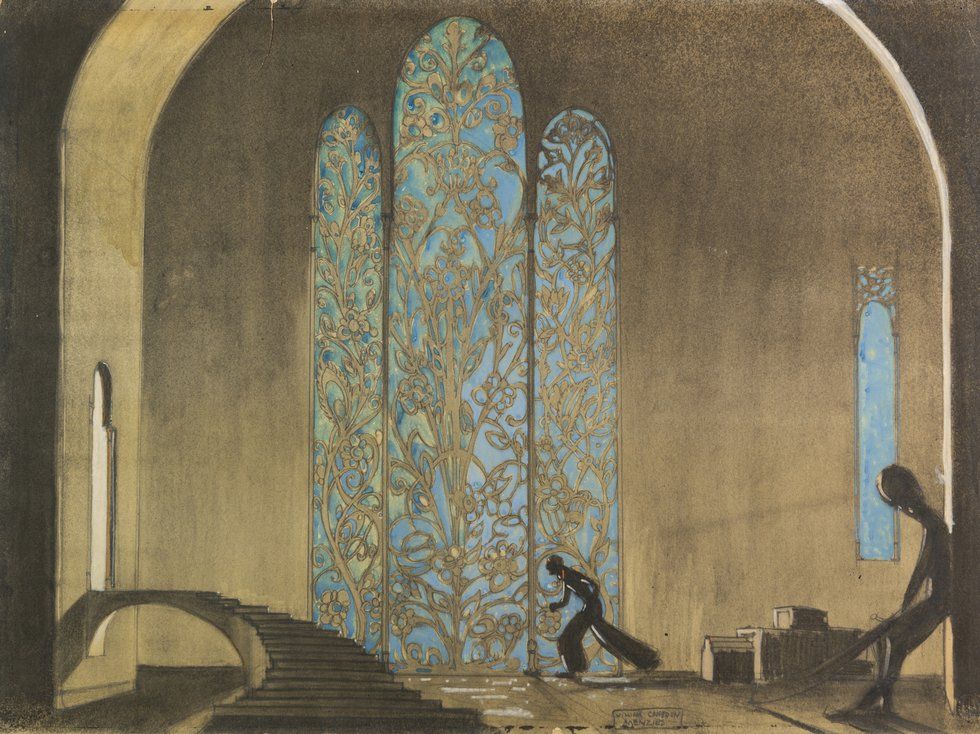 Image: One of Menzies' production designs for The Thief of Bagdad (1924), starring Douglas Fairbanks, Sr. A soaring pattern of ornate grillwork stimulates interest in the Thief's midnight approach. "They let me take on detail and feature the devil out of it," Menzies said. "That's the way to get effects into pictures — height. That's the one dimension that lets loose the imagination." (Menzies Family Collection.) Image courtesy of Pantheon Books.
After studying architecture at Yale, a stint in the Army during World War I, and more study at the Art Students League of New York, Menzies got his start as an assistant to Anton Grot working on silent films in the first "Hollywood" — Fort Lee, New Jersey. Under Grot, Menzies learned that illustrations were useless if they couldn't be translated for the camera. Menzies quickly built a reputation as "an advocate of the 'artistic' picture — staging a film with an illustrator's values," Curtis writes. Menzies lent directors "an extra measure of artistry" through his illustrations and architectural set models. Menzies' breakout moment as a designer, however, came in the production of Douglas Fairbanks, Sr.'s The Thief of Bagdad (example shown above).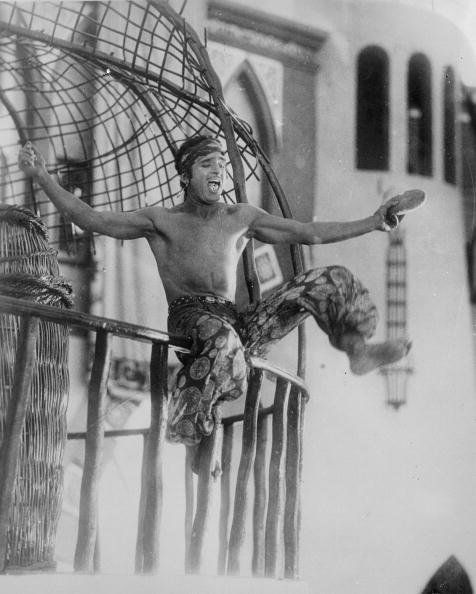 Image: 1924: Douglas Fairbanks (1883-1939) plays the dashing hero in the United Artists' silent film The Thief of Bagdad. (Photo by General Photographic Agency/Getty Images)
Production for The Thief of Bagdad languished as Fairbanks and his producers struggled with the look of the film. Upon seeing Menzies' designs, however, Fairbanks (shown above, in character) jumped at the chance to jump about the world Menzies envisioned. "What Fairbanks saw bore little resemblance to what most art directors produced at the time," Curtis explains. "Instead of presenting empty rooms of charcoal or crayon, Menzies had approached the subject as if illustrating a storybook, rendering Bagdad in ink and vibrant watercolors and placing Fairbanks' muscular character in the center of each scene." As workmen built the sets, Fairbanks insisted every detail match Menzies' illustrations. Raoul Walsh may have directed the film, but he followed Menzies' vision, which set new standards for movies as art. "Whatever else Bill Menzies did in his life," Curtis emphasizes, "he would always be remembered, first and foremost, as the designer of The Thief of Bagdad."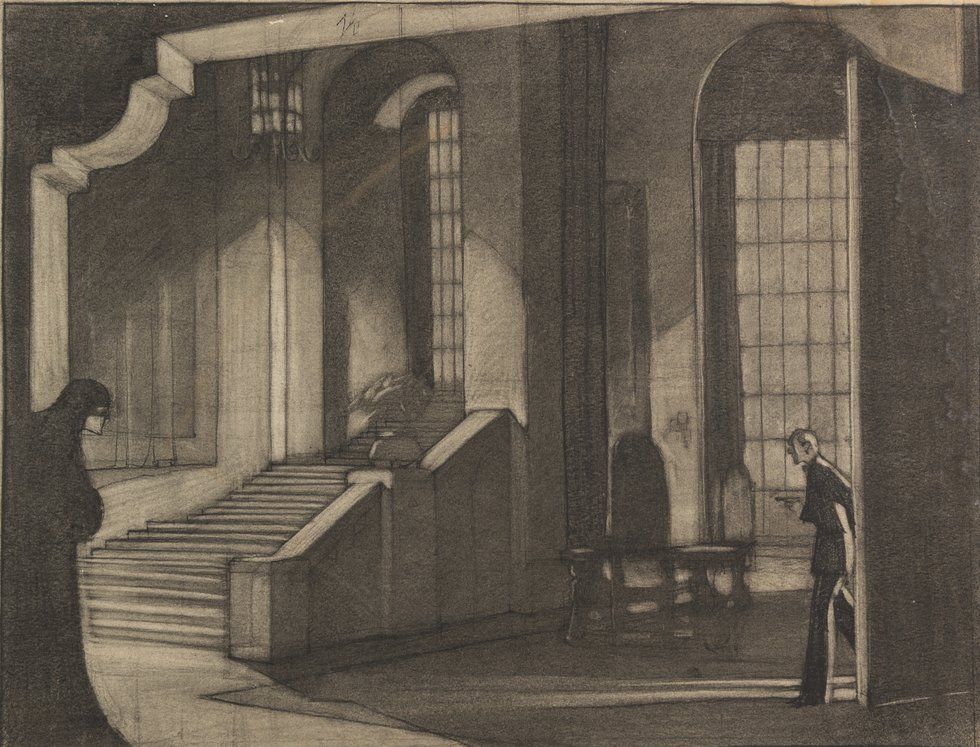 Image: Menzies designed The Bat (1926) to a scale impossible to achieve on the stage. Note the similarity of the caped figure at the left of this drawing to Bob Kane's later conception of Batman. (Menzies Family Collection.) Image courtesy of Pantheon Books.
Curtis follows Menzies path through the film industry with energetic writing and meticulous research. What becomes clear quickly is Menzies' great energy, imagination, and versatility. He's seemingly everywhere in film history, working with all the great actors, standing alongside legendary directors from D.W. Griffith to Alfred Hitchcock, and turning every mood and genre into cinema. As big, bright, and bold as The Thief of Bagdad was, 1926's The Bat (example shown above) exemplified the opposite. "The [opening] sequence sets the tonal palette for the movie," Curtis explains, "long shadows, stark shafts of light, towering windows, a brooding sense of dread." Adapted from a successful stage play of the same name, the movie version of The Bat went places visually that the original play couldn't thanks primarily to Menzies.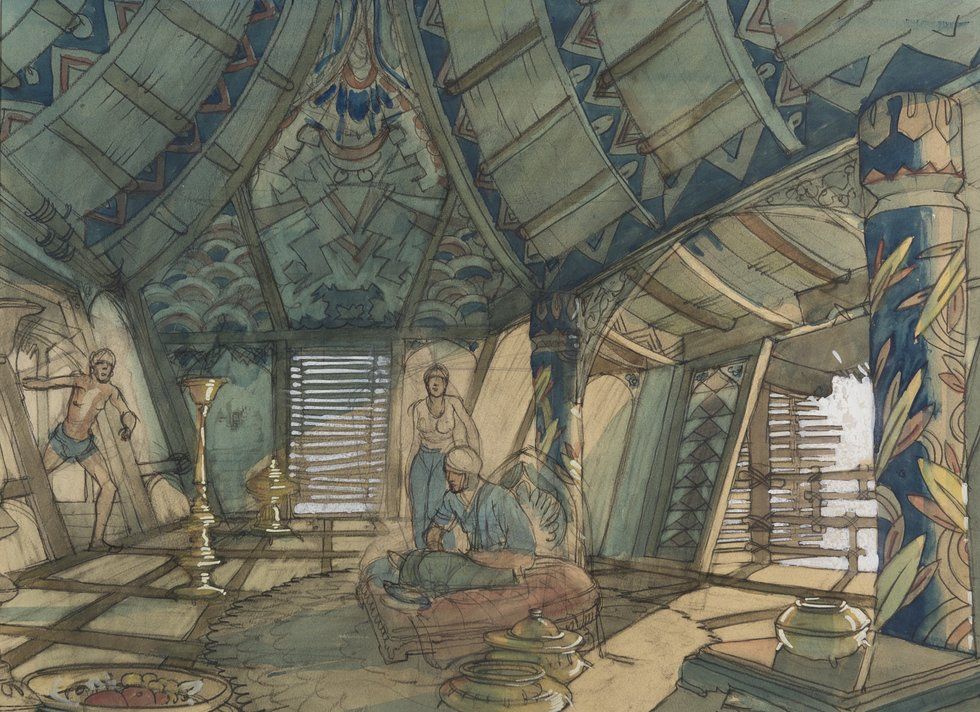 Image: Menzies' original rendering of Ahmed's desert retreat for The Son of the Sheik (1926). Economies scotched the design, a shame considering it would be Rudolph Valentino's final film and a formidable commercial success. (Pamela Lauesen.) Image courtesy of Pantheon Books.
Great visuals don't come cheap, alas, and some designs never found a home on the screen. For example, Menzies' original vision for the title character's desert retreat for The Son of the Sheik broke the budget, so we can only imagine Rudolph Valentino chewing up that scenery in his final film. Fortunately, Menzies survived the transition to sound pictures and "overc[ame] the cumbersome limitations of the new technology with a shrewd hybrid of mobility and voice, boldly applying the conventions of German Expressionism to the demands of the talking screen," Curtis writes. Just as filmmaking evolved in response to new technologies, Menzies' style evolved, moving toward a "fluidity of montage and a purer form of cinema," which Curtis demonstrates with a series of drawings from 1928's The Woman Disputed. Even in films largely forgotten today, you can see how deeply the DNA of modern cinema borrows from the bloodline of Menzies' work.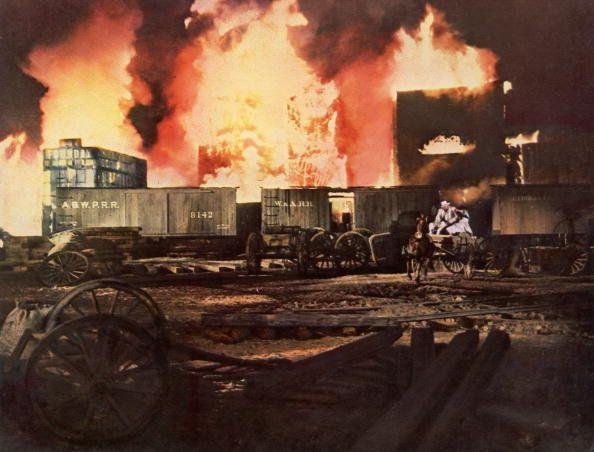 Image: The hero and heroine drive through the burning city of Atlanta in a dramatic scene from the MGM film Gone with the Wind. (Photo by MGM Studios/Archive Photos/Getty Images)
Perhaps Menzies' most lasting work in the public imagination is his vision for 1939's epic Gone with the Wind, the film that inspired producer David O. Selznick to dub Menzies with the title of production designer. Curtis chooses to begin the book with a breathless description of the filming of the burning of Atlanta scene that Menzies conceived and oversaw to the last detail. Curtis beautifully explains how Menzies used "a pastel look that lent itself to variations in tone and intensity according to the dramatic needs of a scene," thus creating "moods and passages of color that brought about a symphonic cohesion to the action and built to the highpoints in the narrative." Unable to categorize Menzies' achievement, the Motion Picture Academy created an Oscar category especially for Menzies' artistry in Gone With the Wind, "For Outstanding Achievement in the Use of Color for the Enhancement of Dramatic Mood."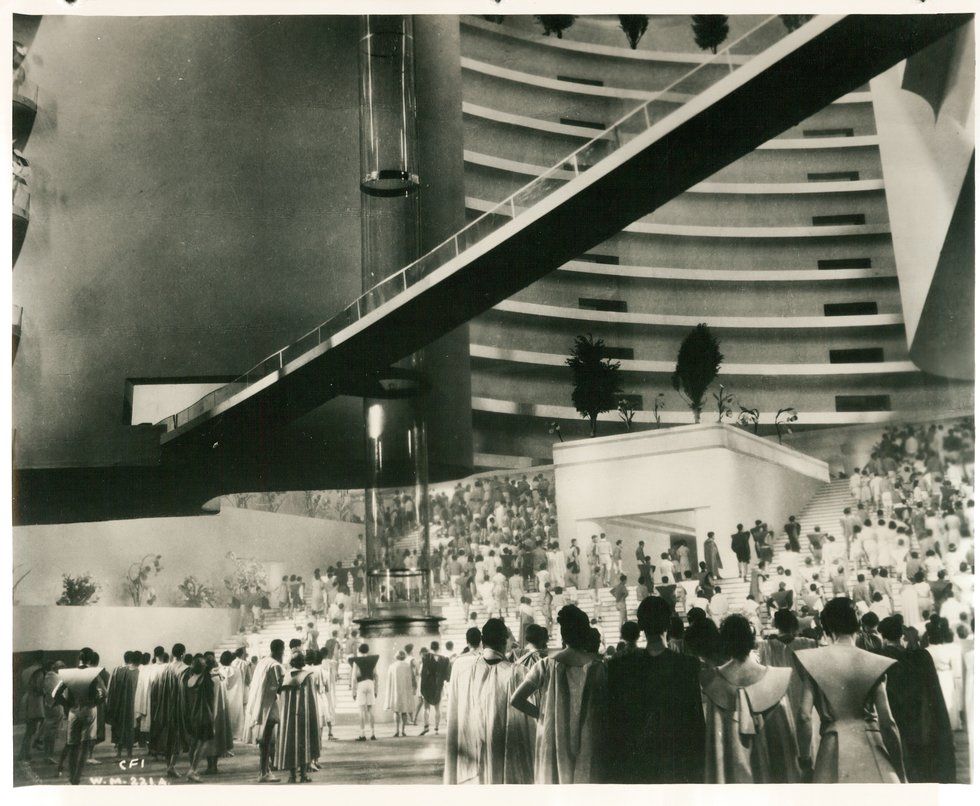 Image: The subterranean Everytown of the year 2036, probably the most famous single image from Things to Come. Generally credited to Menzies, who would have influenced the composition, it is more likely the work of Vincent Korda, who drew upon a range of influences to produce what Christopher Frayling has called "a grandiose fusion of Le Corbusier and American streamlining." (James Curtis' collection.) Image courtesy of Pantheon Books.
Menzies tried his hand at producing and directing (including the 1936 science fiction film Things to Come, shown above), but never matched his influence as a production designer. Menzies worked uncredited on so many films and influenced so many other film artists that it's hard to understand where the man ends and the wider idea of production design begins. Sadly, in his final years, when the demand for his work sharply declined, "it's possible Bill Menzies went to his grave convinced he had been forgotten," Curtis wonders. Fortunately, William Cameron Menzies: The Shape of Films to Come by James Curtis ensures that he won't be forgotten. As much as Menzies' storyboards remain a staple of filmmaking today, Curtis concludes, Menzies' true legacy lies in "show[ing] Hollywood it was possible to bring unity and purpose to the look of a film, conveying unspoken information in a way that broadened and deepened the emotional impact of the drama." No matter who wins the 2016 Oscar for production design, the real name on the award should read William Cameron Menzies.
[Image at top of post: William Cameron Menzies. Image courtesy of Pantheon Books.]
[Many thanks to Pantheon Books for providing me with the images above and a review copy of William Cameron Menzies: The Shape of Films to Come by James Curtis.]
[Please follow me on Twitter (@BobDPictureThis) and Facebook (Art Blog By Bob) for more art news and views.]
The Lumina Foundation lays out steps for increasing access to quality post-secondary education credentials.
Sponsored by Lumina Foundation
America's post-high school education landscape was not created with the modern student in mind. Today, clear and flexible pathways are necessary to help individuals access education that can help them lead a better life.
Elizabeth Garlow explains the Lumina Foundation's strategy to create a post-secondary education system that works for all students. This includes credential recognition, affordability, a more competency-based system, and quality assurance.
Systemic historic factors have contributed to inequality in the education system. Lumina aims to close those gaps in educational attainment.
In 2019, Lumina Foundation and Big Think teamed up to create the Lumina Prize, a search to find the most innovative and scalable ideas in post-secondary education. You can see the winners of the Lumina Prize here – congratulations to PeerForward and Greater Commons!
French newspapers report that the trial hasn't lived up to expectations.
Image source: Charly Triballeau / AFP / Getty Images
Technology & Innovation
The French government initially invested in a rural solar roadway in 2016.
French newspapers report that the trial hasn't lived up to expectations.
Solar panel "paved" roadways are proving to be inefficient and too expensive.
During World War II, the U.S. incarcerated over 100,000 Japanese Americans in concentration camps throughout the West.
Universal History Archive/Universal Images Group via Getty Images
Politics & Current Affairs
Now that the issue of concentration camps in the U.S. has once again reared its head, it can be beneficial to recall the last time such camps were employed in the U.S.
After Pearl Harbor, the U.S. incarcerated over 100,000 Japanese Americans in camps, ostensibly for national security purposes.
In truth, the incarceration was primarily motivated by racism. What was life like in the U.S.'s concentration camps?
On February 19, 1942, President Roosevelt issued Executive Order 9066, which authorized and directed military commanders "to prescribe military areas … from which any or all persons may be excluded, and with respect to which, the right of any person to enter, remain in, or leave shall be subject to whatever restrictions the Secretary of War or the appropriate Military Commander may impose in his discretion." Under the authority of this executive order, roughly 112,000 men, women, and children of Japanese descent — nearly two-thirds of which were American citizens — were detained in concentration camps.
How did the camps get their start?
With the benefit of a nearly 80-year perspective, it's clear that the internment of Japanese Americans was racially motivated. In response to Japan's growing military power in the buildup to World War II, President Roosevelt commissioned two reports to determine whether it would be necessary to intern Japanese Americans should conflict break out between Japan and the U.S. Neither's conclusions supported the plan, with one even going so far as to "certify a remarkable, even extraordinary degree of loyalty among this generally suspect ethnic group." But of course, the Pearl Harbor attacks proved to be far more persuasive than these reports.
Pearl Harbor turned simmering resentment against the Japanese to a full boil, putting pressure on the Roosevelt administration to intern Japanese Americans. Lieutenant General John DeWitt, who would become the administrator of the internment program, testified to Congress
"I don't want any of them here. They are a dangerous element. There is no way to determine their loyalty... It makes no difference whether he is an American citizen, he is still a Japanese. American citizenship does not necessarily determine loyalty... But we must worry about the Japanese all the time until he is wiped off the map."
DeWitt's position was backed up by a number of pre-existing anti-immigrant groups based out of the West Coast, such as the Joint Immigration Committee and the Native Sons and Daughters of the Golden West. For many, the war simply served as an excuse to get rid of Japanese Americans. In an interview with the Saturday Evening Post, Austin Anson, the managing secretary of the Salinas Vegetable Grower-Shipper Administration, said:
"We're charged with wanting to get rid of the Japs for selfish reasons. We do. It's a question of whether the White man lives on the Pacific Coast or the brown men. ... If all the Japs were removed tomorrow, we'd never miss them in two weeks because the White farmers can take over and produce everything the Jap grows. And we do not want them back when the war ends, either."
Ironically for Anson, the mass deportation of Japanese Americans under Executive Order 9066 meant there was a significant shortage of agricultural labor. Many Caucasians left to fight the war, so the U.S. signed an agreement with Mexico to permit the immigration of several million Mexicans agricultural workers under the so-called bracero program.
Life in the camps
Hulton Archive/Getty Images
Circa 1943: Aerial view of a Japanese American relocation center in Amache, Colorado, during World War II. Each family was provided with a space 20 by 25 ft. The barracks were set in blocks and each block was provided with a community bath house and mess hall.
For the most part, Japanese Americans remained stoic in the face of their incarceration. The phrase shikata ga nai was frequently invoked — the phrase roughly translates to "it cannot be helped," which, for many, represents the perceived attitude of the Japanese people to withstand suffering that's out of their control.
Initially, most Japanese Americans were sent to temporary assembly centers, typically located at fairgrounds or racetracks. These were hastily constructed barracks, where prisoners were often packed into tight quarters and made to use toilets that were little more than pits in the ground. From here, they were relocated to more permanent camps — replete with barbed wire and armed guards — in remote, isolated places across the seven states of California, Arizona, Colorado, Wyoming, Idaho, Utah, and Arkansas.
Many of these camps, also known as War Relocation Centers, were little better than the temporary assembly centers. One report described the buildings as "tar paper-covered barracks of simple frame construction without plumbing or cooking facilities of any kind." Again, overcrowding was common.
As a result, disease became a major concern, including dysentery, malaria, and tuberculosis. This was problematic due to the chronic shortage of medical professionals and supplies, an issue that was not helped by the War Relocation Authority's decision to cap Japanese American medical professional's pay at $20 a month (about $315 in 2019 dollars), while Caucasian workers had no such restriction. As a comparison, Caucasian nurses earned $150 ($2,361) a month in one camp.
The U.S. government also administered loyalty questionnaires to incarcerated Japanese Americans with the ultimate goal of seeing whether they could be used as soldiers and to segregate "loyal" citizens from "disloyal" ones. The questionnaires often asked whether they would be willing to join the military and if they would completely renounce their loyalty to Japan. Due to fears of being drafted, general confusion, and justified anger at the U.S. government, thousands of Japanese Americans "failed" the loyalty questionnaire and were sent to the concentration camp at Tule Lake. When Roosevelt later signed a bill that would permit Japanese Americans to renounce their citizenship, 98 percent of the 5,589 who did were located at Tule Lake. Some apologists cite this an example of genuine disloyalty towards the U.S., but this argument clearly ignores the gross violation of Japanese Americans' rights. Later, it became clear that many of these renunciations had been made under duress, and nearly all of those who had renounced their citizenship sought to gain it back.
Since many children lived in the camps, they came equipped with schools. Of course, these schools weren't ideal — student-teacher ratios reached as high as 48:1, and supplies were limited. The irony of learning about American history and ideals was not lost on the students, one of whom wrote in an essay --
"They, the first generation [of Japanese immigrants], without the least knowledge of the English language nor the new surroundings, came to this land with the American pioneering spirit of resettling. ...Though undergoing many hardships, they did reach their goal only to be resettled by the order of evacuation under the emergency for our protection and public security."
Potentially the best part of life in the camps — and the best way for determined prisoners to demonstrate their fundamental American-ness — was playing baseball. One camp even featured nearly 100 baseball teams. Former prisoner Herb Kurima recalled the importance of baseball in their lives in an interview with Christian Science Monitor. "I wanted our fathers, who worked so hard, to have a chance to see a ball game," he said. "Over half the camp used to come out to watch. It was the only enjoyment in the camps."
The aftermath
When the camps finally closed in 1945, the lives of the incarcerated Japanese Americans had been totally upended. Some were repatriated to Japan, while others settled in whichever part of the country they had been arbitrarily placed in. Those who wished to return to the West Coast were given $25 and a train ticket, but few had anything to return to. Many had sold their property to predatory buyers prior to being incarcerated, while theft had wiped out whatever else they had left behind. Many, many years later, the 1988 Civil Liberties Act mandated that each surviving victim be paid $20,000, though that seems like a small fine to pay for irrevocably changing the courses of more than 100,000 lives.