It's More Than Strange Politics. America Has a Serious Gun Fetish.
If all the rational arguments argue against American gun culture, then the irrational (sometimes creepy) ones must be to blame for our fatal firearms attraction.
10 December, 2015
In 1968, as The Beatles were working on what would be known as "The White Album," producer George Martin showed John Lennon a copy of the May 1968 issue of The American Rifleman he had found. Martin and Lennon read the title of Warren W. Herlihy's feature, "Happiness Is a Warm Gun: Primer popping with pop from early boyhood," with disbelief.  "I thought it was a fantastic, insane thing to say," Lennon later remarked. "A warm gun means you've just shot something." Lennon, who would be assassinated by a gun by a mentally disturbed fan in New York City in 1980, turned that story into the song "Happiness Is a Warm Gun." As Americans deal once again with the aftermath of the latest mass shooting, that song should be the musical accompaniment.
---
There are many sides to the gun debate (as the devoted commentators to this piece will no doubt point out; Welcome!), but all the rational arguments against guns (mainly based on ending the American "exceptionalism" regarding firearms in contrast to other developed countries such as Japan or Australia) eventually run into the wall of irrational fears and, to some degree, fetishes. It's as if they can listen to Lennon sing, "Happiness is a warm gun mama/ When I hold you in my arms/ And I feel my finger on your trigger/ I know nobody can do me no harm," but can't hear the satire. Even the other Beatles crooning "Bang bang, shoot shoot" and "Oh, yeah" behind the lead vocal can't clue them in to the caustic position Lennon's making on the "fantastic, insane" gun fetish that commingles sex and gun violence into one dangerous, creepy brew.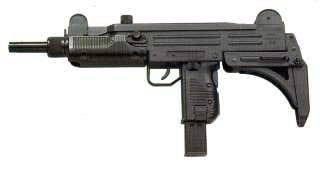 Sex sells, of course. Almost all adult-targeted marketing's based on that primal urge, so using sex to sell firearms is no surprise. What's surprising (and disturbing) is the extent to which that marketing plan takes the imagery. For example, the UZI® PRO Pistol (a version of the Uzi weapon shown above) doesn't need a female centerfold to hold it. It IS the centerfold. Glamour lighting and sleek packaging invite the target gun fetishist audience to take this weapon home for some special time. After describing the history of the Uzi, the marketing copy proudly announces that "the love affair with the world's most iconic pistol continues today." But it's not just the Uzi that's spawned love affairs, as this slideshow of the "13 hottest firearms for 2015" (which includes the UZI® PRO Pistol) will attest. Glock, Smith & Wesson, and other iconic gun names appear to offer all the deadly, efficient eye candy of the season. Clearly these are not for hunting, unless you're hunting for a different kind of satisfaction than the challenges of the wilderness can offer.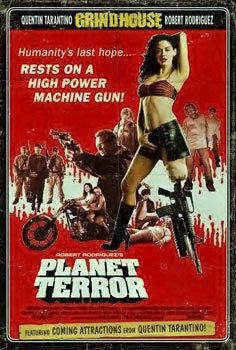 If you want to see the ultimate image of gun fetishism with no filter on the sexual connotations, look no further than Rose McGowan's Cherry Darling character in director Robert Rodriguez's "Planet Terror" that was his contribution to the 2007 double-feature feature with Quentin Tarantino, Grindhouse. McGowan's go-go dancer role goes dark when zombies tear off her right leg. After killing two rapists (one played by Tarantino himself) with her first prosthetic (a wooden table leg), Cherry upgrades to a machine gun prosthetic (shown in the movie poster above) that helps her kill the zombies. Rodriguez intentionally goes way over the top to recreate the feel of the classic 1970s exploitation film, but he also says something about the exploitation of sexuality to propagate the gun culture. 
Gun shows prominently feature female models to show off the merchandise, just as car shows have done for decades. But cars lead to much fewer fatalities. If you want to see an even more obvious connection between guns and sex (and politics and special interest groups), check out Matt Haughey's #GOPdildos, a very, VERY NSFW series of images in which Haughey photoshops guns out of the hands of Ted Cruz, Dick Cheney, Mitch McConnell, and other NRA-friendly figures and inserts sex toys for them to handle and gaze lovingly upon. You'll never look at guns (or these politicians) the same way again.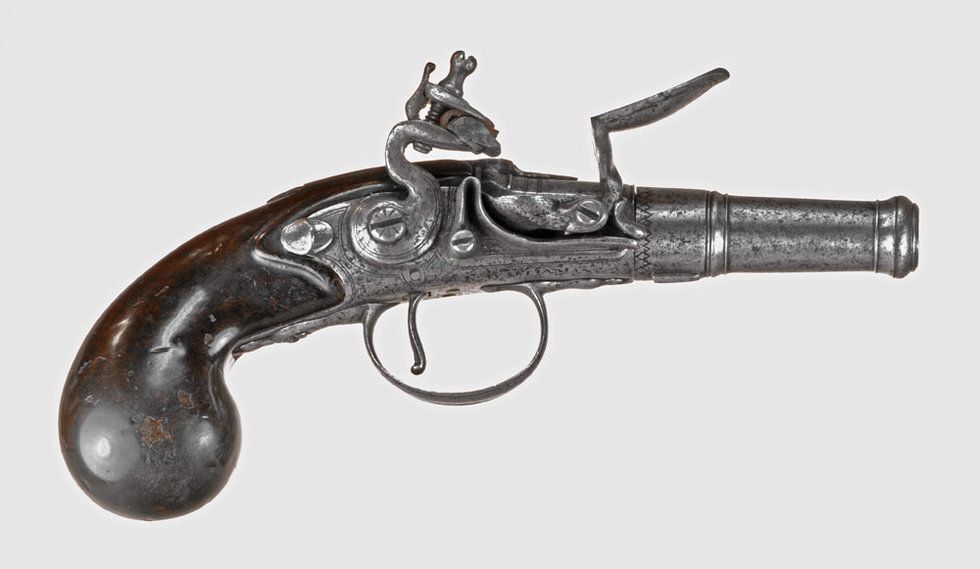 I'll confess to admiring the design of the modern firearm. They're meant to please the eye.  There's a long tradition of craftsmanship in firearms. Go to any museum and you'll see attractive weaponry of the past, such as the Queen Anne flintlock pistol (shown above). Britain's Queen Anne only lent her name to the pistol designed during her reign in the early 18th century and didn't carry one herself, but she could have, since the pistol was small enough to carry in a lady's hand warmer muff, hence it's other name — the muff pistol. We don't have to muffle our appreciation for the form of the firearm and the craftsmanship behind it. However, we should be able to separate the form from the deadly function. There's almost something ladylike about this flintlock versus the "hot" sex appeal of today's weapons. If all we really want to do is look, then these weapons should be rendered unusable and turned into the safe, beautiful museum pieces they should be — either as symbols of today's technological grace or as artifacts of yesterday's brutal ways.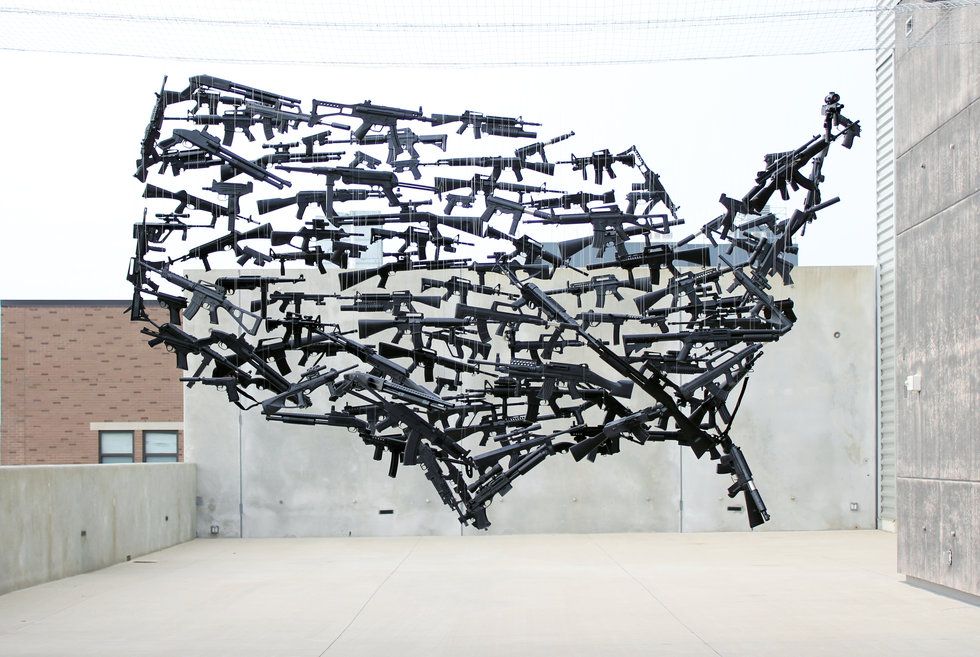 But if sexualized gun imagery is wrong, what might the "right" image of guns in America look like? I nominate sculptor Michael Murphy's Gun Country (shown above). What makes Murphy's Gun Country such an appropriate image for the gun debate is that when you see it straight on, it looks like a simple, two-dimensional picture, much like the way Second Amendment fundamentalists want the gun debate to look. Look closer and work your way around it (as the people in this video do) and you realize that it's much more complex and multidimensional.  Murphy hangs 130 toy guns at various depths that build up a map of the United States that is as layered and deceptively complex as the gun debate plaguing it. 
Around 1.1 million Americans have died by firearms since Lennon's assassination 35 years ago.  The siren song of guns continues to drown out the message of "Happiness Is a Warm Gun."  Another Brit singer-songwriter, George Ezra, offered a new musical take on the gun fetish on his 2015 album Wanted on Voyage with the song "Stand by Your Gun," which riffs off the romantic Country standard "Stand by Your Man." "Go figure our true desires/ My darling, stand by your gun/ See we don't need,/ No nothing more,/ We're quite attached to the forty-four," Ezra sings. Perhaps the real solution to the gun problem in America is, as Ezra suggests, to "figure our true desires" and analyze (maybe psychoanalyze) why the United States' love affair with guns has become a commitment until death do we fall apart.
--
Big Think
Sponsored by Lumina Foundation
Upvote/downvote each of the videos below!

As you vote, keep in mind that we are looking for a winner with the most engaging social venture pitch - an idea you would want to invest in.
Lumina Foundation and Big Think have partnered to bring this entrepreneurial competition to life, and we hope you'll participate! We have narrowed down the competition to four finalists and will be announcing an audience's choice award and a judges' choice award in May.
The creator of the winning video — chosen by Big Think's audience, the Lumina Foundation, and an independent panel of experts (bios below) — will be flown to New York for a taping in the Big Think studio as a way to further promote their vision for a new, disruptive idea in post-secondary education.
Thank you to all of the contestants who spent time submitting applications, and best of luck to our final four competitors.
Finalist: Greater Commons - Todd McLeod
Greater Commons, founded by Todd McLeod and Andrew Cull, is an organization that helps people live happier, more successful and fulfilling lives through agile learning. The current education system is inefficient and exclusionary, in which many students who end up earning a degree, if at all, enter a career not related to their field of study. Greater Commons solves this problem and gap in post-high school secondary education in a variety of ways. Passionately and diligently, Great Commons helps others obtain skills, knowledge, wisdom, motivation, and inspiration so that they may live better lives.
Finalist: PeerFoward - Keith Frome
PeerForward is an organization dedicated to increasing the education and career success rates of students in low-income schools and communities by mobilizing the power of positive peer influence. PeerForward works with partner schools to select influential students as a part of a team, systemizing the "peer effect." Research in the fields of sociology of schools, social-emotional learning, adult-youth partnerships, and civic education demonstrates that students can have a positive effect on the academic outcomes of their peers. PeerForward is unique through its systemic solutions to post-secondary education.
Finalist: Cogniss - Leon Young
Cogniss combines technology and best practice knowledge to enable anyone to innovate and share solutions that advance lifelong learning. Cogniss is the only platform to integrate neuroscience, through which it solves the problem of access by providing a low-code platform that enables both developers and non-developers to build sophisticated education apps fast, and at a much lower cost. It addresses the uneven quality of edtech solutions by embedding research-based learning design into its software. App creators can choose from a rich set of artificial intelligence, game, social and data analytics, and gamification to build their perfect customized solution.
Finalist: Practera - Nikki James
Practera's mission is to create a world where everyone can learn through experience. Today's workplaces are increasingly dynamic and diverse, however, costly and time-consuming experiential learning is not always able to offer the right opportunities at scale. Many students graduate without developing the essential skills for their chosen career. Practera's team of educators and technologists see this problem as an opportunity to transform the educational experience landscape, through a CPL pedagogical framework and opportunities to apply students' strengths through active feedback.
Thank you to our judges!
Our expert judges are Lorna Davis, Dan Rosensweig, and Stuart Yasgur.
Lorna Davis is the Senior Advisor to Danone CEO and is a Global Ambassador for the B Corp movement. Lorna has now joined B-Lab, the non-for-profit that supports the B Corporation movement on an assignment to support the journey of large multi nationals on the path to using business as a force of good.
Dan Rosensweig joined Chegg in 2010 with a vision for transforming the popular textbook rental service into a leading provider of digital learning services for high school and college students. As Chairman and CEO of Chegg, Dan commits the company to fulfilling its mission of putting students first and helping them save time, save money and get smarter.

Stuart Yasgur leads Ashoka's Social Financial Services globally. At Ashoka, Stuart works with others to initiate efforts that have mobilized more than $500 million in funding for social entrepreneurs, engaged the G20 through the Toronto, Seoul and Los Cabos summits and helped form partnerships with leading financial institutions and corporations.
Again, thank you to our incredible expert judges.
Upstreamism advocate Rishi Manchanda calls us to understand health not as a "personal responsibility" but a "common good."
Sponsored by Northwell Health
Upstreamism tasks health care professionals to combat unhealthy social and cultural influences that exist outside — or upstream — of medical facilities.
Patients from low-income neighborhoods are most at risk of negative health impacts.
Thankfully, health care professionals are not alone. Upstreamism is increasingly part of our cultural consciousness.
The Bajau people's nomadic lifestyle has given them remarkable adaptions, enabling them to stay underwater for unbelievable periods of time. Their lifestyle, however, is quickly disappearing.
Wikimedia Commons
Culture & Religion
The Bajau people travel in small flotillas throughout the Phillipines, Malaysia, and Indonesia, hunting fish underwater for food.
Over the years, practicing this lifestyle has given the Bajau unique adaptations to swimming underwater. Many find it straightforward to dive up to 13 minutes 200 feet below the surface of the ocean.
Unfortunately, many disparate factors are erasing the traditional Bajau way of life.
Big think's weekly newsletter.
Get smarter faster from the comfort of your inbox.
See our newsletter privacy policy
here
Most Popular
Most Recent
Big think's weekly newsletter.
Get smarter faster from the comfort of your inbox.
See our newsletter privacy policy
here
© Copyright 2007-2019 & BIG THINK, BIG THINK EDGE,
SMARTER FASTER trademarks owned by The Big Think, Inc. All rights reserved.