Laura Poitras's Survival Guide for Living Under Total Surveillance
Artist Laura Poitras—the filmmaker who helped Edward Snowden—shows Americans how to survive total surveillance in a new exhibition.
22 March, 2016
When whistleblower Edward Snowden encrypted a file containing evidence of mass surveillance by the National Security Agency of the U.S. Government, he titled it "Astro Noise," the name scientists give to the faint traces of thermal radiation left over from the "Big Bang" that gave birth to the universe.  Snowden entrusted that explosive file to journalist Glenn Greenwald and filmmaker-artist Laura Poitras, who turned it into the film Citizenfour.  Poitras (shown accepting an award "with" Snowden above) now makes more noise with the exhibit Laura Poitras: Astro Noise in hopes of giving Americans a visual survival guide for living under total surveillance.
---
Video:  Official trailer to the film Citizenfour. 
Poitras' association with Snowden through Citizenfour (whose trailer appears above) catapulted her into the spotlight, but she stirred up trouble for the powerful long before that.  She made My Country, My Country in 2006 to educated Americans about living conditions for Iraqis under U.S. occupation post-Saddam and earned an Oscar nomination.  In 2010, Poitras told the story of Abu Jandal and Salim Ahmed Hamdan, two Yemini men entangled in the American legal system as part of the War on Terror, in her film The Oath.  Snowden wasn't even Poitras' first government whistleblower.  When 32-year NSA employee William Binney disclosed details of the Stellar Wind program he helped design in 2012, Poitras was there to listen and turn it into a film.  Such work led Snowden to choose Poitras when looking for an outlet for his revelations in 2014.  For her efforts, Poitras found herself monitored, searched, detained, and interrogated by the U.S. Government—an achievement she still wears as a badge of honor in the fight for full transparency of government activities.
Laura Poitras, ANARCHIST: Israeli Drone Feed (Intercepted February 24, 2009), 2016. Pigmented inkjet print on aluminum, 45" x 64-3/4" (114.3 x 164.5 cm). Courtesy of the artist.
After all that success with film, why does Poitras turn to art to tell this story?  Quite simply, the issue of government surveillance remains a complex story that most Americans understand poorly, if at all.  As Snowden himself has found, it's frustratingly hard to describe such a complicated web of programs and technologies to a society conditioned to digest sound bites.  Comedian John Oliver tried to help Snowden explain the issue in a hilarious interview and strained to make the issue relatable (specifically by referring repeatedly to "dick pics"), but it remained devilishly difficult to comprehend. Rather than humor, Poitras tries to take the realities of surveillance and make them relatable as visual experiences.  "I very much like the idea of creating a space that challenges the viewer and asks them to make decisions," Poitras explains. "My films are about these questions—what do people do when confronted with choices and risks?"  Rather than just show footage of a drone, Poitras "ask[s] people to lie down and gaze upward in Bed Down Location, for example,… to enter an empathetic space to imagine drone warfare."  Images such as ANARCHIST: Israeli Drone Feed (Intercepted February 24, 2009) (shown above) make you feel viscerally the reality of drone attacks in a way that news stories and interviews cannot.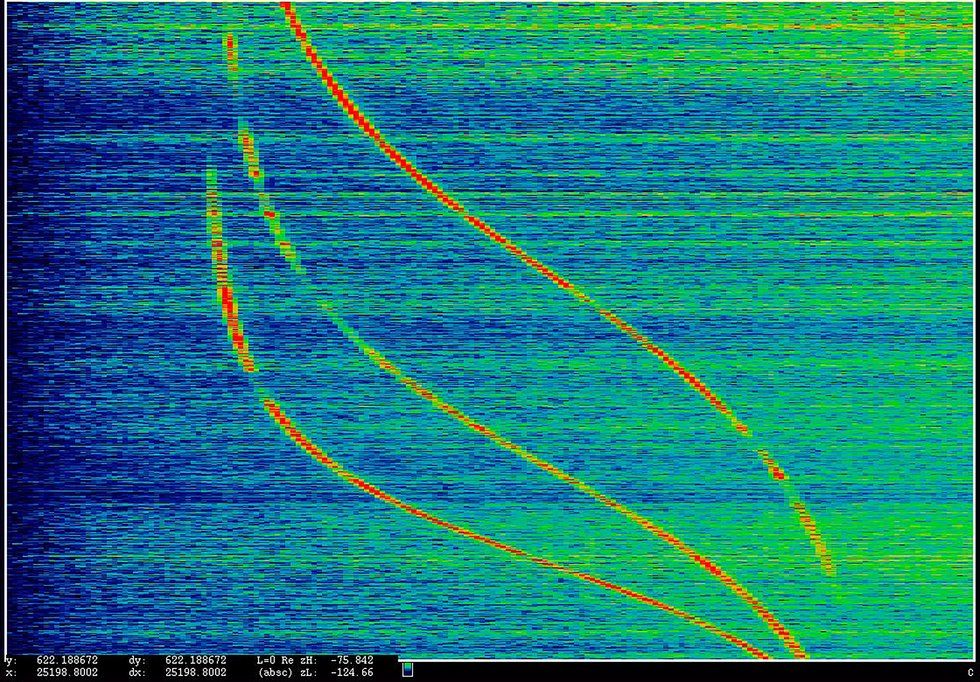 Image: Laura Poitras (b. 1964), ANARCHIST: Data Feed with Doppler Tracks from a Satellite (Intercepted May 27, 2009), 2016. Pigmented inkjet print mounted on aluminum, 45 x 64 3/4 in. (114.3 x 164.5 cm). Courtesy the artist.
On one hand, Poitras wants you to feel and understand issues of surveillance more clearly.  On the other hand, Poitras wants you to feel and understand just how deliberately disorienting the issue is as well.  "In another piece," Poitras says, "there is both the seduction of shafts of light to look into, but also the choreography of bodies in the space, bodies facing walls and the things you associate with that, like firing squads. I'm interested in making things hard to see, just like the deep state is hard to see."  If you have trouble seeing the point, that's the point Poitras is making.  Looking at images such as ANARCHIST: Data Feed with Doppler Tracks from a Satellite (Intercepted May 27, 2009) (shown above) might be frustrating for those looking for answers, but it should motivate you to understand this real life-or-death issue that literally hangs over us all, whether we acknowledge it or not.

Image: Laura Poitras (b. 1964), Laura Poitras filming the NSA Utah Data Repository construction in 2011. Photograph by Conor Provenzano.
Poitras subtitles the catalogue to the exhibition "A Survival Guide for Living Under Total Surveillance" (excerpts from which can be seen here). The catalogue collects "responses to the modern-day state of mass surveillance and the 'war on terror' from a diverse group of artists, novelists, technologists, graphic storytellers, and data journalists, among others," including Poitras, Snowden, artist Ai Weiwei, and author Dave Eggers.   Even if you can't get to see Laura Poitras: Astro Noise in person, you should look for your own "survival guide" to the age of surveillance and the possible death of privacy.  Before you come down on one side or the other of the Apple versus FBI debate over iPhone security, for example, let Laura Poitras (shown above, filming the NSA Utah Data Repository being built in 2011) help you cut through all the distracting noise to hear and judge the facts clearly for yourself.
--
[Image at top of post: Berlin, Germany—December 14: Filmmaker Laura Poitras speaks as former National Security Agency (NSA) contractor turned whistleblower Edward Snowden is seen on a video conference screen during an award ceremony for the Carl von Ossietzky journalism prize on December 14, 2014 in Berlin, Germany. Poitras, Snowden and journalist Glenn Greenwald (the latter two in absentia) were awarded the prize by the International League for Human Rights for having 'put their personal freedom on the line to expose abuse of power' by Germany and the United States in their revelations of the extent of government surveillance on ordinary citizens in the name of 'national security' in the wake of terrorist attacks. The prize is named for journalist and Nobel Peace Prize winner Ossietzky, who died from complications from being held as a dissident in a Nazi concentration camp. A bid to allow Snowden, who has temporary asylum in Moscow, to testify in Berlin before an NSA parliamentary inquiry is ongoing. (Photo by Adam Berry/Getty Images)]
[Many thanks to the Whitney Museum of American Art, New York, NY, for providing me with the images above from and other press materials related to the exhibition Laura Poitras: Astro Noise, which runs through May 1, 2016.]
[Please follow me on Twitter (@BobDPictureThis) and Facebook (Art Blog By Bob) for more art news and views.]
What can 3D printing do for medicine? The "sky is the limit," says Northwell Health researcher Dr. Todd Goldstein.
Northwell Health
Sponsored by Northwell Health
Medical professionals are currently using 3D printers to create prosthetics and patient-specific organ models that doctors can use to prepare for surgery.
Eventually, scientists hope to print patient-specific organs that can be transplanted safely into the human body.
Northwell Health, New York State's largest health care provider, is pioneering 3D printing in medicine in three key ways.
The periodic table was a lot simpler at the beginning of the universe.
Great ideas in philosophy often come in dense packages. Then there is where the work of Marcus Aurelius.
(Getty Images)
Personal Growth
Meditations is a collection of the philosophical ideas of the Roman Emperor Marcus Aurelius.
Written as a series of notes to himself, the book is much more readable than the dry philosophy most people are used to.
The advice he gave to himself 2,000 years ago is increasingly applicable in our hectic, stressed-out lives.
Can dirt help us fight off stress? Groundbreaking new research shows how.
University of Colorado Boulder
Surprising Science
New research identifies a bacterium that helps block anxiety.
Scientists say this can lead to drugs for first responders and soldiers, preventing PTSD and other mental issues.
The finding builds on the hygiene hypothesis, first proposed in 1989.
Are modern societies trying too hard to be clean, at the detriment to public health? Scientists discovered that a microorganism living in dirt can actually be good for us, potentially helping the body to fight off stress. Harnessing its powers can lead to a "stress vaccine".
Researchers at the University of Colorado Boulder found that the fatty 10(Z)-hexadecenoic acid from the soil-residing bacterium Mycobacterium vaccae aids immune cells in blocking pathways that increase inflammation and the ability to combat stress.
The study's senior author and Integrative Physiology Professor Christopher Lowry described this fat as "one of the main ingredients" in the "special sauce" that causes the beneficial effects of the bacterium.
The finding goes hand in hand with the "hygiene hypothesis," initially proposed in 1989 by the British scientist David Strachan. He maintained that our generally sterile modern world prevents children from being exposed to certain microorganisms, resulting in compromised immune systems and greater incidences of asthma and allergies.
Contemporary research fine-tuned the hypothesis, finding that not interacting with so-called "old friends" or helpful microbes in the soil and the environment, rather than the ones that cause illnesses, is what's detrimental. In particular, our mental health could be at stake.
"The idea is that as humans have moved away from farms and an agricultural or hunter-gatherer existence into cities, we have lost contact with organisms that served to regulate our immune system and suppress inappropriate inflammation," explained Lowry. "That has put us at higher risk for inflammatory disease and stress-related psychiatric disorders."
University of Colorado Boulder
Christopher Lowry
This is not the first study on the subject from Lowry, who published previous work showing the connection between being exposed to healthy bacteria and mental health. He found that being raised with animals and dust in a rural environment helps children develop more stress-proof immune systems. Such kids were also likely to be less at risk for mental illnesses than people living in the city without pets.
Lowry's other work also pointed out that the soil-based bacterium Mycobacterium vaccae acts like an antidepressant when injected into rodents. It alters their behavior and has lasting anti-inflammatory effects on the brain, according to the press release from the University of Colorado Boulder. Prolonged inflammation can lead to such stress-related disorders as PTSD.
The new study from Lowry and his team identified why that worked by pinpointing the specific fatty acid responsible. They showed that when the 10(Z)-hexadecenoic acid gets into cells, it works like a lock, attaching itself to the peroxisome proliferator-activated receptor (PPAR). This allows it to block a number of key pathways responsible for inflammation. Pre-treating the cells with the acid (or lipid) made them withstand inflammation better.
Lowry thinks this understanding can lead to creating a "stress vaccine" that can be given to people in high-stress jobs, like first responders or soldiers. The vaccine can prevent the psychological effects of stress.
What's more, this friendly bacterium is not the only potentially helpful organism we can find in soil.
"This is just one strain of one species of one type of bacterium that is found in the soil but there are millions of other strains in soils," said Lowry. "We are just beginning to see the tip of the iceberg in terms of identifying the mechanisms through which they have evolved to keep us healthy. It should inspire awe in all of us."
Check out the study published in the journal Psychopharmacology.
Big think's weekly newsletter.
Get smarter faster from the comfort of your inbox.
See our newsletter privacy policy
here
Most Popular
Most Recent
Big think's weekly newsletter.
Get smarter faster from the comfort of your inbox.
See our newsletter privacy policy
here
© Copyright 2007-2019 & BIG THINK, BIG THINK EDGE,
SMARTER FASTER trademarks owned by The Big Think, Inc. All rights reserved.