Is James Brown the Key to Solving America's Race Puzzle?
Author-musician James McBride claims that James Brown, the Godfather of Soul, holds the secret to America's race-torn soul.
14 April, 2016
"Kill 'em and leave, Rev," singer James Brown told his protégé, the Reverend Al Sharpton, when he made a quick exit after a sweat-soaked, soul-and-funk—fueled performance.  This "hit and run" style made Brown an icon and an enigma, a beloved artist that nobody—even those closest to him—felt they really knew.  Author-musician James McBride's Kill 'em and Leave: Searching for James Brown and the American Soul sets out in search of James Brown and discovers that the path to him parallels the path to America's race-torn soul.  But figuring out James Brown's "impossible," McBride writes. "Because to figure him out, we'd have to figure ourselves out.  And that's like giving an aspirin to a two-headed baby."  McBride might not find a cure, but he renders a fascinating diagnosis.
---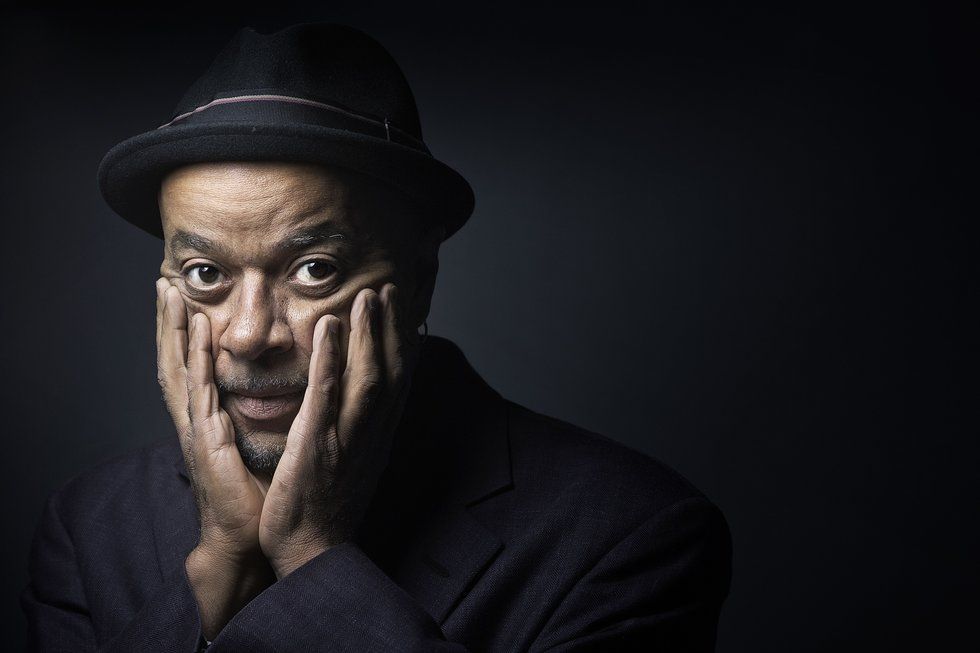 Image: US writer and musician James McBride poses in Paris on September 23, 2015. US novelist James McBride, also a jazz musician and composer, brings back to life the forgotten figure of John Brown in The Good Lord Bird, an adventure novel awarded with the National Book Award, one of the most prestigious literary awards in the United States. AFP PHOTO / JOEL SAGET (Photo credit should read JOEL SAGET/AFP/Getty Images)
Few writers today tackle race relations in America with the wit and insight of James McBride (shown above), whose The Good Lord Bird, won a National Book Award for Fiction in 2013.  In that novel, McBride recounted the story of firebrand abolitionist John Brown, the polarizing figure that helped ignite the Civil War.  Just as people passionately hated or loved John Brown, many passionately hated or loved James Brown.  Just as McBride resurrected John, he hopes to do the same with James.  Thanks to misleading Hollywood biopics such as 2014's Get on Up, James Brown's "tumbling towards history as an enigma," McBride argues.  "Movies are simple," McBride says simply. "And Brown's life was anything but that."  Oversimplifying Brown's complex life and art does an injustice to the man, just as oversimplifying the American racial landscape perpetuates injustice to people of color.  With nuance and brutally frank honesty, McBride looks at Brown to focus on Black and White.
Video:  James Brown and the Famous Flames perform at the 1964 Teen Age Music International Show later released as the 1964 concert film The T.A.M.I. Show.
First of all, McBride reminds older people of just how dynamic James Brown, "Mr. Dynamite," could be while introducing a new generation to "The Hardest Working Man in Show Business."  Before disco killed his career and a host of illnesses killed the man in 2006, nobody outperformed "The Godfather of Soul."  When white promoters insisted the Rolling Stones close the 1964 Teen Age Music International Show later released as the 1964 concert film The T.A.M.I. Show, Brown took it as a personal challenge.  Brown's singing and dancing performance (shown in the video above) made the Stones "sound like a garage band by comparison, with [Mick] Jagger dancing around like the straw man in The Wizard of Oz," McBride writes.  (You can see the Stones' performance here.)  For Brown, "killing" the audience was the best revenge for racist disrespect.  Alas, Jagger, 40 years later, rewrote the story of that night as co-producer of Get On Up.  Winners write the history, of course, but McBride wants Brown to win in the end.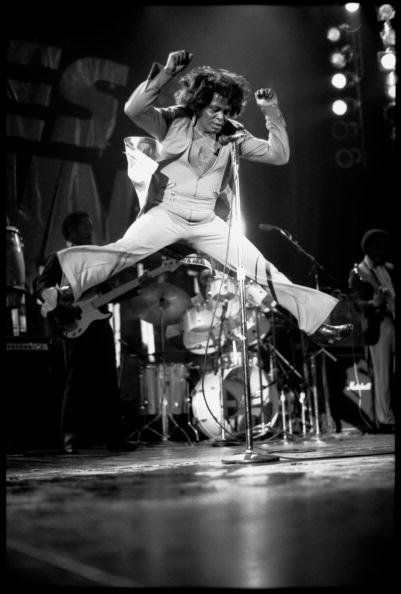 Image: United Kingdom - May 23: Hammersmith Odeon Photo of James Brown—performing live onstage—leaping in the air. (Photo by David Corio/Redferns)
Rather than write a straightforward biography of a man who zigged and zagged on the stage and through life, McBride riffs on elements of Brown's life by visiting the people who knew and worked with him.  Chapter by chapter, interview by interview, McBride pieces together the puzzle of James Brown—or at least lays the pieces on the table for us to connect.  Any attempt to truly hold the man down is a lie, McBride proves.  "To the music world, he was an odd appendage," McBride writes, "a kind of freak, a large rock in the road that you couldn't get around, a clown, a black category… The man simply defied description."  But what makes Brown, the son of sharecroppers who rose to fame but lost it all in a mess of financial entanglements, so indescribable.  "The reason?" McBride responds.  "Brown was a child of a country in hiding: America's South."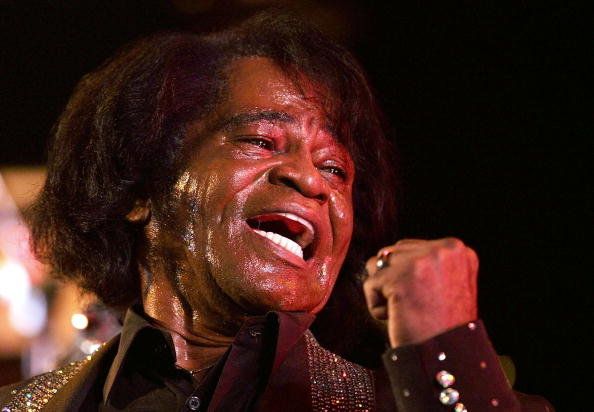 Image: Kinross, Scotland - July 9: James Brown performs at "T In The Park 2005" at Balado on July 9, 2005 at Kinross, Scotland. (Photo by Christopher Furlong/Getty Images)
The American South remains the undiscovered country at the heart of American society and politics, the place where modernity and reason seemingly go to die.  The impetus for McBride's search stems from the sad fact that in 2016, a full decade after Brown's death, the $100 million fund Brown set up to educate poor children in the South (with a will he spent $20,000 on to ensure it was foolproof) still hasn't gotten a penny to those children.  Instead, in a "case… bound by race, blood, nepotism, and feuds that reach back to slavery and the Reconstruction that followed," lawsuits continue to bleed the fund dry, McBride explains.  "A weird toxic trio of good-old-boy lawyers, Brown's children, and his poor white widow" battle over the money, denying the poor children the gift Brown, who stressed education and hard work to young people his whole life, meant for them.  "Only a local would understand," McBride says over and over, knowing that anyone outside the South cannot.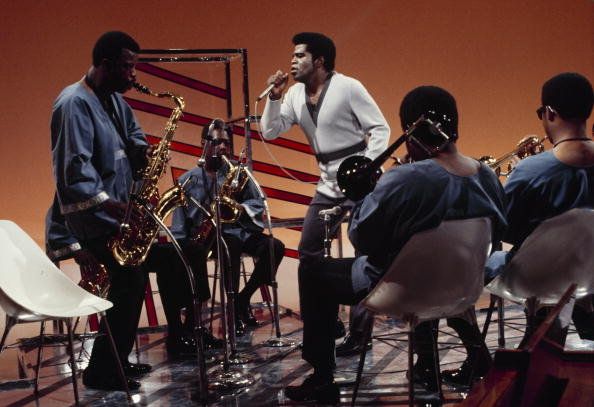 Image: The Music Scene 1969-70 - (Photo by ABC Photo Archives/ABC via Getty Images) James Brown.
As great as McBride's finesse talking about race or society is, it's a true education reading him talk about music.  He digs into the "James Brown sound" to revive the memory of great players such as saxophonist Alfred "Pee Wee" Ellis (who blew on "Say It Loud - I'm Black and I'm Proud") and guitarist Jimmy Nolen (the "chicken scratch" sound on "I Got You (I Feel Good)").  McBride compares Brown as musical leader to the more highly respected Jazz giants Duke Ellington and Count Basie, all leaders of a creative community.  McBride also redeems Brown's sound from jazz snobbery, comparing jazz to basketball and funk to baseball.  You need multiple skills to play jazz/basketball, but you need specific skills to play funk/baseball.  Neither's better nor worse than the other.  They're just different.  Reading McBride on Brown and funkiness made me crank up funk epic "Ain't It Funky Now" with a whole new appreciation, as well as a sadness over just how underappreciated Brown and this style of music are today.  Is that lack of appreciation and recognition racist?  McBride reports and reflects.  You decide.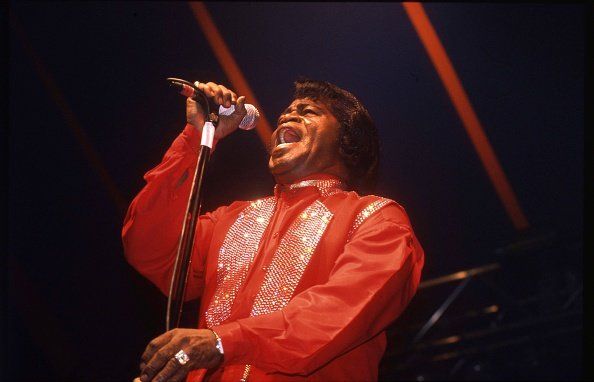 Image: James Brown performs on stage at the Essential Festival, Brighton , United Kingdom, 2000. (Photo by Martyn Goodacre/Getty Images)
We're living in a golden age of writing about race in America, tragically inspired by a dark era of race relations.  #BlackLivesMatter has led to #BlackBooksMatter.  Ta-Nehisi Coates' Between the World and Me and Claudia Rankine's Citizen: An American Lyric both won awards while opening eyes.  James McBride's Kill 'em and Leave: Searching for James Brown and the American Soul may soon follow.  What sets McBride's book apart from his award-winning predecessors is how he uses James Brown as a case study in American race relations.  Coates and Rankine both try to embrace the pervasiveness of racism with a wide-ranging view of the landscape.  By putting James Brown center stage in his study, McBride allows us to see more clearly what we've been missing all along.  "Every man or woman in this life has a song, and if you're lucky you can remember it," McBride writes.  "For African Americans, the song of our life, the song of our entire history, is embodied in the life and times of James Brown."  McBride sings that song loud—he's black and he's proud—and dreams of a day we remember the James Brown in our own American soul, regardless of race.
[Image at top of post: James Brown performs during United We Stand Concert - Show at RFK Stadium in Washington DC, United States. (Photo by KMazur/WireImage).]
[Please follow me on Twitter (@BobDPictureThis) and Facebook (Art Blog By Bob) for more art news and views.]
What can 3D printing do for medicine? The "sky is the limit," says Northwell Health researcher Dr. Todd Goldstein.
Northwell Health
Sponsored by Northwell Health
Medical professionals are currently using 3D printers to create prosthetics and patient-specific organ models that doctors can use to prepare for surgery.
Eventually, scientists hope to print patient-specific organs that can be transplanted safely into the human body.
Northwell Health, New York State's largest health care provider, is pioneering 3D printing in medicine in three key ways.
Torn between absolutism on the left and the right, classical liberalism—with its core values of compassion and incremental progress whereby the once-radical becomes the mainstream—is in need of a good defense. And Adam Gopnik is its lawyer.
Think Again Podcasts
Liberalism as "radical pragmatism"
Intersectionality and civic discourse
How "a thousand small sanities" tackled drunk driving, normalized gay marriage, and could control gun violence
As Game of Thrones ends, a revealing resolution to its perplexing geography.
Strange Maps
The fantasy world of Game of Thrones was inspired by real places and events.
But the map of Westeros is a good example of the perplexing relation between fantasy and reality.
Like Britain, it has a Wall in the North, but the map only really clicks into place if you add Ireland.
The lost practice of face-to-face communication has made the world a more extreme place.
Videos
The world was saner when we spoke face-to-face, argues John Cameron Mitchell. Not looking someone in the eye when you talk to them raises the potential for miscommunication and conflict.
Social media has been an incredible force for activism and human rights, but it's also negatively affected our relationship with the media. We are now bombarded 24/7 with news that either drives us to anger or apathy.
Sitting behind a screen makes polarization worse, and polarization is fertile ground for conspiracy theories and fascism, which Cameron describes as irrationally blaming someone else for your problems.
Big think's weekly newsletter.
Get smarter faster from the comfort of your inbox.
See our newsletter privacy policy
here
Most Popular
Most Recent
Big think's weekly newsletter.
Get smarter faster from the comfort of your inbox.
See our newsletter privacy policy
here
© Copyright 2007-2019 & BIG THINK, BIG THINK EDGE,
SMARTER FASTER trademarks owned by The Big Think, Inc. All rights reserved.