3 MINUTE SURVEY: Why isn't your school organization making more progress?
16 February, 2011
Why aren't schools making more progress when it comes to effective implementation and integration of digital technologies? Here's what K-12 educators usually tell me when asked (list is in no particular order):
---
\n
\n
Lack of adequate funding
\n
Unsupportive state / federal legislators
\n
Teacher / union resistance
\n
Lack of professional development
\n
Ineffective leadership
\n
Lack of time / space within curriculum
\n
Accountability demands of NCLB
\n
Parent / community resistance
\n
\n
I'm curious about your own situation. So I created a 3–minute survey! Simply click, drag, and drop the items to reorder them.
\n
\n
\n
Survey closes Thursday, November 19. Hope you'll participate (and pass this along to others)!
\n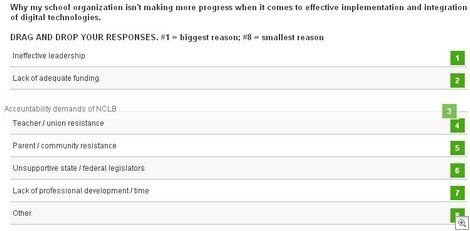 \n
A new study estimated the untapped potential of wind energy across Europe.
Pixabay
Surprising Science
A new report calculated how much electricity Europe could generate if it built onshore wind farms on all of its exploitable land.
The results indicated that European onshore wind farms could supply the whole world with electricity from now until 2050.
Wind farms come with a few complications, but the researchers noted that their study was meant to highlight the untapped potential of the renewable energy source in Europe.
French newspapers report that the trial hasn't lived up to expectations.
Image source: Charly Triballeau / AFP / Getty Images
Technology & Innovation
The French government initially invested in a rural solar roadway in 2016.
French newspapers report that the trial hasn't lived up to expectations.
Solar panel "paved" roadways are proving to be inefficient and too expensive.
You want one. Now you may be able to survive one.
Technology & Innovation
Cats live in a quarter of Western households.
Allergies to them are common and can be dangerous.
A new approach targets the primary trouble-causing allergen.