What makes film scores by John Williams so iconic?
With his 51st Oscar nomination for Star Wars: The Last Jedi, composer John Williams has mastered the craft of the film score.
11 February, 2018
John Williams could have probably called it quits after scoring the first Star Wars movie, given the film's cultural importance: the soundtrack was preserved by the Library of Congress for its historical significance. Yet the industrious grandson of department store owners and cabinetmakers attributes his prolific career to his family's hands-on work ethic. The just-turned 86-year-old is looking at yet another potential Oscar this year for his musical contribution to Star Wars: The Last Jedi—his 51st Academy Award nomination. 
---
For the latest installment of this franchise, Williams employed 101 orchestra members and the 64-piece Los Angeles Master Chorale, who recorded 184 minutes of music over 11 days. He was so pleased with the results he hopes to release another version of the film, as he says, "without the dialogue and effects, just the music played in the foreground. All of the accompanimental music will be brought forward—every gesture, the music traveling along with the moods and textures, references to characters and so on."
It's easy to overlook the importance of music in films, as in life. Studies in background music started in Britain at the end of World War II, where it was shown that workers in armament factories had significant increases in job productivity when music was in the background (compared to silence). Music made a huge difference in keeping these workers engaged and focused.
The same is true of movies. On YouTube you can find many examples of scenes stripped of sound. (Ever seen Big Bang Theory without the laugh track?) In cinema, highly dramatic moments become impotent without the sweeping strings and building percussion. Williams is a modern master of this craft. The terrifying appearance of Jaws' fin or the boulder hunting down Indiana Jones would have likely not been imprinted on a generation without his sonic assistance. The crew's first glimpse of a de-extincted Brachiosaurus in the first Jurassic Park would have been sad trumpet without the emotional cascade of violins.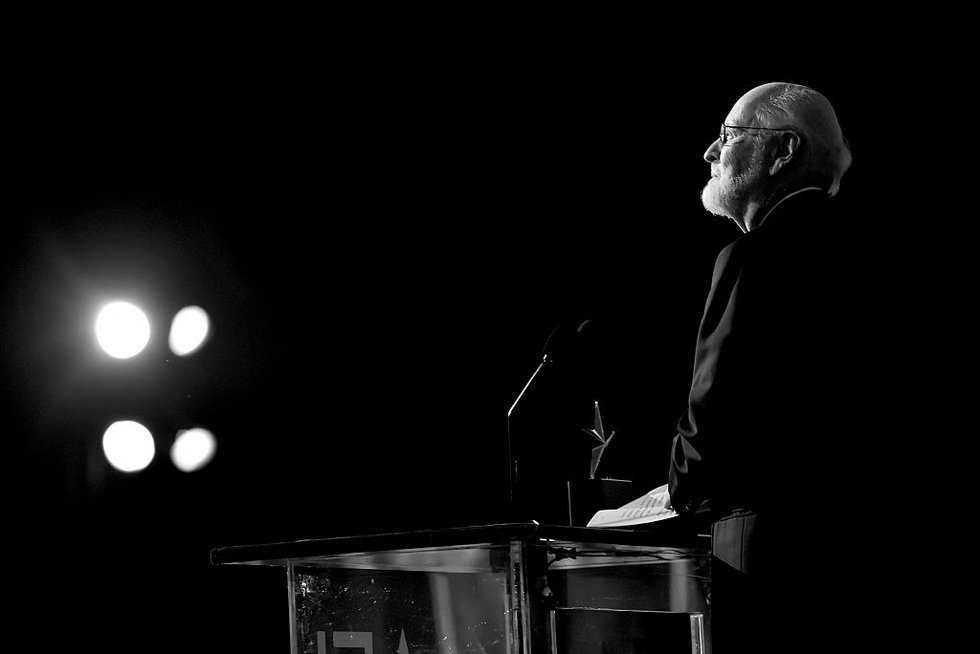 AFI Life Achievement Award recipient John Williams speaks onstage during American Film Institute's 44th Life Achievement Award Gala Tribute show to John Williams at Dolby Theatre on June 9, 2016, in Hollywood, California. (Photo: Mike Windle/Getty Images for Turner)
Born in Floral Park, NY, during the Depression in 1932, his family moved to Los Angeles when he was 16. His father played jazz percussion, which influenced his early life. Williams spent a semester in a studio jazz band at LA City College before being drafted into the Air Force, where he arranged music for that institution's band.
Following his service, Williams moved back east to study at Julliard, spending his evenings playing around Manhattan's vibrant jazz scene as a pianist. After cutting his teeth on the gig circuit, he returned to Los Angeles and started playing on a variety of television shows as well as playing accompaniment for bands and singers around town. His inspiration for the emerging film industry was Tchaikovsky and Richard Wagner. In their works, romantic themes capture a moment's mood, a pattern Williams mimicked then mastered.
Williams's first Academy Award nomination came with Valley of the Dolls, a cult classic often remembered for starring a promising young actress named Sharon Tate, who was murdered two years later by Charles Manson. Williams's first win took another four years when Fiddler on the Roof hit the screen. His legacy set, the Star Wars franchise remains his masterpiece: the original soundtrack is the highest-grossing non-popular recording of all time.
The Indiana Jones franchise also belongs to Williams, with the unforgettable 'The Raiders March' as Jones's personal theme song. He also composed for the first three Harry Potter films. The composer breathed life into Superman, added melodrama to the heartbreaking Schindler's List, and filled the dramatic war film Saving Private Ryan with plenty of tension.
Williams is able to dial into our emotional reservoir thanks in part to his mastery of tempo. We can turn to a different industry, shopping, to better understand tempo's effects on our behavior. In his landmark 1982 study, marketing researcher Ronald Milliman studied how tempo affects consumer patterns.
Milliman recorded how fast people moved between two pre-designated points in a store over a ten-week period. Instrumental music with slower tempos (80 beats per minute and slower) influenced shoppers to move much more slowly through a grocery store. They moved faster when the tempo passed 100 beats per minute. When the study involved no music, people moved in the middle of these two figures.
It's not only tempo but also volume that unconsciously affects our behavior. Psychology professor Patricia Cain Smith found that people chose to spend less time and move faster through a store playing louder music than when the same music was played at softer volumes. When asked what they thought of the music, most volunteers replied that they did not remember it at all. 
This is relevant for cinematic experiences as well. While Williams turns to the romantics for inspiration, horror movies use infrasound, sounds below the normal threshold of 20 Hz, to create anticipation and fear in an audience. While some animals can hear below this threshold, natural sounds like wind and earthquakes resonate at this level. It is believed that some regions that are registered as creating "supernatural experiences" are really just areas that feature infrasound that affects our perception of the environment. 
Williams's compositions tend to stick with us, however. Most everyone can recite 'Main Title' from Star Wars: Episode IV: A New Hope by heart. But even his music is only memorized over time. During the movie, you're so enraptured by all the stimulation that it's impossible to process everything at once. Mastery in cinema requires creating music so novel that it stands alone, yet so seamless with the visual experience that it seems as if there were no other musical choice. 
While Williams is the most nominated living person in Oscars history, he'll need eight more after this year to tie Walt Disney's record of 59 nominations. If he stays alongside Steven Spielberg—he's composed for every single film of his save The Color Purple—he might just get there.  Incredibly, he starts each film never knowing the impact he'll make on the audience. As he told Variety in 2016:
"In the initial stage of writing any of these things, one never imagines that they will be popular or even be around a week after they're done. Everything was written in the service of some film function. That's as far as my creative thinking would have gone. You never write a theme for a movie thinking, 'this will live forever.'"
It's hard to imagine Williams' work not enduring. He is inextricably tied to some of the most memorable moments in American film history. His imprint is unforgettable.
--
Derek Beres is the author of Whole Motion and creator of Clarity: Anxiety Reduction for Optimal Health. Based in Los Angeles, he is working on a new book about spiritual consumerism. Stay in touch on Facebook and Twitter.
Related Articles
How a cataclysm worse than what killed the dinosaurs destroyed 90 percent of all life on Earth.
Credit: Ron Miller
Surprising Science
While the demise of the dinosaurs gets more attention as far as mass extinctions go, an even more disastrous event called "the Great Dying" or the "End-Permian Extinction" happened on Earth prior to that. Now scientists discovered how this cataclysm, which took place about 250 million years ago, managed to kill off more than 90 percent of all life on the planet.
A new study discovers the "liking gap" — the difference between how we view others we're meeting for the first time, and the way we think they're seeing us.
New acquaintances probably like you more than you think. (Photo by Simone Joyner/Getty Images)
Surprising Science
We tend to be defensive socially. When we meet new people, we're often concerned with how we're coming off. Our anxiety causes us to be so concerned with the impression we're creating that we fail to notice that the same is true of the other person as well. A new study led by Erica J. Boothby, published on September 5 in Psychological Science, reveals how people tend to like us more in first encounters than we'd ever suspect.
Using advanced laser technology, scientists at NASA will track global changes in ice with greater accuracy.
Firing three pairs of laser beams 10,000 times per second, the ICESat-2 satellite will measure how long it takes for faint reflections to bounce back from ground and sea ice, allowing scientists to measure the thickness, elevation and extent of global ice
popular
Leaving from Vandenberg Air Force base in California this coming Saturday, at 8:46 a.m. ET, the Ice, Cloud, and Land Elevation Satellite-2 — or, the "ICESat-2" — is perched atop a United Launch Alliance Delta II rocket, and when it assumes its orbit, it will study ice layers at Earth's poles, using its only payload, the Advance Topographic Laser Altimeter System (ATLAS).
Big think's weekly newsletter.
Get smarter faster from the comfort of your inbox.
See our newsletter privacy policy
here
Most Popular
Most Recent
Big think's weekly newsletter.
Get smarter faster from the comfort of your inbox.
See our newsletter privacy policy
here
© Copyright 2007-2018 & BIG THINK, BIG THINK EDGE,
SMARTER FASTER trademarks owned by The Big Think, Inc. All rights reserved.