Big ideas.
Once a week.
Subscribe to our weekly newsletter.
Understanding the US-Mexican border: those are real people behind the statistics
Francisco Cantu wanted to put faces to the statistics. So he became a Border Patrol agent.
14 June, 2018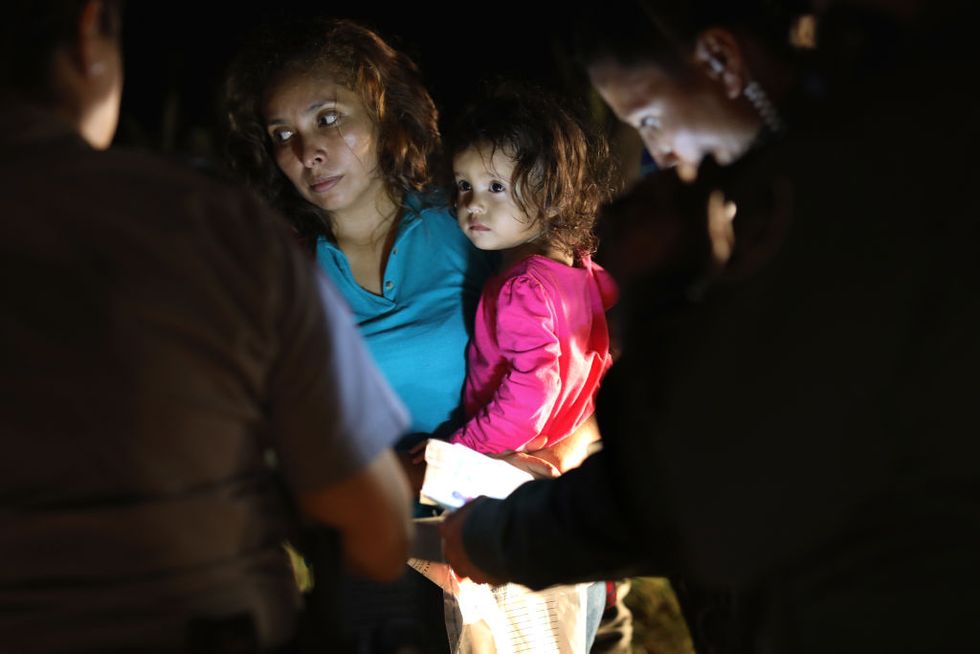 A Honduran mother holds her two-year-old as U.S. Border Patrol as agents review their papers near the U.S.-Mexico border on June 12, 2018 in McAllen, Texas. (Photo by John Moore/Getty Images)
A Honduran woman was breastfeeding her child under terrible circumstances. She had tried to cross the Mexican-US border illegally and was being detained in a McAllen detention center. Awaiting prosecution, her baby was hungry, so she was attending to the most motherly of tasks. Then a guard ripped her baby away from her. 
---
She's not the only one to have her child taken away in what's become an unprecedented practice of the current administration. While a combination of distraction overload and short attention spans keeps our national focus on irrelevant banter and diversions, the story of children—over 10,000 and counting—being taken from their families and stored like cattle is receiving too little attention. The only pressure the administration feels is overcrowding. Their solutions include an abandoned Walmart and a tent city. 
Mexico and "the wall" are so burned in our national consciousness it seems we've forgotten that those are real people trying to cross the border, often for reasons we'll never have to face ourselves. Over the last decade, more Mexicans have left America than entered it,  the main reason being family reunification. But that doesn't make for a good headline. Cracking down on illegals, even ghosts of a fearful imagination, is a guaranteed winner of a campaign slogan.
Yet there are still some trying to enter. Many people view America as the land of the free, even though our attorney general recently disqualified victims of domestic abuse and gang violence as legitimate asylum seekers. We hear from politicians and pundits and policy advocates, we even occasionally hear from the public on these matters. But what about those experiencing it firsthand?
Francisco Cantú thought the same thing. While studying international relations in college, he wanted to put faces to the statistics he was reading about. This is a noble endeavor. Personally, I can imagine the horror of 10,000 imprisoned children, but I can't really understand the psychological brutality it entails. Empathy is the best I can accomplish. Cantú, a third-generation Mexican-American, needed more than that, so he spent five years working as a Border Patrol agent.
His memoir, The Line Becomes a River, has received its share of controversy, mostly from immigrants, who call Cantú a "Nazi" and "traitor." While this impulse is understandable, Cantú's book is not an apology, nor is he excusing agent behavior. Rather, it's an insightful and empathic look at an occupation so many of us know exists yet so few will ever experience. The value in that cannot be overstated.
It's a beautifully written work. In section one, Cantú describes his first campaign in the field. He discusses the relationships, however brief, he develops with migrants. His fluency in Spanish helps. There are those he helps hydrate, those he offers a shirt, those he discovers stiff with rigor mortis and the nightmares that follow. There are sections where he leans a little heavily on his own empathizing; he paints a good picture of himself as the do-gooder in an ugly and unfortunate reality.
Cantú's self-reflection deepens as the book continues, however. In section two, he's transferred to a desk job, where he watches the border through a screen instead of the desert haze. There's safety there—his mother is satisfied. The new role offers another window into the immigration process, one dominated by paperwork. He catches up on reading, observing the verbiage the press uses to describe migrants. He cites cultural sociologist Jane Zavisca, who collected over a decade of news reports of migrant deaths, to better understand the metaphors used to describe them.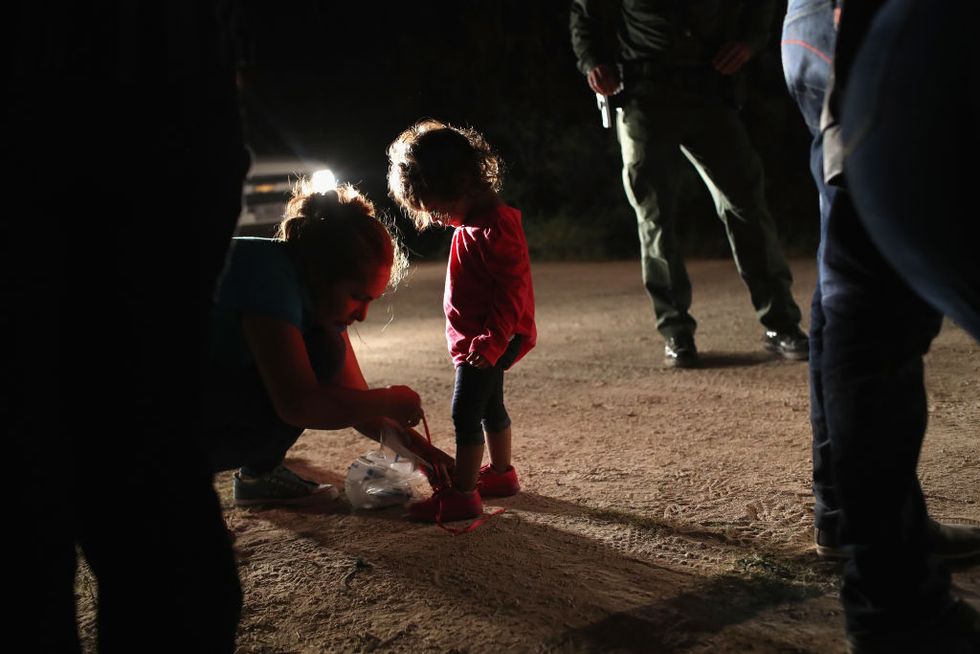 A Honduran mother removes her two-year-old daughter's shoe laces, as required by U.S. Border Patrol agents, after being detained near the U.S.-Mexico border on June 12, 2018 in McAllen, Texas. (Photo by John Moore/Getty Images)
The results are not pretty. Migrants are described first by economic metaphors ("cost," "calculation," "gamble") and second by metaphors of violence. Using cost-benefit analysis to describe death, Zavisca writes, is a way to "naturalize death" and "suggest that migrants bear some responsibility for their own deaths." Violence leads to imagery of angry deserts and that ancient stock human habit, war metaphors. Dehumanizing metaphors came in third, which makes it easier to do whatever you want to these humans; treating others as animals is the easiest way to forgo guilt or shame. America is not the first culture to invoke "the other," but we are certainly partaking in its trappings.
Antsy behind the screen, Cantú jumps on the opportunity to return to the field; he moves to El Paso. He had the desire, as historian Timothy Synder phrased it, to "turn the numbers back into people." Arrests continued, death continued, and, as the dreams continued, Cantú realized that his time of service had ended. He returned to school.
Then comes section three, which is what makes this book so important. Up until this point, you're introduced to passing characters, requiring a page or sentence. Then the author meets Jose, who has been taking care of the grounds of an open-air mercado that Cantú is now working at as a barista. He turns all of those numbers into a person.
Jose illegally crossed in the early eighties. Since then he's (mostly) been an upstanding citizen. He battled alcoholism until his first child was born, swearing off the drink forever after. Father of three sons and a wife he loves, he spends his days maintaining the mercado's grounds and working as a Chipotle cook. Then word comes that his mother is dying in Oaxaca. No one knew Jose didn't have papers.
Cantú discusses a reality he had not yet seen: where those migrants went after he handcuffed them and filed paperwork. He watches Jose break down when seeing his family in court; picking up Jose's kids to visit him in jail while Jose's wife works a second job to make ends meet; the failed crossings; threats from shady smugglers who never follow through; a caring legal team that does its best in an uncaring system, and fails.
Cantú concludes that migrants are never going to stop crossing as long as family members live in America. Those already here will not rush back to Mexico, a country many have never lived in. Mexican border towns are notoriously violent thanks to gang and drug activity, while a city like El Paso was named "safest city in America" four straight years (and is currently number two; another border city, San Diego, is number four). Americans claim to value family values so highly, yet when we come across examples of virtuous behavior we turn a blind eye. Cantú writes,
These same people, the ones with the most dedication to their family, they begin to build up a record of deportation, they have more and more problems with the government, and it becomes harder and harder for them to ever become legal. In this way, the U.S. is making criminals out of those who could become its very best citizens.
Mexico is, in fact, sending its best people. We just refuse to see that.
--
Certain water beetles can escape from frogs after being consumed.
Surprising Science
A Japanese scientist shows that some beetles can wiggle out of frog's butts after being eaten whole.
The research suggests the beetle can get out in as little as 7 minutes.
Most of the beetles swallowed in the experiment survived with no complications after being excreted.
In what is perhaps one of the weirdest experiments ever that comes from the category of "why did anyone need to know this?" scientists have proven that the Regimbartia attenuata beetle can climb out of a frog's butt after being eaten.
The research was carried out by Kobe University ecologist Shinji Sugiura. His team found that the majority of beetles swallowed by black-spotted pond frogs (Pelophylax nigromaculatus) used in their experiment managed to escape about 6 hours after and were perfectly fine.
"Here, I report active escape of the aquatic beetle R. attenuata from the vents of five frog species via the digestive tract," writes Sugiura in a new paper, adding "although adult beetles were easily eaten by frogs, 90 percent of swallowed beetles were excreted within six hours after being eaten and, surprisingly, were still alive."
One bug even got out in as little as 7 minutes.

Sugiura also tried putting wax on the legs of some of the beetles, preventing them from moving. These ones were not able to make it out alive, taking from 38 to 150 hours to be digested.
Naturally, as anyone would upon encountering such a story, you're wondering where's the video. Thankfully, the scientists recorded the proceedings:
The Regimbartia attenuata beetle can be found in the tropics, especially as pests in fish hatcheries. It's not the only kind of creature that can survive being swallowed. A recent study showed that snake eels are able to burrow out of the stomachs of fish using their sharp tails, only to become stuck, die, and be mummified in the gut cavity. Scientists are calling the beetle's ability the first documented "active prey escape." Usually, such travelers through the digestive tract have particular adaptations that make it possible for them to withstand extreme pH and lack of oxygen. The researchers think the beetle's trick is in inducing the frog to open a so-called "vent" controlled by the sphincter muscle.
"Individuals were always excreted head first from the frog vent, suggesting that R. attenuata stimulates the hind gut, urging the frog to defecate," explains Sugiura.
For more information, check out the study published in Current Biology.
Are "humanized" pigs the future of medical research?
Surprising Science
In recent years, our team at Iowa State University has found a way to make pigs an even closer stand-in for humans. We have successfully transferred components of the human immune system into pigs that lack a functional immune system. This breakthrough has the potential to accelerate medical research in many areas, including virus and vaccine research, as well as cancer and stem cell therapeutics.
Existing biomedical models
Severe Combined Immunodeficiency, or SCID, is a genetic condition that causes impaired development of the immune system. People can develop SCID, as dramatized in the 1976 movie "The Boy in the Plastic Bubble." Other animals can develop SCID, too, including mice.
Researchers in the 1980s recognized that SCID mice could be implanted with human immune cells for further study. Such mice are called "humanized" mice and have been optimized over the past 30 years to study many questions relevant to human health.
Mice are the most commonly used animal in biomedical research, but results from mice often do not translate well to human responses, thanks to differences in metabolism, size and divergent cell functions compared with people.
Nonhuman primates are also used for medical research and are certainly closer stand-ins for humans. But using them for this purpose raises numerous ethical considerations. With these concerns in mind, the National Institutes of Health retired most of its chimpanzees from biomedical research in 2013.
Alternative animal models are in demand.
Swine are a viable option for medical research because of their similarities to humans. And with their widespread commercial use, pigs are met with fewer ethical dilemmas than primates. Upwards of 100 million hogs are slaughtered each year for food in the U.S.
Humanizing pigs
In 2012, groups at Iowa State University and Kansas State University, including Jack Dekkers, an expert in animal breeding and genetics, and Raymond Rowland, a specialist in animal diseases, serendipitously discovered a naturally occurring genetic mutation in pigs that caused SCID. We wondered if we could develop these pigs to create a new biomedical model.
Our group has worked for nearly a decade developing and optimizing SCID pigs for applications in biomedical research. In 2018, we achieved a twofold milestone when working with animal physiologist Jason Ross and his lab. Together we developed a more immunocompromised pig than the original SCID pig – and successfully humanized it, by transferring cultured human immune stem cells into the livers of developing piglets.
During early fetal development, immune cells develop within the liver, providing an opportunity to introduce human cells. We inject human immune stem cells into fetal pig livers using ultrasound imaging as a guide. As the pig fetus develops, the injected human immune stem cells begin to differentiate – or change into other kinds of cells – and spread through the pig's body. Once SCID piglets are born, we can detect human immune cells in their blood, liver, spleen and thymus gland. This humanization is what makes them so valuable for testing new medical treatments.
We have found that human ovarian tumors survive and grow in SCID pigs, giving us an opportunity to study ovarian cancer in a new way. Similarly, because human skin survives on SCID pigs, scientists may be able to develop new treatments for skin burns. Other research possibilities are numerous.

The ultraclean SCID pig biocontainment facility in Ames, Iowa. Adeline Boettcher, CC BY-SA
Pigs in a bubble
Since our pigs lack essential components of their immune system, they are extremely susceptible to infection and require special housing to help reduce exposure to pathogens.
SCID pigs are raised in bubble biocontainment facilities. Positive pressure rooms, which maintain a higher air pressure than the surrounding environment to keep pathogens out, are coupled with highly filtered air and water. All personnel are required to wear full personal protective equipment. We typically have anywhere from two to 15 SCID pigs and breeding animals at a given time. (Our breeding animals do not have SCID, but they are genetic carriers of the mutation, so their offspring may have SCID.)
As with any animal research, ethical considerations are always front and center. All our protocols are approved by Iowa State University's Institutional Animal Care and Use Committee and are in accordance with The National Institutes of Health's Guide for the Care and Use of Laboratory Animals.
Every day, twice a day, our pigs are checked by expert caretakers who monitor their health status and provide engagement. We have veterinarians on call. If any pigs fall ill, and drug or antibiotic intervention does not improve their condition, the animals are humanely euthanized.
Our goal is to continue optimizing our humanized SCID pigs so they can be more readily available for stem cell therapy testing, as well as research in other areas, including cancer. We hope the development of the SCID pig model will pave the way for advancements in therapeutic testing, with the long-term goal of improving human patient outcomes.
Adeline Boettcher earned her research-based Ph.D. working on the SCID project in 2019.

Christopher Tuggle, Professor of Animal Science, Iowa State University and Adeline Boettcher, Technical Writer II, Iowa State University
This article is republished from The Conversation under a Creative Commons license. Read the original article.
Satellite imagery can help better predict volcanic eruptions by monitoring changes in surface temperature near volcanoes.
Credit:
Ammit
via Adobe Stock
Surprising Science
A recent study used data collected by NASA satellites to conduct a statistical analysis of surface temperatures near volcanoes that erupted from 2002 to 2019.
The results showed that surface temperatures near volcanoes gradually increased in the months and years prior to eruptions.
The method was able to detect potential eruptions that were not anticipated by other volcano monitoring methods, such as eruptions in Japan in 2014 and Chile in 2015.
How can modern technology help warn us of impending volcanic eruptions?
One promising answer may lie in satellite imagery. In a recent study published in Nature Geoscience, researchers used infrared data collected by NASA satellites to study the conditions near volcanoes in the months and years before they erupted.
The results revealed a pattern: Prior to eruptions, an unusually large amount of heat had been escaping through soil near volcanoes. This diffusion of subterranean heat — which is a byproduct of "large-scale thermal unrest" — could potentially represent a warning sign of future eruptions.
Conceptual model of large-scale thermal unrestCredit: Girona et al.
For the study, the researchers conducted a statistical analysis of changes in surface temperature near volcanoes, using data collected over 16.5 years by NASA's Terra and Aqua satellites. The results showed that eruptions tended to occur around the time when surface temperatures near the volcanoes peaked.

Eruptions were preceded by "subtle but significant long-term (years), large-scale (tens of square kilometres) increases in their radiant heat flux (up to ~1 °C in median radiant temperature)," the researchers wrote. After eruptions, surface temperatures reliably decreased, though the cool-down period took longer for bigger eruptions.
"Volcanoes can experience thermal unrest for several years before eruption," the researchers wrote. "This thermal unrest is dominated by a large-scale phenomenon operating over extensive areas of volcanic edifices, can be an early indicator of volcanic reactivation, can increase prior to different types of eruption and can be tracked through a statistical analysis of little-processed (that is, radiance or radiant temperature) satellite-based remote sensing data with high temporal resolution."
Temporal variations of target volcanoesCredit: Girona et al.
Although using satellites to monitor thermal unrest wouldn't enable scientists to make hyper-specific eruption predictions (like predicting the exact day), it could significantly improve prediction efforts. Seismologists and volcanologists currently use a range of techniques to forecast eruptions, including monitoring for gas emissions, ground deformation, and changes to nearby water channels, to name a few.

Still, none of these techniques have proven completely reliable, both because of the science and the practical barriers (e.g. funding) standing in the way of large-scale monitoring. In 2014, for example, Japan's Mount Ontake suddenly erupted, killing 63 people. It was the nation's deadliest eruption in nearly a century.
In the study, the researchers found that surface temperatures near Mount Ontake had been increasing in the two years prior to the eruption. To date, no other monitoring method has detected "well-defined" warning signs for the 2014 disaster, the researchers noted.
The researchers hope satellite-based infrared monitoring techniques, combined with existing methods, can improve prediction efforts for volcanic eruptions. Volcanic eruptions have killed about 2,000 people since 2000.
"Our findings can open new horizons to better constrain magma–hydrothermal interaction processes, especially when integrated with other datasets, allowing us to explore the thermal budget of volcanoes and anticipate eruptions that are very difficult to forecast through other geophysical/geochemical methods."
Scroll down to load more…