Have a Headache? Don't Pop a Pill; Play the Long Game
Taking pain relief at the first feelings of a headache may mask an underlying condition. Use long-term treatments designed for migraines, says the director of Yale's Headache and Facial Pain Center.
19 December, 2016
Ingesting a nightly Advil or Tylenol is protocol for many. The general body aches, joint inflammation, and, especially, headaches that tag along on a stressful workday seem mitigated with a few hundred milligrams of pain relief. Of course, this only masks what could be a serious underlying condition.
---
We all have triggers for those sharp (or for some, dull) pains that attack the inside of our skull. Within moments a bottle is popped, two pills washed down in one gulp. The mistake we may be making, however, is confusing the trigger for the cause. The headache would most likely still have occurred, says Christopher Gottschalk. The trigger merely exacerbates the pain while giving your mind a supposed 'reason' to latch onto.
Most of the things that people have thought of as triggers—stress, weather fronts, diet—when we have studied them, we've come up empty-handed every time. It's not that they cause headaches, but that when you're getting a headache, weather changes and perfumes feel worse.
As director of Yale Medicine's Headache and Facial Pain Center, Gottschalk has developed another approach: treat every headache as a migraine. This, he says, will offer more of an opportunity at long-term success in treating and even potentially eliminating the problem.
This will take some work from a consumer standpoint, so accustomed we are to popping pills. Add to this that the cognitive distance between the freely perused aisles and the pharmacist's counter is steep. When we can walk into our local pharmacy and pay a few dollars for a hundred pills we tend to think of those drugs as safe and practically benign.
One 2001 study shows that over 30 billion over-the-counter doses of NSAIDs (non-steroidal anti-inflammatory drugs) were purchased in the United States alone that year. Yet the safety of NSAIDs is of ongoing concern. One report states that roughly 110,000 people are injured or die due to acetaminophen (an analgesic in Tylenol, for one) each year. Given that there were 27 billion doses of that specific substance sold in 2009, that equals one complication in every quarter-million doses—not an epidemic, though nothing to gloss over either.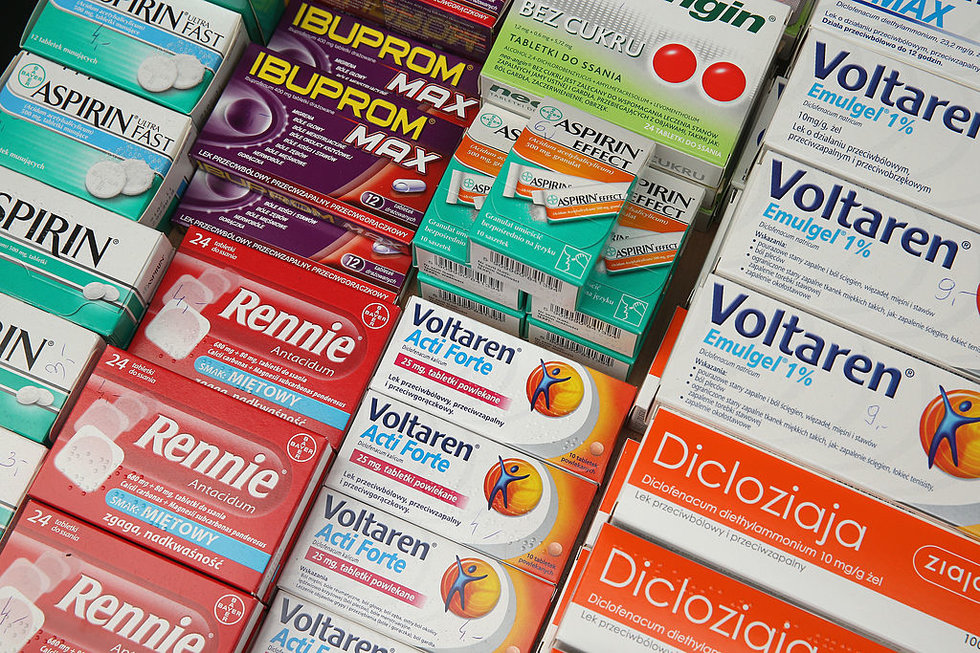 Since migraines are a chronic condition, Gottschalk is taking the long view on headaches. He recommends preventive options such as anti-seizure medications, low doses of tricyclic antidepressants, or higher doses of beta blockers. He's also a fan of nose sprays or injections given the tendency of certain pharmaceuticals to disrupt the digestive process. A common complaint of migraines is nausea, so feeding that intestinal fire means replacing one problem with another.
Looking into the future, Gottschalk is heading into research that helps the immune system address a protein triggered by migraines. The hopes are that an antibody infusion targeting this protein would stop common headaches before they start.
Migraines have been shown to be progressively crippling with potential cardiovascular, cerebrovascular, and long-term neurologic effects. Experiencing even intermittent headaches, according to Gottschalk, could be the result of the same process that causes migraines.
Given the possible detrimental effects of pharmaceuticals, other avenues of treatment are in need of further study. One pilot study of 19 sufferers of chronic migraines found that mindfulness-based stress reduction (MBSR) meditation helped reduce headache duration and disability effects. Personally, I've found great success with myofascial release techniques on my upper back and pectorals, as well as neck region, in alleviating occasional headaches.
One thing is clear: the causes of headaches are numerous, so defaulting to a nightly (or even occasional) pill to soothe the symptoms might temporarily relieve discomfort but prohibit you from finding solutions. Gottschalk's discovery is a step in the right direction. 
--
Derek's next book, Whole Motion: Training Your Brain and Body For Optimal Health, will be published on 7/4/17 by Carrel/Skyhorse Publishing. He is based in Los Angeles. Stay in touch on Facebook and Twitter.
Understanding thinking talents in yourself and others can build strong teams and help avoid burnout.
Big Think Edge
Learn to collaborate within a team and identify "thinking talent" surpluses – and shortages.

Angie McArthur teaches intelligent collaboration for Big Think Edge.

Subscribe to Big Think Edge before we launch on March 30 to get 20% off monthly and annual memberships.
Rediscovering the principles of self-actualisation might be just the tonic that the modern world is crying out for.
Personal Growth
Abraham Maslow was the 20th-century American psychologist best-known for explaining motivation through his hierarchy of needs, which he represented in a pyramid. At the base, our physiological needs include food, water, warmth and rest.
"I was so moved when I saw the cells stir," said 90-year-old study co-author Akira Iritani. "I'd been hoping for this for 20 years."
Yamagata et al.
Surprising Science
The team managed to stimulate nucleus-like structures to perform some biological processes, but not cell division.
Unless better technology and DNA samples emerge in the future, it's unlikely that scientists will be able to clone a woolly mammoth.
Still, studying the DNA of woolly mammoths provides valuable insights into the genetic adaptations that allowed them to survive in unique environments.
Does believing in true love make people act like jerks?
Thought Catalog via Unsplash
Sex & Relationships
Ghosting, or cutting off all contact suddenly with a romantic partner, is not nice.
Growth-oriented people (who think relationships are made, not born) do not appreciate it.
Destiny-oriented people (who believe in soulmates) are more likely to be okay with ghosting.
Big think's weekly newsletter.
Get smarter faster from the comfort of your inbox.
See our newsletter privacy policy
here
Most Popular
Most Recent
Big think's weekly newsletter.
Get smarter faster from the comfort of your inbox.
See our newsletter privacy policy
here
© Copyright 2007-2018 & BIG THINK, BIG THINK EDGE,
SMARTER FASTER trademarks owned by The Big Think, Inc. All rights reserved.