Big ideas.
Once a week.
Subscribe to our weekly newsletter.
6 Apps That Combat Depression and Anxiety
Our phones often help promote depression and anxiety. These apps are fighting back.
04 October, 2017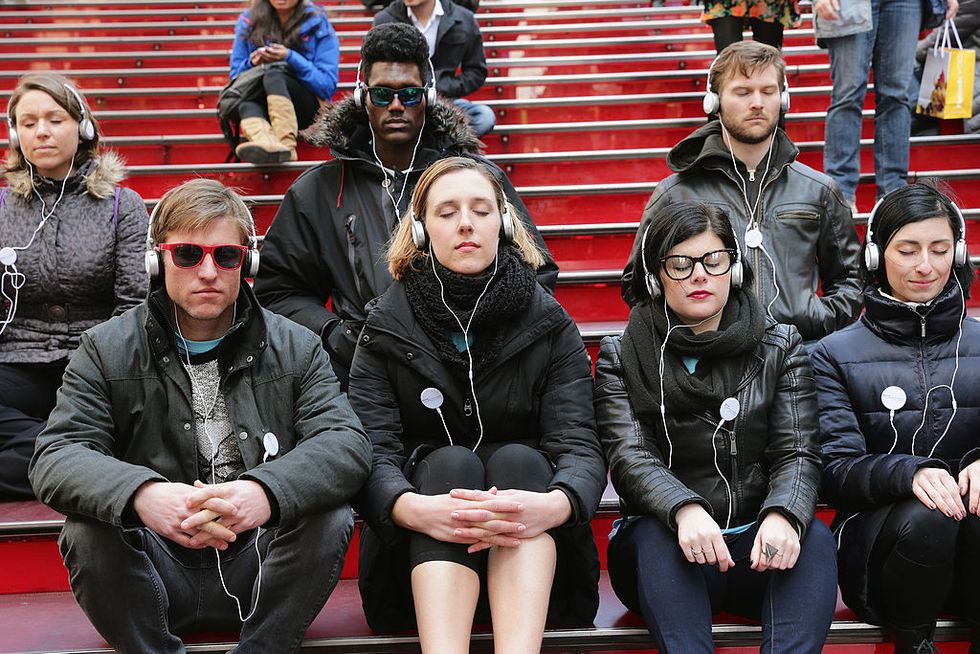 NYC commuters get some Headspace during a Meditation Moment in Times Square in celebration of the Westin Well-being Movement launch on March 20, 2014 in New York City. (Photo by Neilson Barnard/Getty Images)
---
Smartphone addiction creates many problems: car accidents, poor educational performance, insomnia, relationship issues, anxiety, and depression. As with any technology—as with anything, really—too much is too much. Inattentiveness is a chronic problem. Yet the benefits to technology are also undeniable, which is why medical app makers are using this medium to fight back. 
Smartphones may help provoke depression and anxiety, but new research from top Australian institutes explores apps that are helping users reduce the symptoms and even combat the roots of these disorders. Researchers chose eighteen randomized controlled trials, fourteen of which were published in the last two years, which cover 3,414 men and women between the ages of 18-59. Participants suffered from depression, insomnia, bipolar disorder, anxiety, and other related disorders. 
In this meta-analysis the researchers discovered these apps have a moderate positive effect over inactive controls and a small positive effect over active control conditions. In terms of apps themselves, cognitive training apps proved more efficient than apps focused on mental health. 
When combined with traditional methods such psychotherapy and pharmaceuticals, this new wave of apps could become standard protocol in an integrative approach to battling depression, anxiety, and related disorders. Regardless of each app's specific focus, researchers conclude "smartphone devices are a promising self-management tool for depression."
Here are some of the apps showing promise: 
Project: EVO. This app is designed to improve symptoms of inattention, executive function, and working memory. The company is testing others to help address Alzheimer's disease, brain injury, and autism. Research from earlier this year showed that the app might help children with cognitive impairments, including sensory processing disorder. Another study found that the video game interface might treat underlying causes of depression and not only just manage the symptoms. 
Moodhacker. Moodhacker's interactive platform encourages healthy habits, targeting sleeping patterns, nutrition, exercise, and social support. By tracking patterns and moods it aims to help users better understand the flow of their day and make better decisions. A study of 300 employees found that it helped promote work productivity, reduced absence from work, and lowered workplace distress, when compared to other depression-related websites. 
MONARCA. This bipolar disorder app tracks user's activity, moods, sleep patterns, medication adherence, stress levels, and alcohol consumption, as well as noticing triggers and early warning signs. It then shares the data with clinicians. Of course, there are dangers with self-assessments, but one study of 78 participants found that MONARCA users showed fewer manic symptoms after six months when compared to a group using a placebo app. 
Headspace. This mindfulness meditation app has dominated the meditation market since its launch. It takes advantage of years of research on the benefits of Mindfulness-Based Stress Reduction (MBSR) and Mindfulness-Based Cognitive Therapy programs, especially when it comes to reducing anxiety and depression. I also appreciate co-founder Andy Puddicombe's thoughtful guidance and welcoming voice. 
myCompass. This Australian intervention app helps you create a personalized program targeting feelings and behaviors that lead to depression and anxiety. One study of 135 participants found that this app might help astronauts deal with depression in space. If it helps people deal with hurtling through space at ungodly speeds, just think of us with our feet on the ground.
PTSD Coach. One of the great advancements in understanding psychology has been the recognition of post-traumatic stress disorder. This app, designed by the National Center for PTSD, allows you to track your symptoms, provides tools for handing stress when it arises, and links to immediate, human help. While scientific studies for this app are scant, research by the US Department of Veteran Affairs found that nine out of ten users find it beneficial. 
--
Derek is the author of Whole Motion: Training Your Brain and Body For Optimal Health. Based in Los Angeles, he is working on a new book about spiritual consumerism. Stay in touch on Facebook and Twitter.
"You dream about these kinds of moments when you're a kid," said lead paleontologist David Schmidt.
Surprising Science
The triceratops skull was first discovered in 2019, but was excavated over the summer of 2020.
It was discovered in the South Dakota Badlands, an area where the Triceratops roamed some 66 million years ago.
Studying dinosaurs helps scientists better understand the evolution of all life on Earth.
How morally developed are you?
Personal Growth
Lawrence Kohlberg's experiments gave children a series of moral dilemmas to test how they differed in their responses across various ages.
He identified three separate stages of moral development from the egoist to the principled person.
Some people do not progress through all the stages of moral development, which means they will remain "morally undeveloped."
Has your sense of right and wrong changed over the years? Are there things that you see as acceptable today that you'd never dream of doing when you were younger? If you spend time around children, do you notice how starkly different their sense of morality is? How black and white, or egocentric, or oddly rational it can be?
These were questions that Lawrence Kohlberg asked, and his "stages of moral development" dominates a lot of moral psychology today.
The Heinz Dilemma
Kohlberg was curious to see how and why children differed in their ethical judgements, and so he gave roughly 60 children, across a variety of ages, a series of moral dilemmas. They were all given open-ended questions to explain their answers in order to minimize the risk of leading them to a certain response.
For instance, one of the better-known dilemmas involved an old man called Heinz who needed an expensive drug for his dying wife. Heinz only managed to raise half the required money, which the pharmacists wouldn't accept. Unable to afford it, he has only three options. What should he do?
(a) Not steal it because it's breaking the law.
(b) Steal it, and go to jail for breaking the law.
(c) Steal it, but be let off a prison sentence.
What option would you choose?
Stages of Moral Development
Credit: FABRICE COFFRINI via Getty Images
From the answers he got, Kohlberg identified three definite levels or stages of our moral development.

Pre-conventional stage. This is characterized by an ego-centric attitude that seeks pleasure and to prevent pain. The primary motivation is to avoid punishment or claim a reward. In this stage of moral development, "good" is defined as whatever is beneficial to oneself. "Bad" is the opposite. For instance, a young child might share their food with a younger sibling not from kindness or some altruistic impulse but because they know that they'll be praised by their parents (or, perhaps, have their food taken away from them).
In the pre-conventional stage, there is no inherent sense of right and wrong, per se, but rather "good" is associated with reward and "bad" is associated with punishment. At this stage, children are sort of like puppies.
If you spend time around children, do you notice how starkly different their sense of morality is? How black and white, or egocentric, or oddly rational it can be?
Conventional stage. This stage reflects a growing sense of social belonging and hence a higher regard for others. Approval and praise are seen as rewards, and behavior is calibrated to please others, obey the law, and promote the good of the family/tribe/nation. In the conventional stage, a person comes to see themselves as part of a community and that their actions have consequences.
Consequently, this stage is much more rule-focused and comes along with a desire to be seen as good. Image, reputation, and prestige matter the most in motivating good behavior — we want to fit into our community.
Post-conventional stage. In this final stage, there is much more self-reflection and moral reasoning, which gives people the capacity to challenge authority. Committing to principles is considered more important than blindly obeying fixed laws. Importantly, a person comes to understand the difference between what is "legal" and what is "right." Ideas such as justice and fairness start to mature. Laws or rules are no longer equated to morality but might be seen as imperfect manifestations of larger principles.
A lot of moral philosophy is only possible in the post-conventional stage. Theories like utilitarianism or Immanuel Kant's duty-focused ethics ask us to consider what's right or wrong in itself, not just because we get a reward or look good to others. Aristotle perhaps sums it up best when he wrote, "I have gained this from philosophy: that I do without being commanded what others do only from fear of the law."
How morally developed are you?
Kohlberg identified these stages as a developmental progression from early infancy all the way to adulthood, and they map almost perfectly onto Jean Piaget's psychology of child development. For instance, the pre-conventional stage usually lasts from birth to roughly nine years old, the conventional occurs mainly during adolescence, and the post-conventional goes into adulthood.
What's important to note, though, is that this is not a fatalistic timetable to which all humans adhere. Kohlberg thought, for instance, that some people never progress or mature. It's quite possible, maybe, for someone to have no actual moral compass at all (which is sometimes associated with psychopathy).
More commonly, though, we all know people who are resolutely bound to the conventional stage, where they care only for their image or others' judgment. Those who do not develop beyond this stage are usually stubbornly, even aggressively, strict in following the rules or the law. Prepubescent children can be positively authoritarian when it comes to obeying the rules of a board game, for instance.
So, what's your answer to the Heinz dilemma? Where do you fall on Kohlberg's moral development scale? Is he right to view it is a progressive, hierarchical maturing, where we have "better" and "worse" stages? Or could it be that as we grow older, we grow more immoral?
Jonny Thomson teaches philosophy in Oxford. He runs a popular Instagram account called Mini Philosophy (@philosophyminis). His first book is Mini Philosophy: A Small Book of Big Ideas.
Dunbar's number is a popular estimate for the maximum size of social groups. But new research suggests that it's a fictitious number based on flimsy data and bad theory.
Mind & Brain
A team of researchers recalculated Dunbar's number using his original methods and better data.
Their estimates were as high as 520 and were stretched over a wide enough range as to be nearly useless.
The authors suggest that the method used to calculate the number of friends a person can have is also theoretically unsound.
Since 1992, people have been talking about "Dunbar's number," the supposed upper limit of the number of people with whom a person can maintain stable social relationships. Named for British anthropologist Robin Dunbar, its value, rounded from 148 to 150, has permeated both professional and popular culture.
The Swedish taxation authority keeps offices under 150 people as a result of it, and the standard facilities of the W. L. Gore and Associates company are based around the concept. Dunbar's number was cited in Malcolm Gladwell's bestselling book Tipping Point, and it also has a fair amount of academic influence, the original paper having been cited 2,500 times.
It's also probably wrong.
Despite its fame, Dunbar's number has always been controversial. A new study out of Sweden and published in the journal Biology Letters suggests it might be both theoretically and empirically unsound.
Getting to 150
Less well known than the value of Dunbar's number is how he came up with it. The value of 150 is determined by looking at the ratio between the size of the neocortex in primates and the average size of groups they form. These ratios were then applied to data on the human brain, and the average value of roughly 150 relationships was determined.
The point of this study isn't to replace Dunbar's number but to dismiss the notion that such a number can be determined in the first place.
However, this number has always been the subject of debate. An alternative value based on empirical studies of American social groups is a much higher 291, nearly double that of Dunbar, and suggests that the median social network has 231 people in it. That value wasn't calculated by crunching other numbers; it kept coming up again and again when the authors of that study looked at the professional and social networks cultivated by different groups of people.
Yet, even in the face of critics and new studies, Dunbar's number always managed to hang on in popular and academic discourse. That is where this latest study comes in.
A new study with old methods but better data

In the new study, the researchers did similar calculations as Dunbar but with updated information on the size of monkey brains and social networks. While their average human group size was below Dunbar's estimate, the upper boundary of the 95 percent confidence interval ranged between 2 and 520 people depending on what methods were used. Nearly every method gave a range of possibilities with a maximum value higher than 150.
When the authors applied Dunbar's exact same methods from 1992 to their new data, they got an average group size of 69 people — but a 95% confidence interval between roughly 5 and 292. This is far too wide a range to be of any use.
Additionally, the authors discuss the flimsy nature of the theory behind Dunbar's number. Human brains often work differently than those of our nearest evolutionary cousins, as evidenced by our ability to create things like, "Stockholm, symphonies, and science." The idea that we would process social information exactly like other apes do is a bold and largely unsubstantiated claim.
They quote a study by Jan De Ruiter and their rejection of the idea that the ratio between monkey neocortex size and group composition can be carried over to humans:
"Dunbar's assumption that the evolution of human brain physiology corresponds with a limit in our capacity to maintain relationships ignores the cultural mechanisms, practices, and social structures that humans develop to counter potential deficiencies"
So, is there a new Dunbar number?
The point of this study isn't to replace Dunbar's number but to dismiss the notion that such a number can be determined in the first place. The authors go so far as to end their paper with:
"It is our hope, though perhaps futile, that this study will put an end to the use of 'Dunbar's number' within science and in popular media. 'Dunbar's number' is a concept with limited theoretical foundation lacking empirical support."
While this study may not be the death of Dunbar's number — after all, less empirically sound ideas have endured much longer — it may be the foundation for new attempts to determine how large our meaningful and stable social groups can be.
Scroll down to load more…