Big ideas.
Once a week.
Subscribe to our weekly newsletter.
How reading rewires your brain for higher intelligence and empathy
Get lost in a good book. Time and again, reading has been shown to make us healthier, smarter, and more empathic.
11 September, 2017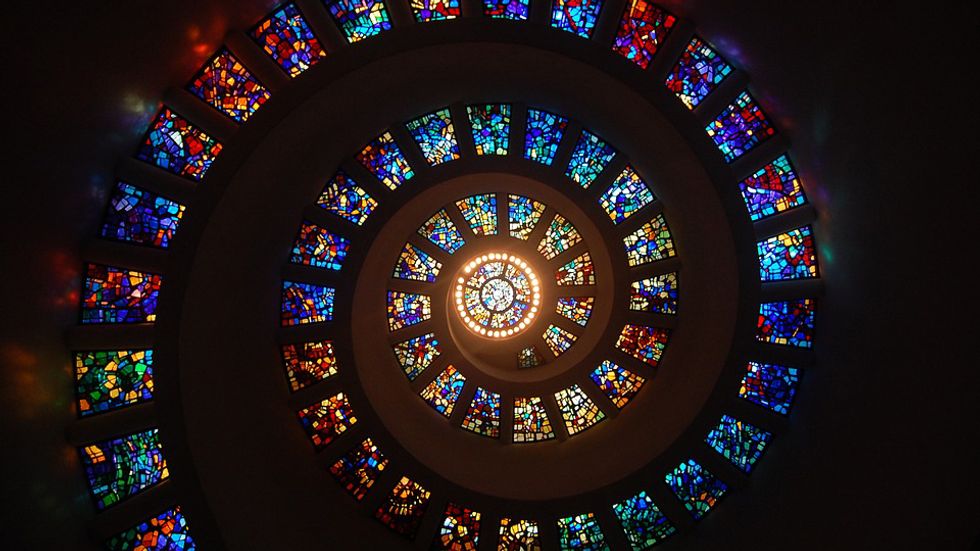 Fitness headlines promise staggering physical results: a firmer butt, ripped abs, bulging biceps. Nutritional breakthroughs are similar clickbait, with attention-grabbing, if often inauthentic—what, really, is a "superfood?"—means of achieving better health. Strangely, one topic usually escaping discussion has been shown, time and again, to make us healthier, smarter, and more empathic animals: reading.
---
Reading, of course, requires patience, diligence, and determination. Scanning headlines and retweeting quips is not going to make much cognitive difference. If anything, such sweet nothings are dangerous, the literary equivalent of sugar addiction. Information gathering in under 140 characters is lazy. The benefits of contemplation through narrative offer another story.
The benefits are plenty, which is especially important in a distracted, smartphone age in which one-quarter of American children don't learn to read. This not only endangers them socially and intellectually, but cognitively handicaps them for life. One 2009 study of 72 children ages eight to ten discovered that reading creates new white matter in the brain, which improves system-wide communication.
White matter carries information between regions of grey matter, where any information is processed. Not only does reading increase white matter, it helps information be processed more efficiently.
Reading in one language has enormous benefits. Add a foreign language and not only do communication skills improve—you can talk to more people in wider circles—but the regions of your brain involved in spatial navigation and learning new information increase in size. Learning a new language also improves your overall memory.
In one of the most fascinating aspects of neuroscience, language affects regions of your brain involving actions you're reading about. For example, when you read "soap" and "lavender," the parts of your brain implicated in scent are activated. Those regions remain silent when you read "chair." What if I wrote "leather chair?" Your sensory cortex just fired.
Continuing from the opening paragraph, let's discuss squats in your quest for a firmer butt. Picture the biomechanics required for a squat. Your motor cortex has been activated. Athletes have long envisioned their movements—Serena Williams's serve; Conor McGregor's kicks; Usain Bolt's bursts of speed—to achieve better proficiency while actually moving. That's because their brains are practicing. That is, they're practicing through visualization techniques.
Hard glutes are one thing. Novel reading is a great way to practice being human. Rather than sprints and punches, how about something more primitive and necessary in a society, like empathy? As you dive deeper into Rabbit Angstrom's follies or Jason Taylor coming of age, you not only feel their pain and joy. You actually experience it.
In one respect novels go beyond simulating reality to give readers an experience unavailable off the page: the opportunity to enter fully into other people's thoughts and feelings.

This has profound implications for how we interact with others. When encountering a 13-year-old boy misbehaving, you most likely won't think, "Well, David Mitchell wrote about such a situation, and so I should behave like this," but you might have integrated some of the lessons about young boys figuring life out and display a more nuanced understanding in how you react.
Perhaps you'll even reconsider trolling someone online regarding their political opinion, remembering that no matter how crass and inhumane a sentiment appears on screen, an actual human is sitting behind the keyboard pecking out their thoughts. I'm not arguing against engaging, but for the love of anything closely resembling humanity, argue intelligently.
Because reading does in fact make us more intelligent. Research shows that reading not only helps with fluid intelligence, but with reading comprehension and emotional intelligence as well. You make smarter decisions about yourself and those around you.
All of these benefits require actually reading, which leads to the formation of a philosophy rather than the regurgitation of an agenda, so prevalent in reposts and online trolling. Recognizing the intentions of another human also plays a role in constructing an ideology. Novels are especially well-suited for this task. A 2011 study published in the Annual Review of Psychology found overlap in brain regions used to comprehend stories and networks dedicated to interactions with others.
Novels consume time and attention. While the benefits are worthwhile, even shorter bursts of prose exhibit profound neurological effects. Poetry elicits strong emotional responses in readers and, as one study shows, listeners. Heart rates, facial expressions, and "movement of their skin and arm hairs" were measured while participants listened to poetry. Forty percent ended up displaying visible goose bumps, as they would while listening to music or watching movies. As for their craniums:
Their neurological responses, however, seemed to be unique to poetry: Scans taken during the study showed that listening to the poems activated parts of participants' brains that, as other studies have shown, are not activated when listening to music or watching films.

These responses mostly occurred near the conclusion of a stanza and especially near the end of the poem. This fits in well with our inherent need for narrative: in the absence of a conclusion our brain automatically creates one, which, of course, leads to plenty of heartbreak and suffering when our speculations prove to be false. Instead we should turn to more poetry:
There is something fundamental to the poetic form that implies, creates, and instills pleasure.

Whether an Amiri Baraka verse or a Margaret Atwood trilogy, attention matters. Research at Stanford showed a neurological difference between reading for pleasure and focused reading, as if for a test. Blood flows to different neural areas depending on how reading is conducted. The researchers hope this might offer clues for advancing cognitive training methods.
I have vivid memories of my relationship with reading: trying to write my first book (Scary Monster Stories) at age five; creating a mock newspaper after the Bernard Goetz subway shooting when I was nine, my mother scolding me for "thinking about such things"; sitting in the basement of my home in the Jersey suburbs one weekend morning, determined to read the entirety of Charlie and the Chocolate Factory, which I did.
Reading is like any skill. You have to practice it, regularly and constantly. While I never finished (or really much started) Scary Monster Stories, I have written nine books and read thousands more along the way. Though it's hard to tell if reading has made me smarter or a better person, I like to imagine that it has.
What I do know is that life would seem a bit less meaningful if we didn't share stories with one another. While many mediums for transmitting narratives across space and time exist, I've found none as pleasurable as cracking open a new book and getting lost in a story. Something profound is always discovered along the way.
--
Derek is the author of Whole Motion: Training Your Brain and Body For Optimal Health. Based in Los Angeles he is working on a new book about spiritual consumerism. Stay in touch on Facebook and Twitter.
There are good historical reasons why Germans are suspicious of surveillance — but is Google as bad as Gestapo or Stasi?
Image: Google Maps
Strange Maps
Since its launch in 2007, Google Street View has mapped millions of miles of roads across the world — and even gone to space and into the ocean.
Germany and Austria are a conspicuous gap in the mess of blue lines that covers the rest of Europe.
It's to do with Germans' curious sense of privacy: they'd rather flaunt their private parts than their personal data.
Regions unknown
The only other European countries as yet virtually unmapped are Belarus, Moldova and Bosnia
Image: Google Maps
In Google Maps, drag Pegman over Europe and you'll see a curious picture emerge: virtually the entire continent is covered in the blue lines that indicate Street View is available – but Germany and Austria are almost entirely blank.

It's an image reminiscent of those late-19th-century maps of Africa with the center of the continent left empty, marked Regions Unknown. Germany and Austria are among the world's most advanced economies, so why do Google's camera cars find those countries as inaccessible and/or inhospitable as European explorers found Africa's interior?
It's because Germans are famously jealous of their privacy – an attitude that also resonates with their culturally close neighbors in Austria. But it all depends on what you mean by "privacy." For example, Germans are not that private about their private parts.
Totalitarian traumas
"Social nudity," for health and vigor and to commune with nature, is very accepted in Germany.
Image: FKK Gelande Sudstrand / CC BY 2.0
While public nudity is a big no-no in the United States for example, Germany has a long tradition with what is known as FKK – short for Freikörperkultur, or "Free Body Culture." Certain beaches and areas of city parks are dedicated to nude sunbathing, and even Nacktwanderung ("nude rambling") is a thing.
On the other hand, Germans are extremely possessive of their personal data — and are shocked by the readiness with which Americans (and others) share their names, addresses, friends' lists, and purchase histories online.
According to research presented in the Harvard Business Review, the average German is willing to pay as much as $184 to protect their personal health data. For the average Brit, the privacy of that information is only worth $59. For Americans and Chinese, that value declines to single-digit figures.
Why? Because Germans carry the trauma of not one, but two totalitarian systems in their recent past: the fascist Third Reich, and communist East Germany.

Nie wieder
Stasi listening post, used for spying on its own citizens, in Berlin's DDR Museum
Image source: Rakoon / CC0 1.0
Both regimes wanted total control over their citizens. In the Nazi years, the state's blunt instrument was called the Gestapo (short for Geheime Staatspolizei, or "Secret State Police"), in East Germany it was the Stasi (short for Staatssicherheit, or "State Security").
In either system, citizens effectively ceased to have a right to privacy, and could be branded criminals for private thoughts or acts, resulting in severe punishment.
As with many other aspects of the Nazi regime, post-war Germany resolved Nie wieder ("Never again") when it came to violations of privacy. That's one of the reasons why the very first article of (then still only West) Germany's post-war constitution reads:

Human dignity shall be inviolable. To respect and protect it shall be the duty of all state authority.
Informational self-determination
The EU's GDPR, adopted in May 2018, builds on Germany's tradition of strict privacy laws
Image: Dooffy / CC0 1.0
Over the decades, Germany broadened and deepened its definition of privacy.

In 1970, the German state of Hesse passed the first data protection law in the world.
In 1979, West Germany laid the foundation for the Bundesdatenschutzgesetz (BDSG), or Federal Data Protection Act, the main aim of which was to protect the inviolability of personal, private information.
In the 1980s, citizens successfully sued the government over a census questionnaire so detailed it would allow the government to identify individuals. The court recognised German citizens' right to "informational self-determination" and block the sharing of any personal information with any government agency or corporation.
In March 2010, the German Federal Constitutional Court overturned a law that allowed the authorities to store phone and email data for up to six months for security reasons, as a "grave intrusion" of personal privacy rights.
In May 2018, the EU adopted the General Data Protection Regulation (GDPR), which follows the German model of data discretion rather than the laxer American one.
Missing the train
Germany is high-tech when it comes to transport – cars, trains – but when it comes to digitisation, not so much
Image: TeaMeister / CC BY 2.0
Foreign firms operating in Germany have to adjust to some of the strictest privacy laws in the world. But Nie wieder is difficult to maintain in a world that increasingly mines and monetises data. As a result, the inexorable advance of digitization is viewed with a mixture of fatalism and misgiving.
Example one: Germany's split personality when it comes to social media. Yes, Germans are instinctively distrustful of big tech companies such as Google and Facebook. Meanwhile, Google has cornered more than 90 percent of the search engine market in Germany, and close to half of all Germans have a Facebook account.
Example two: privacy trumps efficiency. While Germany's macro-economy relies on high-tech to maintain its global pole position, on a micro-economic level, good old-fashioned cash is still king. In 2016, 80 percent of all point of sale transaction in Germany were made in notes and coins rather than via card. In the Netherlands, it was just 46 percent.
Brits, Danes or Swedes can go for months without handling cash. In Germany, you won't last a day. Why? Again, an intense desire for privacy and an instinctive distrust of surveillance. A cashless society would be more transparent and efficient, but also a lot less private.

If there's one thing Germans value even more than efficiency, it's — you guessed it — privacy. Germany seems in no hurry to catch the digitization train, when other countries are stations ahead, and generating measurable benefits.
"A million-fold violation"
The larger German cities have been mapped – Cologne, Frankfurt, Dresden and others – but the rest of the country is a blank, compared to the Benelux countries and France (to the west) and the Czech Republic (to the east)
Image: Google Maps
Case in point: Google Street View's German debacle. Launched in the US in 2007, Google Street View's mapping of interactive roadside panoramas has since expanded to cover most of the world.
In June 2012, it had mapped 5 million miles of roads in 39 countries; by its 10th anniversary in May 2017, the total was 10 million miles in 83 countries.
Street View features places as far off the beaten path as the International Space Station, gas extraction platforms in the North Sea and the coral reefs of West Nusa Tenggara in Indonesia. But not the Weimarer Strasse in Fulda, or most other normal streets in Germany, or Austria for that matter.
Not for lack of trying. In August 2010, Google announced that it would map the streets of Germany's 20 biggest cities by the end of that year. The outrage was huge. Some of Google's camera cars were vandalised. A 70-year-old Austrian who didn't want his picture taken threatened the driver of one with a garden pick.
Ilse Aigner, Germany's minister for Consumer Protection at the time, called Google's "comprehensive photo offensive" a "million-fold violation of the private sphere (…) There is not a secret service in existence that would collect photos so unabashedly."

Blurry Street
A random street in one of the cities mapped by Street View in 2010, with plenty of houses blurred out
Image: Google Maps
Google automatically blurs faces and vehicle license plates and, upon request, the fronts of houses. Fully 3 percent of households in the relevant areas requested their houses to be blurred. Faced with that unprecedentedly high level of resistance, Google in 2011 published the data already collected, but left it at that. No new Street View images have been taken since in Germany.
Following the revelation in May 2010 that Google had used data from unencrypted wifi connections when collating its roadside panoramas, Street View was banned from Austria. From 2017, Google has resumed collecting imagery in Austria, and from 2018, it is available for selected localities.
As younger generations become more familiar with the transactional aspect of their personal data, perhaps German attitudes toward data privacy will start shifting significantly toward the American model.
For now, the difference has one side of the argument at a distinct disadvantage. As one online commenter noted:
"It doesn't seem quite fair that anyone in the world including Germans can take a virtual stroll around my street and my city, but I can't do the same in their country."

Strange Maps #991
Got a strange map? Let me know at strangemaps@gmail.com.
The pandemic has many people questioning whether they ever want to go back to the office.
SEBASTIEN SALOM-GOMIS/AFP via Getty Images
Personal Growth
When the pandemic forced office employees into lockdown and cut them off from spending in-person time with their colleagues, they almost immediately realized that they favor remote work over their traditional office routines and norms.
As remote workers of all ages contemplate their futures – and as some offices and schools start to reopen – many Americans are asking hard questions about whether they wish to return to their old lives, and what they're willing to sacrifice or endure in the years to come.
Even before the pandemic, there were people asking whether office life jibed with their aspirations.
We spent years studying "digital nomads" – workers who had left behind their homes, cities and most of their possessions to embark on what they call "location independent" lives. Our research taught us several important lessons about the conditions that push workers away from offices and major metropolitan areas, pulling them toward new lifestyles.
Legions of people now have the chance to reinvent their relationship to their work in much the same way.
Big-city bait and switch
Most digital nomads started out excited to work in career-track jobs for prestigious employers. Moving to cities like New York and London, they wanted to spend their free time meeting new people, going to museums and trying out new restaurants.
But then came the burnout.
Although these cities certainly host institutions that can inspire creativity and cultivate new relationships, digital nomads rarely had time to take advantage of them. Instead, high cost of living, time constraints and work demands contributed to an oppressive culture of materialism and workaholism.
Pauline, 28, who worked in advertising helping large corporate clients to develop brand identities through music, likened city life for professionals in her peer group to a "hamster wheel." (The names used in this article are pseudonyms, as required by research protocol.)
"The thing about New York is it's kind of like the battle of the busiest," she said. "It's like, 'Oh, you're so busy? No, I'm so busy.'"
Most of the digital nomads we studied had been lured into what urbanist Richard Florida termed "creative class" jobs – positions in design, tech, marketing and entertainment. They assumed this work would prove fulfilling enough to offset what they sacrificed in terms of time spent on social and creative pursuits.
Yet these digital nomads told us that their jobs were far less interesting and creative than they had been led to expect. Worse, their employers continued to demand that they be "all in" for work – and accept the controlling aspects of office life without providing the development, mentorship or meaningful work they felt they had been promised. As they looked to the future, they saw only more of the same.
Ellie, 33, a former business journalist who is now a freelance writer and entrepreneur, told us: "A lot of people don't have positive role models at work, so then it's sort of like 'Why am I climbing the ladder to try and get this job? This doesn't seem like a good way to spend the next twenty years.'"
By their late 20s to early 30s, digital nomads were actively researching ways to leave their career-track jobs in top-tier global cities.
Looking for a fresh start
Although they left some of the world's most glamorous cities, the digital nomads we studied were not homesteaders working from the wilderness; they needed access to the conveniences of contemporary life in order to be productive. Looking abroad, they quickly learned that places like Bali in Indonesia, and Chiang Mai in Thailand had the necessary infrastructure to support them at a fraction of the cost of their former lives.
With more and more companies now offering employees the choice to work remotely, there's no reason to think digital nomads have to travel to southeast Asia – or even leave the United States – to transform their work lives.
During the pandemic, some people have already migrated away from the nation's most expensive real estate markets to smaller cities and towns to be closer to nature or family. Many of these places still possess vibrant local cultures. As commutes to work disappear from daily life, such moves could leave remote workers with more available income and more free time.
The digital nomads we studied often used savings in time and money to try new things, like exploring side hustles. One recent study even found, somewhat paradoxically, that the sense of empowerment that came from embarking on a side hustle actually improved performance in workers' primary jobs.
The future of work, while not entirely remote, will undoubtedly offer more remote options to many more workers. Although some business leaders are still reluctant to accept their employees' desire to leave the office behind, local governments are embracing the trend, with several U.S. cities and states – along with countries around the world – developing plans to attract remote workers.
This migration, whether domestic or international, has the potential to enrich communities and cultivate more satisfying work lives.

Rachael A. Woldoff, Professor of Sociology, West Virginia University and Robert Litchfield, Associate Professor of Business, Washington & Jefferson College
This article is republished from The Conversation under a Creative Commons license. Read the original article.
The potential of CRISPR technology is incredible, but the threats are too serious to ignore.
Videos
CRISPR (Clustered Regularly Interspaced Short Palindromic Repeats) is a revolutionary technology that gives scientists the ability to alter DNA. On the one hand, this tool could mean the elimination of certain diseases. On the other, there are concerns (both ethical and practical) about its misuse and the yet-unknown consequences of such experimentation.
"The technique could be misused in horrible ways," says counter-terrorism expert Richard A. Clarke. Clarke lists biological weapons as one of the potential threats, "Threats for which we don't have any known antidote." CRISPR co-inventor, biochemist Jennifer Doudna, echos the concern, recounting a nightmare involving the technology, eugenics, and a meeting with Adolf Hitler.
Should this kind of tool even exist? Do the positives outweigh the potential dangers? How could something like this ever be regulated, and should it be? These questions and more are considered by Doudna, Clarke, evolutionary biologist Richard Dawkins, psychologist Steven Pinker, and physician Siddhartha Mukherjee.
Technology & Innovation
Measuring a person's movements and poses, smart clothes could be used for athletic training, rehabilitation, or health-monitoring.
Scroll down to load more…