Big ideas.
Once a week.
Subscribe to our weekly newsletter.
How reading rewires your brain for higher intelligence and empathy
Get lost in a good book. Time and again, reading has been shown to make us healthier, smarter, and more empathic.
11 September, 2017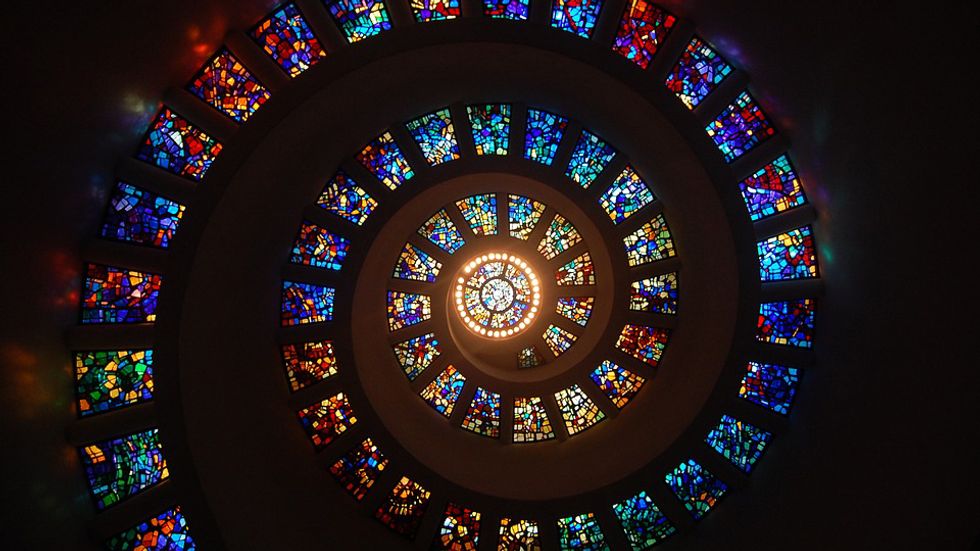 Fitness headlines promise staggering physical results: a firmer butt, ripped abs, bulging biceps. Nutritional breakthroughs are similar clickbait, with attention-grabbing, if often inauthentic—what, really, is a "superfood?"—means of achieving better health. Strangely, one topic usually escaping discussion has been shown, time and again, to make us healthier, smarter, and more empathic animals: reading.
---
Reading, of course, requires patience, diligence, and determination. Scanning headlines and retweeting quips is not going to make much cognitive difference. If anything, such sweet nothings are dangerous, the literary equivalent of sugar addiction. Information gathering in under 140 characters is lazy. The benefits of contemplation through narrative offer another story.
The benefits are plenty, which is especially important in a distracted, smartphone age in which one-quarter of American children don't learn to read. This not only endangers them socially and intellectually, but cognitively handicaps them for life. One 2009 study of 72 children ages eight to ten discovered that reading creates new white matter in the brain, which improves system-wide communication.
White matter carries information between regions of grey matter, where any information is processed. Not only does reading increase white matter, it helps information be processed more efficiently.
Reading in one language has enormous benefits. Add a foreign language and not only do communication skills improve—you can talk to more people in wider circles—but the regions of your brain involved in spatial navigation and learning new information increase in size. Learning a new language also improves your overall memory.
In one of the most fascinating aspects of neuroscience, language affects regions of your brain involving actions you're reading about. For example, when you read "soap" and "lavender," the parts of your brain implicated in scent are activated. Those regions remain silent when you read "chair." What if I wrote "leather chair?" Your sensory cortex just fired.
Continuing from the opening paragraph, let's discuss squats in your quest for a firmer butt. Picture the biomechanics required for a squat. Your motor cortex has been activated. Athletes have long envisioned their movements—Serena Williams's serve; Conor McGregor's kicks; Usain Bolt's bursts of speed—to achieve better proficiency while actually moving. That's because their brains are practicing. That is, they're practicing through visualization techniques.
Hard glutes are one thing. Novel reading is a great way to practice being human. Rather than sprints and punches, how about something more primitive and necessary in a society, like empathy? As you dive deeper into Rabbit Angstrom's follies or Jason Taylor coming of age, you not only feel their pain and joy. You actually experience it.
In one respect novels go beyond simulating reality to give readers an experience unavailable off the page: the opportunity to enter fully into other people's thoughts and feelings.

This has profound implications for how we interact with others. When encountering a 13-year-old boy misbehaving, you most likely won't think, "Well, David Mitchell wrote about such a situation, and so I should behave like this," but you might have integrated some of the lessons about young boys figuring life out and display a more nuanced understanding in how you react.
Perhaps you'll even reconsider trolling someone online regarding their political opinion, remembering that no matter how crass and inhumane a sentiment appears on screen, an actual human is sitting behind the keyboard pecking out their thoughts. I'm not arguing against engaging, but for the love of anything closely resembling humanity, argue intelligently.
Because reading does in fact make us more intelligent. Research shows that reading not only helps with fluid intelligence, but with reading comprehension and emotional intelligence as well. You make smarter decisions about yourself and those around you.
All of these benefits require actually reading, which leads to the formation of a philosophy rather than the regurgitation of an agenda, so prevalent in reposts and online trolling. Recognizing the intentions of another human also plays a role in constructing an ideology. Novels are especially well-suited for this task. A 2011 study published in the Annual Review of Psychology found overlap in brain regions used to comprehend stories and networks dedicated to interactions with others.
Novels consume time and attention. While the benefits are worthwhile, even shorter bursts of prose exhibit profound neurological effects. Poetry elicits strong emotional responses in readers and, as one study shows, listeners. Heart rates, facial expressions, and "movement of their skin and arm hairs" were measured while participants listened to poetry. Forty percent ended up displaying visible goose bumps, as they would while listening to music or watching movies. As for their craniums:
Their neurological responses, however, seemed to be unique to poetry: Scans taken during the study showed that listening to the poems activated parts of participants' brains that, as other studies have shown, are not activated when listening to music or watching films.

These responses mostly occurred near the conclusion of a stanza and especially near the end of the poem. This fits in well with our inherent need for narrative: in the absence of a conclusion our brain automatically creates one, which, of course, leads to plenty of heartbreak and suffering when our speculations prove to be false. Instead we should turn to more poetry:
There is something fundamental to the poetic form that implies, creates, and instills pleasure.

Whether an Amiri Baraka verse or a Margaret Atwood trilogy, attention matters. Research at Stanford showed a neurological difference between reading for pleasure and focused reading, as if for a test. Blood flows to different neural areas depending on how reading is conducted. The researchers hope this might offer clues for advancing cognitive training methods.
I have vivid memories of my relationship with reading: trying to write my first book (Scary Monster Stories) at age five; creating a mock newspaper after the Bernard Goetz subway shooting when I was nine, my mother scolding me for "thinking about such things"; sitting in the basement of my home in the Jersey suburbs one weekend morning, determined to read the entirety of Charlie and the Chocolate Factory, which I did.
Reading is like any skill. You have to practice it, regularly and constantly. While I never finished (or really much started) Scary Monster Stories, I have written nine books and read thousands more along the way. Though it's hard to tell if reading has made me smarter or a better person, I like to imagine that it has.
What I do know is that life would seem a bit less meaningful if we didn't share stories with one another. While many mediums for transmitting narratives across space and time exist, I've found none as pleasurable as cracking open a new book and getting lost in a story. Something profound is always discovered along the way.
--
Derek is the author of Whole Motion: Training Your Brain and Body For Optimal Health. Based in Los Angeles he is working on a new book about spiritual consumerism. Stay in touch on Facebook and Twitter.
"You dream about these kinds of moments when you're a kid," said lead paleontologist David Schmidt.
Surprising Science
The triceratops skull was first discovered in 2019, but was excavated over the summer of 2020.
It was discovered in the South Dakota Badlands, an area where the Triceratops roamed some 66 million years ago.
Studying dinosaurs helps scientists better understand the evolution of all life on Earth.
A new paper reveals that the Voyager 1 spacecraft detected a constant hum coming from outside our Solar System.
Credit: NASA / JPL - Caltech.
Surprising Science
Voyager 1, humankind's most distant space probe, detected an unusual "hum" in the data from interstellar space.
The noise is likely produced by interstellar gas.
Further investigation may reveal the hum's exact origins.
Voyager 1, humanity's most faraway spacecraft, has detected an unusual "hum" coming from outside our solar system. Fourteen billion miles away from Earth, the Voyager's instruments picked up a droning sound that may be caused by plasma (ionized gas) in the vast emptiness of interstellar space.
Launched in 1977, the Voyager 1 space probe — along with its twin Voyager 2 — has been traveling farther and farther into space for over 44 years. It has now breached the edge of our solar system, exiting the heliosphere, the bubble-like region of space influenced by the sun. Now, the spacecraft is moving through the "interstellar medium," where it recorded the peculiar sound.
Stella Koch Ocker, a doctoral student in astronomy at Cornell University, discovered the sound in the data from the Voyager's Plasma Wave System (PWS), which measures electron density. Ocker called the drone coming from plasma shock waves "very faint and monotone," likely due to the narrow bandwidth of its frequency.

While they think the persistent background hum may be coming from interstellar gas, the researchers don't yet know what exactly is causing it. It might be produced by "thermally excited plasma oscillations and quasi-thermal noise."
The new paper from Ocker and her colleagues at Cornell University and the University of Iowa, published in Nature Astronomy, also proposes that this is not the last we'll hear of the strange noise. The scientists write that "the emission's persistence suggests that Voyager 1 may be able to continue tracking the interstellar plasma density in the absence of shock-generated plasma oscillation events."
Voyager Captures Sounds of Interstellar Space www.youtube.com
The researchers think the droning sound may hold clues to how interstellar space and the heliopause, which can be thought of as the solar's system border, may be affecting each other. When it first entered interstellar space, the PWS instrument reported disturbances in the gas caused by the sun. But in between such eruptions is where the researchers spotted the steady signature made by the near-vacuum.
Senior author James Cordes, a professor of astronomy at Cornell, compared the interstellar medium to "a quiet or gentle rain," adding that "in the case of a solar outburst, it's like detecting a lightning burst in a thunderstorm and then it's back to a gentle rain."
More data from Voyager over the next few years may hold crucial information to the origins of the hum. The findings are already remarkable considering the space probe is functioning on technology from the mid-1970s. The craft has about 70 kilobytes of computer memory. It also carries a Golden Record created by a committee chaired by the late Carl Sagan, who taught at Cornell University. The 12-inch gold-plated copper disk record is essentially a time capsule, meant to tell the story of Earthlings to extraterrestrials. It contains sounds and images that showcase the diversity of Earth's life and culture.
A team of scientists managed to install onto a smartphone a spectrometer that's capable of identifying specific molecules — with cheap parts you can buy online.
Technology & Innovation
Spectroscopy provides a non-invasive way to study the chemical composition of matter.
These techniques analyze the unique ways light interacts with certain materials.
If spectrometers become a common feature of smartphones, it could someday potentially allow anyone to identify pathogens, detect impurities in food, and verify the authenticity of valuable minerals.
The quality of smartphone cameras has increased exponentially over the past decade. Today's smartphone cameras can not only capture photos that rival those of stand-alone camera systems but also offer practical applications, like heart-rate measurement, foreign-text translation, and augmented reality.
What's the next major functionality of smartphone cameras? It could be the ability to identify chemicals, drugs, and biological molecules, according to a new study published in the Review of Scientific Instruments.
The study describes how a team of scientists at Texas A&M turned a common smartphone into a "pocket-sized" Raman and emission spectral detector by modifying it with just $50 worth of extra equipment. With the added hardware, the smartphone was able to identify chemicals in the field within minutes.
The technology could have a wide range of applications, including diagnosing certain diseases, detecting the presence of pathogens and dangerous chemicals, identifying impurities in food, and verifying the authenticity of valuable artwork and minerals.
Raman and fluorescence spectroscopy
Raman and fluorescence spectroscopies are techniques for discerning the chemical composition of materials. Both strategies exploit the fact that light interacts with certain types of matter in unique ways. But there are some differences between the two techniques.
As the name suggests, fluorescence spectroscopy measures the fluorescence — that is, the light emitted by a substance when it absorbs light or other electromagnetic radiation — of a given material. It works by shining light on a material, which excites the electrons within the molecules of the material. The electrons then emit fluorescent light toward a filter that measures fluorescence.
The particular spectra of fluorescent light that's emitted can help scientists detect small concentrations of particular types of biological molecules within a material. But some biomolecules, such as RNA and DNA, don't emit fluorescent light, or they only do so at extremely low levels. That's where Raman spectroscopy comes into play.
Raman spectroscopy involves shooting a laser at a sample and observing how the light scatters. When light hits molecules, the atoms within the molecules vibrate and photons get scattered. Most of the scattered light is of the same wavelength and color as the original light, so it provides no information. But a tiny fraction of the light gets scattered differently; that is, the wavelength and color are different. Known as Raman scattering, this is extremely useful because it provides highly precise information about the chemical composition of the molecule. In other words, all molecules have a unique Raman "fingerprint."
Creating an affordable, pocket-sized spectrometer
To build the spectrometer, the researchers connected a smartphone to a laser and a series of plastic lenses. The smartphone camera was placed facing a transmission diffraction grating, which splits incoming light into its constituent wavelengths and colors. After a laser is fired into a sample, the scattered light is diffracted through this grating, and the smartphone camera analyzes the light on the other side.
Schematic diagram of the designed system.Credit: Dhankhar et al.
To test the spectrometer, the researchers analyzed a range of sample materials, including carrots and bacteria. The laser used in the spectrometer emits a wavelength that's readily absorbed by the pigments in carrots and bacteria, which is why these materials were chosen.

The results showed that the smartphone spectrometer was able to correctly identify the materials, but it wasn't quite as effective as the best commercially available Raman spectrometers. The researchers noted that their system might be improved by using specific High Dynamic Range (HDR) smartphone camera applications.
Ultimately, the study highlights how improving the fundamentals of a technology, like smartphone cameras, can lead to a surprisingly wide range of useful applications.
"This inexpensive yet accurate recording pocket Raman system has the potential of being an integral part of ubiquitous cell phones that will make it possible to identify chemical impurities and pathogens, in situ within minutes," the researchers concluded.
Scroll down to load more…