'Rick and Morty' Co-Creator Dan Harmon Gives Advice on Coping with Depression
When a 'Rick and Morty' fan recently tweeted at Dan Harmon asking how to deal with depression, it didn't take him long to reply.
06 December, 2017
---
Social media has the potential to expose our deepest struggles and challenges to the public. While it too often serves as a soapbox for trolling and bullying, it also connects people to communities in ways previously unimagined. I probably never would have known I suffered from misophonia if not for the Internet; now, a thriving community exists, in which sufferers share tales, problems, and solutions. 
The same is true of depression, one of the most widely experienced psychological disorders on the planet. Earlier this week I learned of a friend whose son, age 21, "lost his longtime battle with depression." An aspiring musician, the family asks that friends and family donate to the Afro-American Music Institute in lieu of flowers. There's no dearth of reasons to criticize the behavior on social media, but we have to remember the power of connection as well. 
Especially when it comes to depression, which affects over 16 million American adults every year, as well as a growing number of teens. One of the main challenges for those experiencing depression is not knowing where to turn. Twitter is likely not the first place you'd go, yet when a woman recently tweeted at Rick and Morty co-creator Dan Harmon asking how to deal with depression, it didn't take him long to reply: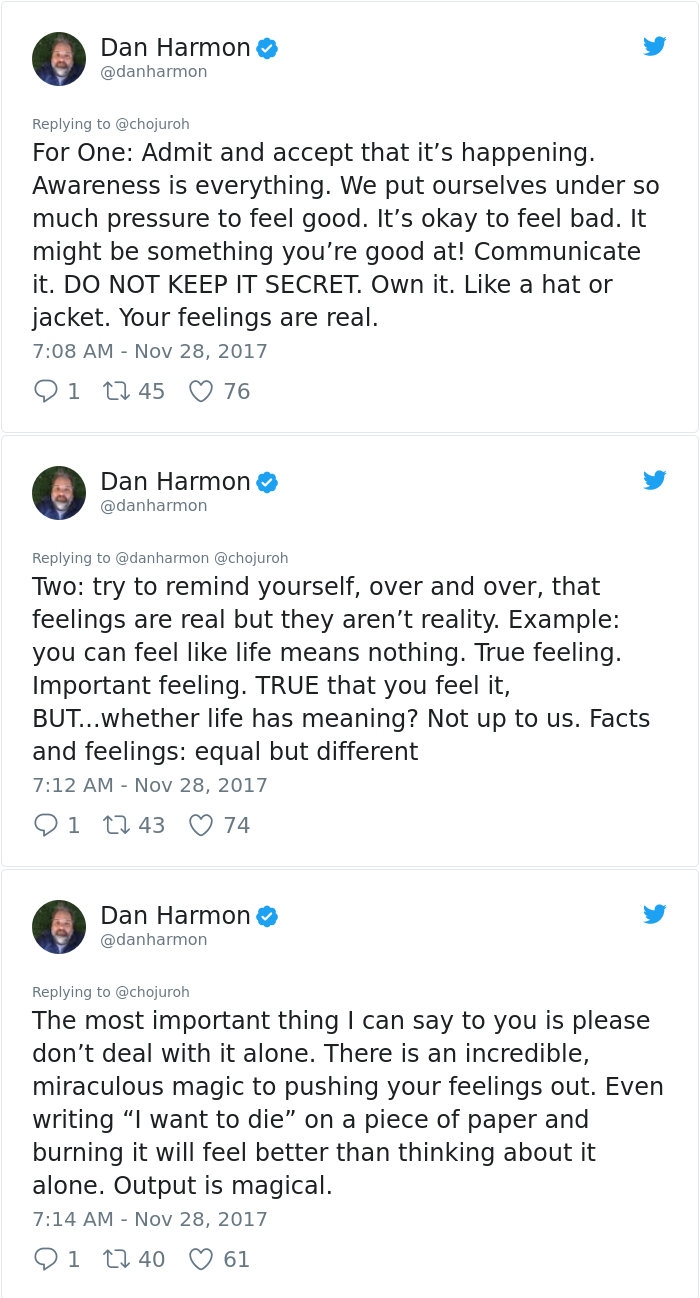 In a 2014 interview Harmon claims that the early days of blogging helped him deal with his own duress. Writing down his troubles on a MySpace blog served as a form of catharsis. 
For example, Harmon recalls the time he tried to be funny on Ben Stiller's answering machine, which "probably made him hate me forever." Instead of discussing the incident with friends, Harmon allowed it to stew inside until, one day, he blogged about it. The simple post proved to be an exorcism of guilt. 
As he had lost faith in therapists, Harmon realized that, unlike the well-circulated claim that great art comes from dark places—especially true of comedians—he could forge an uplifting life without falling back on stereotypes: 
I've met too many very happy, very ingenious people to believe in that. People have different personalities; they have different crutches; they have different processes. I think there are people that go to a dark place when they create. I don't think that creation requires darkness.
This philosophy has spilled over into Rick and Morty. Even if therapy didn't quite work out for Harmon, he's normalized it on the show. In this light therapy is just a boring accessory that is applicable to everyone. By destigmatizing the simple act of talking with another human being, Harmon's ideology regarding depression makes others feel it to be a simple fact of life. 
Laughter has healing qualities. But there's a big difference between the cynical chuckles of trolling and the hearty, belly laughs of true humor. Harmon has found a way of honoring the latter while not losing his social media chops. There's a lesson in there for all of us, should we be open to talking it through. 
--
Derek Beres is the author of Whole Motion: Training Your Brain and Body For Optimal Health. Based in Los Angeles, he is working on a new book about spiritual consumerism. Stay in touch on Facebook and Twitter.
Related Articles
These modern-day hermits can sometimes spend decades without ever leaving their apartments.
700,000 Japanese people are thought to be hikikomori, modern-day hermits who never leave their apartments (BEHROUZ MEHRI/AFP/Getty Images).
Mind & Brain
A hikikomori is a type of person in Japan who locks themselves away in their bedrooms, sometimes for years.
This is a relatively new phenomenon in Japan, likely due to rigid social customs and high expectations for academic and business success.
Many believe hikikomori to be a result of how Japan interprets and handles mental health issues.
How a cataclysm worse than what killed the dinosaurs destroyed 90 percent of all life on Earth.
Credit: Ron Miller
Surprising Science
While the demise of the dinosaurs gets more attention as far as mass extinctions go, an even more disastrous event called "the Great Dying" or the "End-Permian Extinction" happened on Earth prior to that. Now scientists discovered how this cataclysm, which took place about 250 million years ago, managed to kill off more than 90 percent of all life on the planet.
A new study discovers the "liking gap" — the difference between how we view others we're meeting for the first time, and the way we think they're seeing us.
New acquaintances probably like you more than you think. (Photo by Simone Joyner/Getty Images)
Surprising Science
We tend to be defensive socially. When we meet new people, we're often concerned with how we're coming off. Our anxiety causes us to be so concerned with the impression we're creating that we fail to notice that the same is true of the other person as well. A new study led by Erica J. Boothby, published on September 5 in Psychological Science, reveals how people tend to like us more in first encounters than we'd ever suspect.
Big think's weekly newsletter.
Get smarter faster from the comfort of your inbox.
See our newsletter privacy policy
here
Most Popular
Most Recent
Big think's weekly newsletter.
Get smarter faster from the comfort of your inbox.
See our newsletter privacy policy
here
© Copyright 2007-2018 & BIG THINK, BIG THINK EDGE,
SMARTER FASTER trademarks owned by The Big Think, Inc. All rights reserved.