Is this the key to eating less?
New research on the hypothalamus shows that body heat matters.
30 April, 2018
While diet trends cycle through media at a dizzying rate, one reality about nutrition is persistent: if we consume fewer calories, we'll lose weight. This is not the same as the "calorie in/calorie out" mentality, which often does not differentiate between food choices. Beyond debates over fat and carbs, however, calorie restriction is an important mechanism for weight loss.
---
Simple math, yet the challenge is emotional. Once you're accustomed to consuming a certain number of calories, you've adapted to that nutritional load. Cutting back a hundred calories a day might not take much work, but a thousand? The monkey mind is just waiting to assault you with a reminder of the pleasures of food.
Announcing that exercise will suppress your appetite is not going to make many headlines. But the mechanism for why that is offers an important insight into the fascinating operations of our brain. And a new study on mice, published in PLOS Biology, offers just that.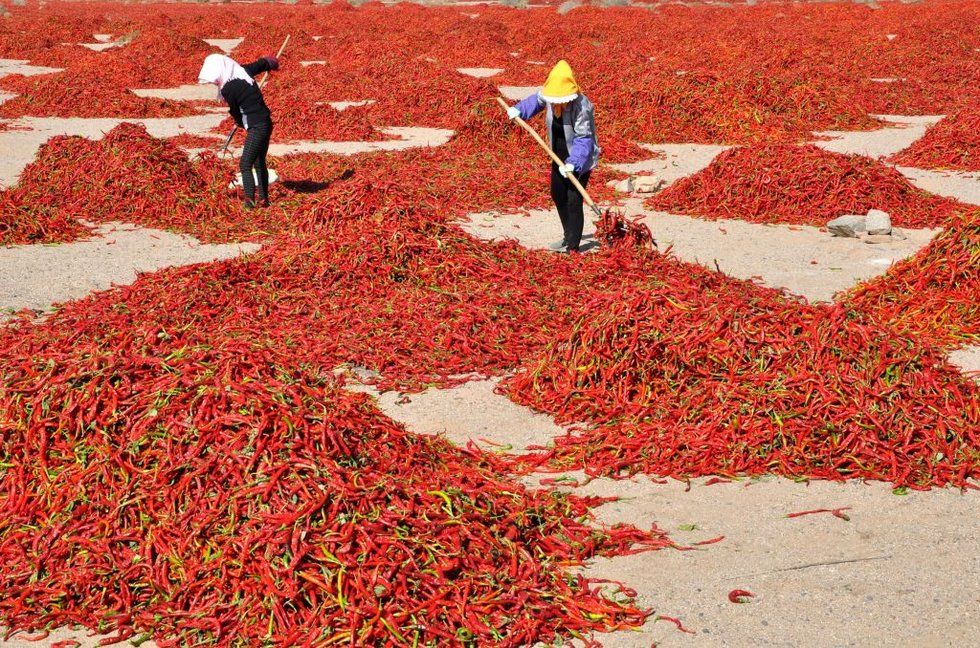 Villagers dry chili peppers under the sun at Baba Village on September 20, 2017 in Zhangye, Gansu Province of China. (Photo by VCG/Getty Images)
The hypothalamus is in many ways your body's command center. It is the brain region responsible for homeostasis: regulating your body's internal heating system. It plays a role in hunger and thirst, as well as sleep and emotional activity, which might help explain why eating and drinking offers such pleasure (and pain when we can't imbibe). The mechanisms of being "hangry" might just be located here.
This new research, led by Young-Hwan Jo, associate professor of endocrinology at the Albert Einstein College of Medicine, found that the internal thermometers inside the mouse brain responsible for suppressing appetite are the same that are stimulated by vigorous exercise, causing Jo to speculate that body temperature can play an important role in weight loss. As he says in a press release, 
Our study provides evidence that body temperature can act as a biological signal that regulates feeding behavior, just like hormones and nutrients do.
Jo, whose specific focus is the hypothalamus, is also an avid exerciser. He runs three times a week for 30-45 minutes. Upon noticing that cardiovascular activity raises his body temperature and reduces his appetite for hours afterward, he decided to study this link. He already knew about these heat-detecting receptors, TRPV1, in the body thanks to capsaicin, an irritant in chili peppers which gives fans of spicy food that wonderful high.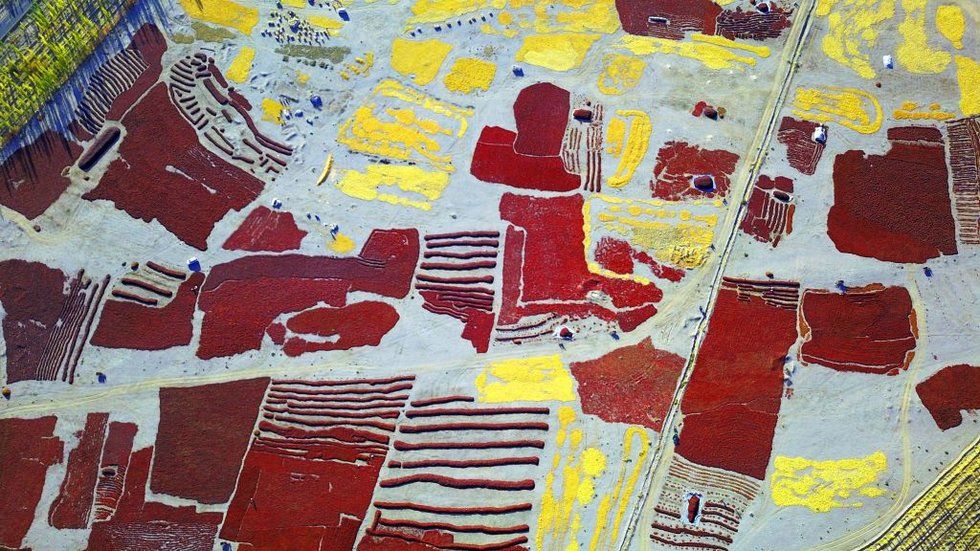 Aerial view of chili peppers dried under the sun at Yongning Town on October 7, 2017 in Bayingolin Mongol Autonomous Prefecture, Xinjiang Uyghur Autonomous Region of China. (Photo by Que Hure/VCG)
As it turns out, those same receptors reside in the mouse's arcuate nucleus, part of the hypothalamus. The researchers applied capsaicin to this region, which suppressed the mouse's appetite. They also had the mice run on a treadmill for forty minutes, which instigated the same effect. When they disrupted this sensor, those effects were wiped out. As they write of this finding,
Our results propose that elevated hypothalamic temperature can activate temperature-sensitive TRPV1-like receptors in [these] neurons, which may result in a reduction in food intake.
Previous research on capsaicin found that the compound's pungency might prove to be a barrier for many people to comply with usable dosages. Researchers in this study suggest a possible alternative with CH-19 Sweet, a "non-pungent cultivar of pepper" that increases both oxygen consumption and body temperature—an interesting parallel to Jo's research.
Whether or not capsaicin therapy will be hitting shelves anytime soon is unknown. Cheap pills filled with it exist in supermarkets around the world; creams marketed for arthritis are widespread. If body temperature matters for the suppression of appetite, running, cycling, HIIT, and swimming will all get you there. A different experience from eating Ma Po Tofu at your favorite Szechuan restaurant, but pleasurable in their own way, and you know you're doing your body good.
--
What can 3D printing do for medicine? The "sky is the limit," says Northwell Health researcher Dr. Todd Goldstein.
Northwell Health
Sponsored by Northwell Health
Medical professionals are currently using 3D printers to create prosthetics and patient-specific organ models that doctors can use to prepare for surgery.
Eventually, scientists hope to print patient-specific organs that can be transplanted safely into the human body.
Northwell Health, New York State's largest health care provider, is pioneering 3D printing in medicine in three key ways.
It's a "canary in the coalmine," said one climate scientist.
Surprising Science
A team of researchers discovered that permafrost in Northern Canada is melting at unusually fast rates.
This could causes dangerous and costly erosion, and it's likely speeding up climate change because thawing permafrost releases heat-trapping gasses into the atmosphere.
This week, Canada's House of Commons declared a national climate emergency.
One of Stephen Hawking's predictions seems to have been borne out in a man-made "black hole".
Image source: NASA/JPL-Caltech
Surprising Science
Stephen Hawking predicted virtual particles splitting in two from the gravitational pull of black holes.
Black holes, he also said, would eventually evaporate due to the absorption of negatively charged virtual particles.
A scientist has built a black hole analogue based on sound instead of light.
Not every part of a satellite burns up in reentry. Considering the growing number of satellites in orbital space, that's a big problem.
Technology & Innovation
Earth's orbital space is getting more crowded by the day.
The more satellites and space junk we put into orbit, the greater a risk that there could be a collision.
Not all materials burn up during reentry; that's why scientists need to stress test satellite parts to ensure that they won't become deadly falling objects.
Big think's weekly newsletter.
Get smarter faster from the comfort of your inbox.
See our newsletter privacy policy
here
Most Popular
Most Recent
Big think's weekly newsletter.
Get smarter faster from the comfort of your inbox.
See our newsletter privacy policy
here
© Copyright 2007-2019 & BIG THINK, BIG THINK EDGE,
SMARTER FASTER trademarks owned by The Big Think, Inc. All rights reserved.