Is this the key to eating less?
New research on the hypothalamus shows that body heat matters.
30 April, 2018
Red chili peppers drying in the small village of Ashigawa on Honshu Island in Japan. (Photo by Wolfgang Kaehler/LightRocket via Getty Images)
While diet trends cycle through media at a dizzying rate, one reality about nutrition is persistent: if we consume fewer calories, we'll lose weight. This is not the same as the "calorie in/calorie out" mentality, which often does not differentiate between food choices. Beyond debates over fat and carbs, however, calorie restriction is an important mechanism for weight loss.
---
Simple math, yet the challenge is emotional. Once you're accustomed to consuming a certain number of calories, you've adapted to that nutritional load. Cutting back a hundred calories a day might not take much work, but a thousand? The monkey mind is just waiting to assault you with a reminder of the pleasures of food.
Announcing that exercise will suppress your appetite is not going to make many headlines. But the mechanism for why that is offers an important insight into the fascinating operations of our brain. And a new study on mice, published in PLOS Biology, offers just that.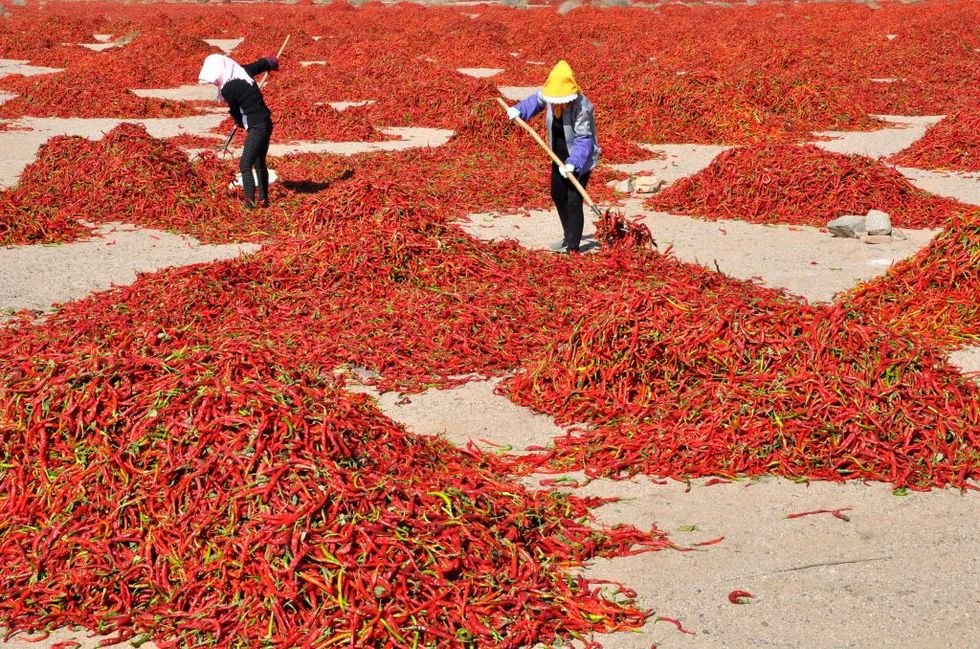 Villagers dry chili peppers under the sun at Baba Village on September 20, 2017 in Zhangye, Gansu Province of China. (Photo by VCG/Getty Images)
The hypothalamus is in many ways your body's command center. It is the brain region responsible for homeostasis: regulating your body's internal heating system. It plays a role in hunger and thirst, as well as sleep and emotional activity, which might help explain why eating and drinking offers such pleasure (and pain when we can't imbibe). The mechanisms of being "hangry" might just be located here.
This new research, led by Young-Hwan Jo, associate professor of endocrinology at the Albert Einstein College of Medicine, found that the internal thermometers inside the mouse brain responsible for suppressing appetite are the same that are stimulated by vigorous exercise, causing Jo to speculate that body temperature can play an important role in weight loss. As he says in a press release, 
Our study provides evidence that body temperature can act as a biological signal that regulates feeding behavior, just like hormones and nutrients do.
Jo, whose specific focus is the hypothalamus, is also an avid exerciser. He runs three times a week for 30-45 minutes. Upon noticing that cardiovascular activity raises his body temperature and reduces his appetite for hours afterward, he decided to study this link. He already knew about these heat-detecting receptors, TRPV1, in the body thanks to capsaicin, an irritant in chili peppers which gives fans of spicy food that wonderful high.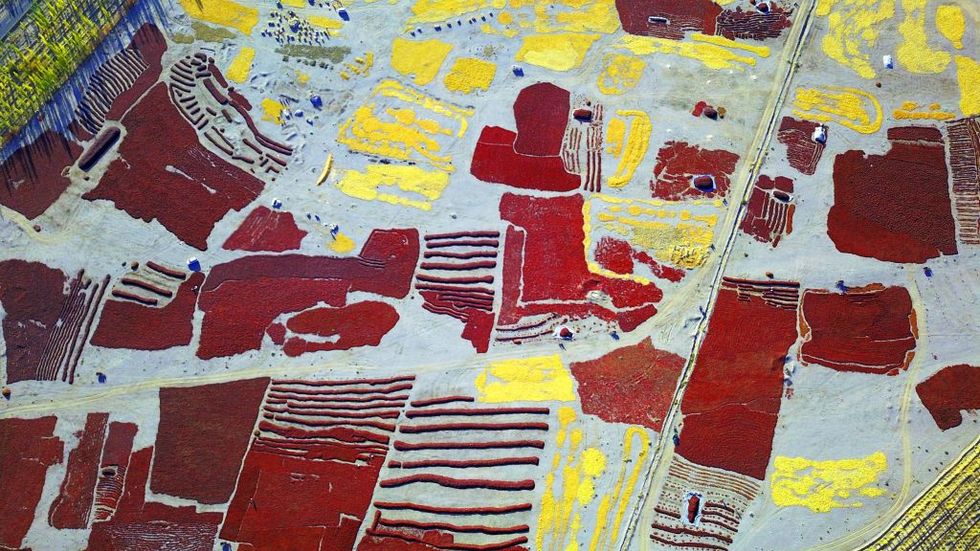 Aerial view of chili peppers dried under the sun at Yongning Town on October 7, 2017 in Bayingolin Mongol Autonomous Prefecture, Xinjiang Uyghur Autonomous Region of China. (Photo by Que Hure/VCG)
As it turns out, those same receptors reside in the mouse's arcuate nucleus, part of the hypothalamus. The researchers applied capsaicin to this region, which suppressed the mouse's appetite. They also had the mice run on a treadmill for forty minutes, which instigated the same effect. When they disrupted this sensor, those effects were wiped out. As they write of this finding,
Our results propose that elevated hypothalamic temperature can activate temperature-sensitive TRPV1-like receptors in [these] neurons, which may result in a reduction in food intake.
Previous research on capsaicin found that the compound's pungency might prove to be a barrier for many people to comply with usable dosages. Researchers in this study suggest a possible alternative with CH-19 Sweet, a "non-pungent cultivar of pepper" that increases both oxygen consumption and body temperature—an interesting parallel to Jo's research.
Whether or not capsaicin therapy will be hitting shelves anytime soon is unknown. Cheap pills filled with it exist in supermarkets around the world; creams marketed for arthritis are widespread. If body temperature matters for the suppression of appetite, running, cycling, HIIT, and swimming will all get you there. A different experience from eating Ma Po Tofu at your favorite Szechuan restaurant, but pleasurable in their own way, and you know you're doing your body good.
--
Universities claim to prepare students for the world. How many actually do it?
Sponsored by Charles Koch Foundation
Many university mission statements do not live up to their promise, writes Ben Nelson, founder of Minerva, a university designed to develop intellect over content memorization.
The core competencies that students need for success—critical thinking, communication, problem solving, and cross-cultural understanding, for example—should be intentionally taught, not left to chance.
These competencies can be summed up with one word: wisdom. True wisdom is the ability to apply one's knowledge appropriately when faced with novel situations.
This is what the world will look like, 250 million years from now
On Pangaea Proxima, Lagos will be north of New York, and Cape Town close to Mexico City
Surprising Science
To us humans, the shape and location of oceans and continents seems fixed. But that's only because our lives are so short.
SpaceX's momentous Crew Dragon launch is a sign of things to come for the space industry, and humanity's future.
Photo:Joe Raedle/Getty Images
Politics & Current Affairs
SpaceX was founded in 2002 and was an industry joke for many years. Eighteen years later, it is the first private company to launch astronauts to the International Space Station.
Today, SpaceX's Crew Dragon launched NASA astronauts Bob Behnken and Doug Hurley to the ISS. The journey will take about 19 hours.
Dylan Taylor, chairman and CEO of Voyager Space Holdings, looks at SpaceX's journey from startup to a commercial space company with the operating power of a nation-state.
A new study may help us better understand how children build social cognition through caregiver interaction.
Personal Growth
Scientists speculate imitation helps develop social cognition in babies.
A new study out of Lund University shows that six-month-olds look and smile more at imitating adults.
Researchers hope the data will spur future studies to discover what role caregiver imitation plays in social cognition development.
Surprising Science
Researchers at UT Southwestern noted a 47 percent increase in blood flow to regions associated with memory.
Scroll down to load more…