What Happens to Your Brain When You Stop Exercising?
A new study shows that cerebral blood flow within the left and right hippocampus significantly decreases after just 10 days of without exercise.
02 October, 2016
One persistent question has echoed for decades in regards to exercise: how much? Current government guidelines suggest either 150 minutes of moderate aerobic intensity or 75 minutes of high aerobic intensity every week. It is also suggested that these minutes are spread out through the week. One two-and-a-half hour jog on Sunday is not optimal if you're not getting your heart rate up at all over the following six days.
---
Consistency is key when discussing cardiovascular exercise. While one study I wrote about last week shows that benefits increase as you run more, a new study published in Frontiers verifies that when it comes to heart (and more importantly, brain) health, stick to a regular regimen.
The runner's high is probably the most well-known flow state given its ubiquity in fitness terminology. Running was once an environmental necessity; today it has become a routine to combat sedentary habits. Still, many of us love doing it for the sake of it; the benefits are almost secondary to the time spent on the trail.
For this study, researchers asked a dozen master athletes, each between the ages of 50 and 80, to attempt the improbable: don't move much at all for ten days. These are runners that have spent at least 15 years training for at least four hours every week at high intensity paces. Stillness is not in their vocabulary, but in the name of science, they conceded.
While ten days of rest were probably challenging for these athletes, three did not make the cut. One displayed irregular EEG activity during testing; another's dental work distorted testing signals; a third failed to achieve V02 max—interesting, as the entire group was collectively above the 90th percentile for their age.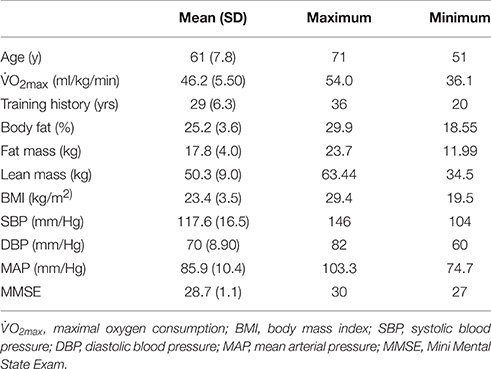 Admittedly, nine is not a large sample size. But the results are still telling.
It is well known that exercise benefits the brain in large part due to increased blood flow. Since blood carries oxygen to the brain, the more circulation, the better all systems run. As Gretchen Reynolds writes in the NY Times:
Exercise is particularly important for brain health because it appears to ramp up blood flow through the skull not only during the actual activity, but throughout the rest of the day. In past neurological studies, when sedentary people began an exercise program, they soon developed augmented blood flow to their brains, even when they were resting and not running or otherwise moving.
Resting for just ten days proved to slow regional cerebral blood flow (rCBF) in eight different brain regions: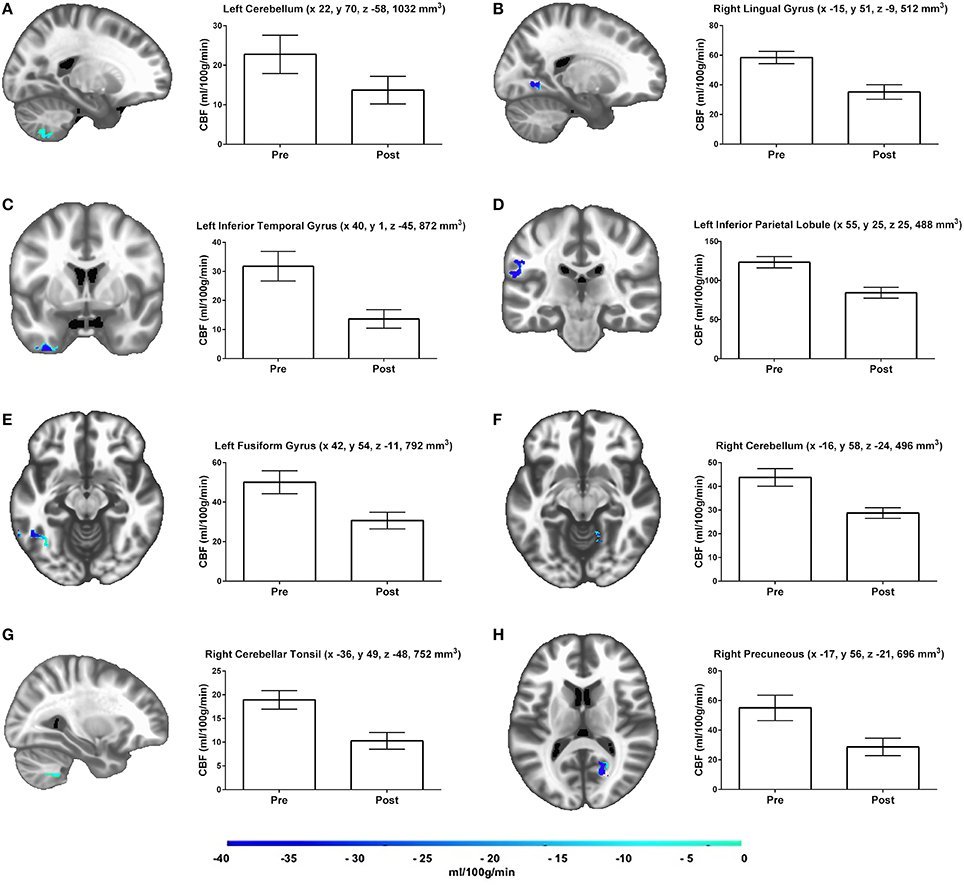 Most notably, blood flow slowed to both the left and right hippocampus, a region necessary for memory formation, storage, and retrieval: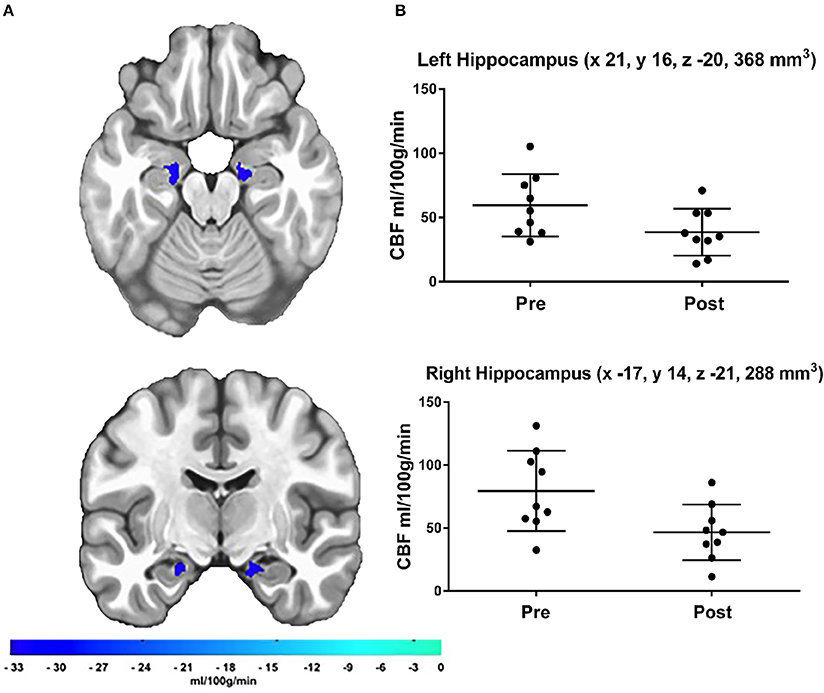 Numerous studies over the decades have shown how important exercise is for the functional integrity of the hippocampus. More recent work has shown that seniors benefit greatly from regular cardiovascular exercise. Increased structural volume in the hippocampus translates as an improvement in episodic memory performance, the researchers write.
The good news, as reported by the team in Frontiers, is that the cessation of exercise did not diminish cognitive function. But given the decrease in master athletes in only ten days, longer-term studies could reveal a different story. What if you stopped exercising for ten months? Ten years? We can speculate that cognitive functioning, especially as it relates to an ability to form and retrieve memories, would be negatively affected.
As with most short-term studies with a low number of participants, the team admits more research needs to be done. And yet, even such a small sample has big connotations. If men that have run over 35 miles a week for at least 15 years display significant decrease in blood flow after just ten days, what does that tell us mere mortals? Pretty simple: keep on moving and don't stop.
--
Derek Beres is working on his new book, Whole Motion: Training Your Brain and Body For Optimal Health (Carrel/Skyhorse, Spring 2017). He is based in Los Angeles. Stay in touch on Facebook and Twitter.
Getty Images
Sponsored by Charles Koch Foundation
Human beings are psychologically hardwired to fear differences
Several recent studies show evidence that digital spaces exacerbate the psychology which contributes to tribalism
Shared experiences of awe, such as space travel, or even simple shared meals, have surprising effectives for uniting opposing groups
The $100-million startup is moving ahead with an audacious vision for space exploration.
Breakthrough Starshot spacecraft propelled towards Alpha Centauri by a powerful laser beam.
Breakthrough Foundation
Surprising Science
The Breakthrough Starshot initiative was co-founded by Stephen Hawking.
The project raised $100 million and is moving ahead with extensive research.
The goal of Starshot is to send tiny "StarChip" spacecraft to explore neighboring star systems.
On Friday, NASA's InSight Mars lander captured and transmitted historic audio from the red planet.
NASA
Surprising Science
The audio captured by the lander is of Martian winds blowing at an estimated 10 to 15 mph.
It was taken by the InSight Mars lander, which is designed to help scientists learn more about the formation of rocky planets, and possibly discover liquid water on Mars.
Microphones are essentially an "extra sense" that scientists can use during experiments on other planets.
Astronauts will be able to harvest the Moon's natural resources to sustain human life.
Videos
NASA's Michelle Thaller walks us through what it will take to sustain human life on the surface of the Moon.
One way would be to run a very strong electrical current through water, separating it into hydrogen and oxygen. It's how astronauts on the International Space Station currently harvest oxygen to breathe.
There's already evidence of ice at the Moon's poles, likely thanks to billions of years of asteroid and comet collisions. All we have to do is harvest it. People on the future Moon base could also use those ice repositories to make liquid rocket fuel.


Big think's weekly newsletter.
Get smarter faster from the comfort of your inbox.
See our newsletter privacy policy
here
Most Popular
Most Recent
Big think's weekly newsletter.
Get smarter faster from the comfort of your inbox.
See our newsletter privacy policy
here
© Copyright 2007-2018 & BIG THINK, BIG THINK EDGE,
SMARTER FASTER trademarks owned by The Big Think, Inc. All rights reserved.