Zero-Cruelty, Lab-Grown Leather Is Almost Here!
A US-based company is genetically creating proteins similar to bovine collagen to make leather from living cells without the need of animals.
03 September, 2017
---
In 2008 I peered outside the window of a fabric shop perched high atop a building in Fez's medina, one of the world's largest car-free zones. Before the sight came the stench, dozens of industrial vats filled with dyes, lithe Moroccans scurrying between giant buckets tending to the leather the colors are destined for.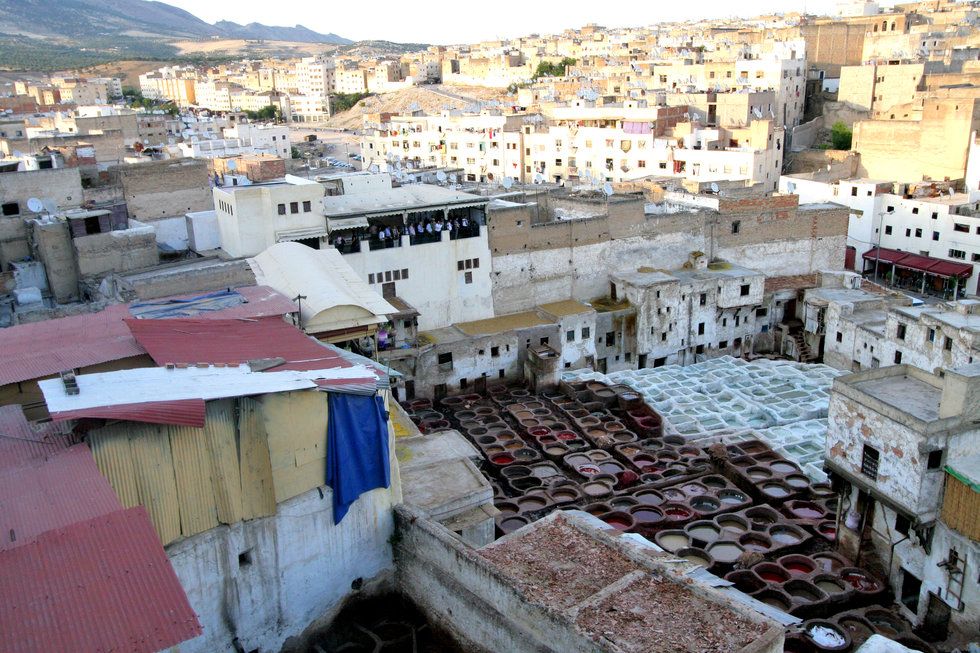 Leather is a popular item in the medina, as it is around the world. Producing it is also environmentally costly: chemicals used at the tannery, air pollution in the forms of hydrogen sulfide and ammonia, and cattle rearing. The process is physically dangerous for workers. Waste water is noxious, as evidenced by the surrounding pits in Fez. While leather might feel good and fit well, it takes up to 40 years to decompose, with some of the materials involved in the production process staying around for up to 500 years. 
Yet we love leather, so much so that we spend $100 billion every year on a wide range of products. Not all manufacturing facilities are as primitive as the one I gazed down upon, though the environmental impacts above, especially related to the cattle industry, remain relevant. 
Faux leather is its own industry, and while the texture and smell—the final product scent, not the production odor—is nowhere near genuine leather, imitations are getting better. I have a Brooklyn Industries wallet that slides across my fingertips as smoothly as leather wallets I've owned. Durable, too. At five years old it looks and feels new.
There are numerous types of faux leathers. Poromeric imitation leather is made by placing polyurethane over polyester. Leatherette involves covering a fabric base with soft PVC. There's ocean leather, made from kelp; Pinatex, from pineapple leaves; cork leather, from cork oak bark. None of these mimic proper texture or feel. Plus, let's face it: most humans choose an emotional connection over environmental impact. Not a happy reality, but the truth. 
Earlier this year I wrote about innovations in lab-grown meat that could be a true game-changer. Ethical eaters will have an opportunity to dine on actual meat without any animal suffering, while carnivores will remain unaware anything has changed. The price point for such a burger is not yet market-ready, but it appears that day will soon arrive. 
Modern Meadow believes leather is a "co-product of the meat industry." You can't get cattle hide without stripping it from meat. Rather than configuring new ways to utilize polymers, the Brooklyn-based company genetically creates proteins similar to bovine collagen. As Inventionr reports: 
Modern Meadow has formulated a method of activating the building blocks of proteins to form fibres without using natural fibroblasts. Once the fibres form, they can as well be assembled, according to its intended purposes, into fine sheets of leather. Once the process reaches this point, other processes like tanning and dyeing can proceed in the normal way.
Environmental impact is only one aspect of this story. Natural leather is notoriously finicky. Now it can be produced in straight sheets, making production easier for whoever is going to work the leather. Engineers can even alter the composition within each sheet, making one part coarse and another soft, for example. 
Modern Meadow's co-founder, Andras Forgacs, has previously applied such a mindset when co-founding Organovo, which commercialized a 3D bioprinting process for the production of human tissue. His latest company uses biofabrication to create leather from living cells without the need of animals.
While the company does not intend to overthrow the leather industry, CCO Suzanne Lee believes the possibility of creating entirely new products is in sight: 
If you're not bound by the animal, then you can construct it in the way you want. Collagen really is the material we're producing – we can form it in new ways and create leathers that couldn't exist in nature.
The public will find out how close they've come when Modern Meadows debuts a t-shirt in New York in October. There will probably always be a segment of the population demanding the "real thing," but you can't get much realer than collagen. And if that saves lives and reduces pollution, this future is worth investing in.
--
Derek is the author of Whole Motion: Training Your Brain and Body For Optimal Health. Based in Los Angeles he is working on a new book about spiritual consumerism. Stay in touch on Facebook and Twitter.
Former president of the ACLU Nadine Strossen discusses whether our society should always defend free speech rights, even for groups who would oppose such rights.
Sponsored by Charles Koch Foundation
Former ACLU president Nadine Strossen understands that protecting free speech rights isn't always a straightforward proposition.
In this video, Strossen describes the reasoning behind why the ACLU defended the free speech rights of neo-Nazis in Skokie, Illinois, 1977.
The opinions expressed in this video do not necessarily reflect the views of the Charles Koch Foundation, which encourages the expression of diverse viewpoints within a culture of civil discourse and mutual respect.
Want to be smarter than you were yesterday? Learn to have better conversations using these 3 design principles.
Sponsored by the Institute for Humane Studies
What is a great conversation? They are the ones that leave us feeling smarter or more curious, with a sense that we have discovered something, understood something about another person, or have been challenged.
There are 3 design principles that lead to great conversations: humility, critical thinking, and sympathetic listening.
Critical thinking is the celebrated cornerstone of liberalism, but next time you're in a challenging and rewarding conversation, try to engage sympathetic listening too. Understanding why another intelligent person holds ideas that are at odds with your own is often more enlightening than merely hunting for logic errors.
A consortium of scientists and engineers have proposed that the U.S. and Mexico build a series of guarded solar, wind, natural gas and desalination facilities along the entirety of the border.
Credit: Purdue University photo/Jorge Castillo Quiñones
Politics & Current Affairs
The proposal was recently presented to several U.S. members of Congress.
The plan still calls for border security, considering all of the facilities along the border would be guarded and connected by physical barriers.
It's undoubtedly an expensive and complicated proposal, but the team argues that border regions are ideal spots for wind and solar energy, and that they could use the jobs and fresh water the energy park would create.
The reason one diet does not suit all may be found in our guts.