Relationships really do lead to weight gain, study finds
Even though couples tend to live healthier lifestyles, they put on extra weight. A new study offers potential clues why.
19 March, 2018
If you live in the United States or Canada, you've likely heard the term 'Freshman 15'. In my day it was referenced as the 'Freshman 10', but weight trends continue to tick upwards. A half-world away, in Australia and New Zealand, the weight gain high school students experience in their college transition is referred to as 'First Year Fatties' or 'Fresher Five', their arbitrary weight gain being measured in kilograms.
---
The reason for this trend is attributed to multiple factors: stress, lack of sleep, alcohol, carbohydrate- and sugar-rich cafeteria food, lack of exercise. Whatever the reason, or myriad reasons, hopefully the student gets on track by year two and finds a healthier rhythm. 
This is not the only time in life in which weight just seems to add up. A new study published in PLOS One tracked 15,001 Australian adults over a decade to discover the reasons why individuals in relationships are more likely to be overweight or obese—or simply put on a few. 
A team led by Stephanie Schoeppe, at the Central Queensland University in Australia, crunched the data of volunteers between the years 2005-2014 and discovered a paradox: even though people in relationships tend to live healthier lifestyles, each partner tends to gain weight.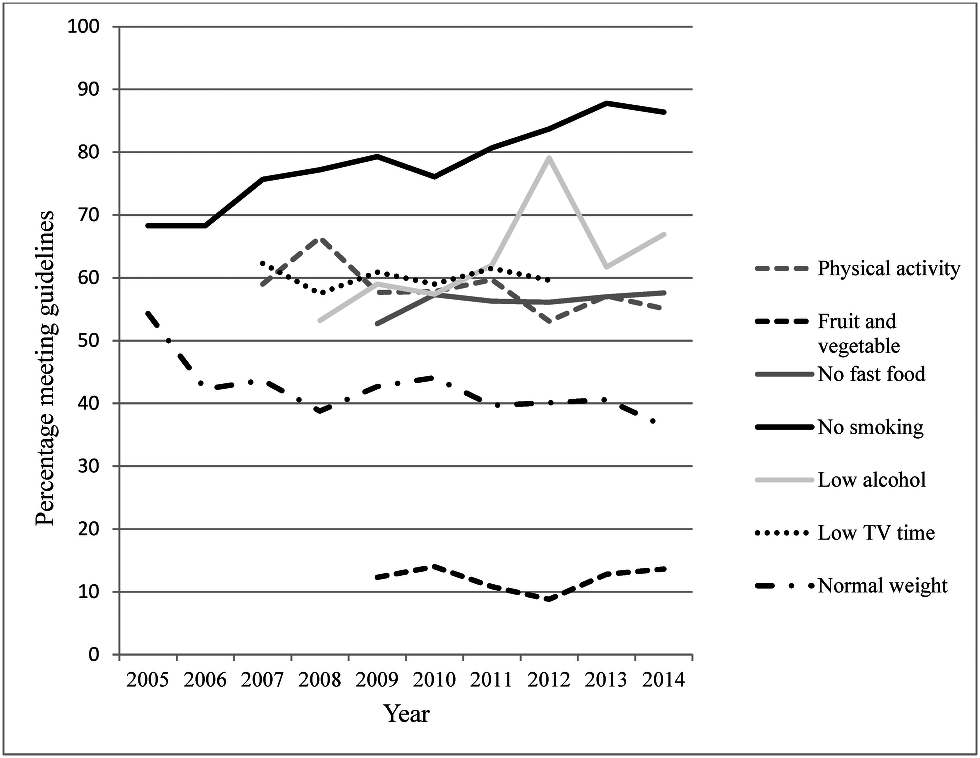 Couples, they discovered, smoke less, eat less fast food and drink less alcohol, and watch less television. Yet overall they weigh more than single volunteers. Even with this self-reported data, though, the authors write: 
Marriage and cohabiting also carry the potential for encouraging unhealthy behaviours, as couples often perform behaviours like eating, watching TV and drinking alcohol together. 
That is, while they're consuming less junk than single individuals, by engaging in these activities together they're likely loosening their own self-imposed rules, allowing them to binge more and focus on health less. This is slightly counterintuitive, given that couples tend to want to live longer in order to spend more time with their partners.
Couples are also out of the dating pool, where putting your best foot forward is essential. An emphasis on physical shape and healthy lifestyle behaviors is an evolutionarily beneficial tool for singles. As Schoeppe says: 
When couples don't need to look attractive and slim to attract a partner, they may feel more comfortable in eating more, or eating more foods high in fat and sugar. When couples have children in the household, they tend to eat the children's leftovers or snacks.
The length of time one has been in a relationship also matters. Cohabitating for over two years seems to be when the pounds start to add up.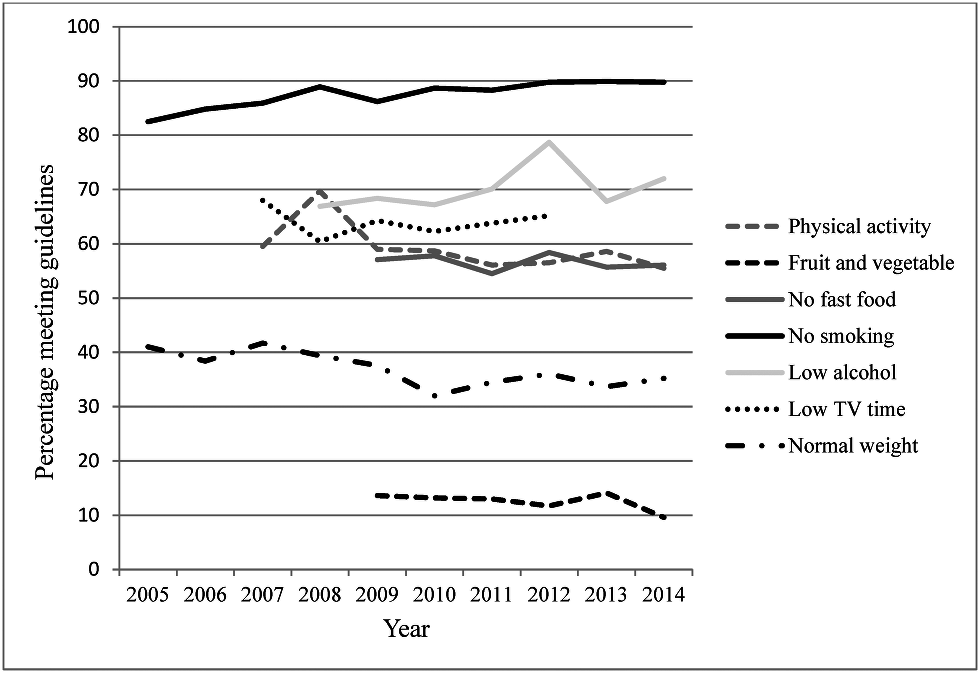 There are a number of factors not included in this survey, such as the quality of the relationship. Happier couples tend to endure stressful times together instead of stressing one another out. Elevated cortisol leads to weight gain; if the relationship isn't working out, that could contribute to packing on pounds. 
Still, one trend in relationships that's booming is fitness. One adage goes, "couples that sweat together, stay together," a trend that I can attest to, having worked at Equinox Fitness for the last 14 years. Couples that exercise together inspire one another, whereas I've talked to a number of members whose partners do not exercise. While not causation, I've noticed a definite correlation with dissatisfaction in these situations. 
Inspiring one another, in a relationship or simply by staying healthy and influencing friends, is an important step in curbing our obesity epidemic. Couples that work out together might feel justified in "cheating" after dinner, which is not how our bodies work: diet is more relevant to weight gain than exercise. You can't "burn off" calories in the way the myth goes. 
The researchers recognize that everyone faces their own issues in an age of constant entertainment distraction and unhealthy foodstuffs on offer at every turn. They conclude:
These findings suggest that health behaviour interventions are needed in both singles and couples, but relationship status needs to be considered in interventions targeting alcohol, fast food, smoking and BMI.
If you really love your partner and want to spend more time with them over the long haul, it makes sense to inspire one another in every sense of the term. That might mean fewer pints of ice cream or slowing down on the vino, but the reward is worth the sacrifice. 
-- 
Derek Beres is the author of Whole Motion and creator of Clarity: Anxiety Reduction for Optimal Health. Based in Los Angeles, he is working on a new book about spiritual consumerism. Stay in touch on Facebook and Twitter.
NASA astronomer Michelle Thaller is coming back to Big Think to answer YOUR questions! Here's all you need to know to submit your science-related inquiries.
Videos
Big Think's amazing audience has responded so well to our videos from NASA astronomer and Assistant Director for Science Communication Michelle Thaller that we couldn't wait to bring her back for more!

And this time, she's ready to tackle any questions you're willing to throw at her, like, "How big is the Universe?", "Am I really made of stars?" or, "How long until Elon Musk starts a colony on Mars?"
All you have to do is submit your questions to the form below, and we'll use them for an upcoming Q+A session with Michelle. You know what to do, Big Thinkers!
Lumina Foundation is partnering with Big Think to unearth the next large-scale, rapid innovation in post-high school education. Enter the competition here!
Why are soda and ice cream each linked to violence? This article delivers the final word on what people mean by "correlation does not imply causation."
popular
Ice cream consumption is actually linked to shark attacks.
But the relationship is correlative, not causal.
It's pretty stunning how media outlets skip over this important detail.
That's one way to reduce the national debt.
Change.org
Politics & Current Affairs
The tongue-in-cheek petition, whose stated aim is to reduce the national debt, has been signed more than 8,600 times as of Tuesday.
Selling Montana, the fourth largest state in the country, would constitute the largest land deal since the Louisiana Purchase.
The national debt is often a source of concern for individuals, but the chances of the U.S. defaulting on its debts are relatively low — in part because the bulk of the national debt is owned by the American public.
The plan to stop megacorps from owning superintelligence is already underway.
Videos
A.I. technology is often developed within the proprietary silos of big tech companies. What if there was an open, decentralized hub for A.I. developers to share their creations? Enter SingularityNET.
The many A.I.s in the network could compete with each other to provide services for users but they could also cooperate, giving way to an emergent-level mind: artificial general intelligence.
SingularityNET is powered by blockchain technology, meaning whatever 'digital organism' emerges will not be owned or controlled by any one person, company or government.
Big think's weekly newsletter.
Get smarter faster from the comfort of your inbox.
See our newsletter privacy policy
here
Most Popular
Most Recent
Big think's weekly newsletter.
Get smarter faster from the comfort of your inbox.
See our newsletter privacy policy
here
© Copyright 2007-2018 & BIG THINK, BIG THINK EDGE,
SMARTER FASTER trademarks owned by The Big Think, Inc. All rights reserved.