Relationships really do lead to weight gain, study finds
Even though couples tend to live healthier lifestyles, they put on extra weight. A new study offers potential clues why.
19 March, 2018
If you live in the United States or Canada, you've likely heard the term 'Freshman 15'. In my day it was referenced as the 'Freshman 10', but weight trends continue to tick upwards. A half-world away, in Australia and New Zealand, the weight gain high school students experience in their college transition is referred to as 'First Year Fatties' or 'Fresher Five', their arbitrary weight gain being measured in kilograms.
---
The reason for this trend is attributed to multiple factors: stress, lack of sleep, alcohol, carbohydrate- and sugar-rich cafeteria food, lack of exercise. Whatever the reason, or myriad reasons, hopefully the student gets on track by year two and finds a healthier rhythm. 
This is not the only time in life in which weight just seems to add up. A new study published in PLOS One tracked 15,001 Australian adults over a decade to discover the reasons why individuals in relationships are more likely to be overweight or obese—or simply put on a few. 
A team led by Stephanie Schoeppe, at the Central Queensland University in Australia, crunched the data of volunteers between the years 2005-2014 and discovered a paradox: even though people in relationships tend to live healthier lifestyles, each partner tends to gain weight.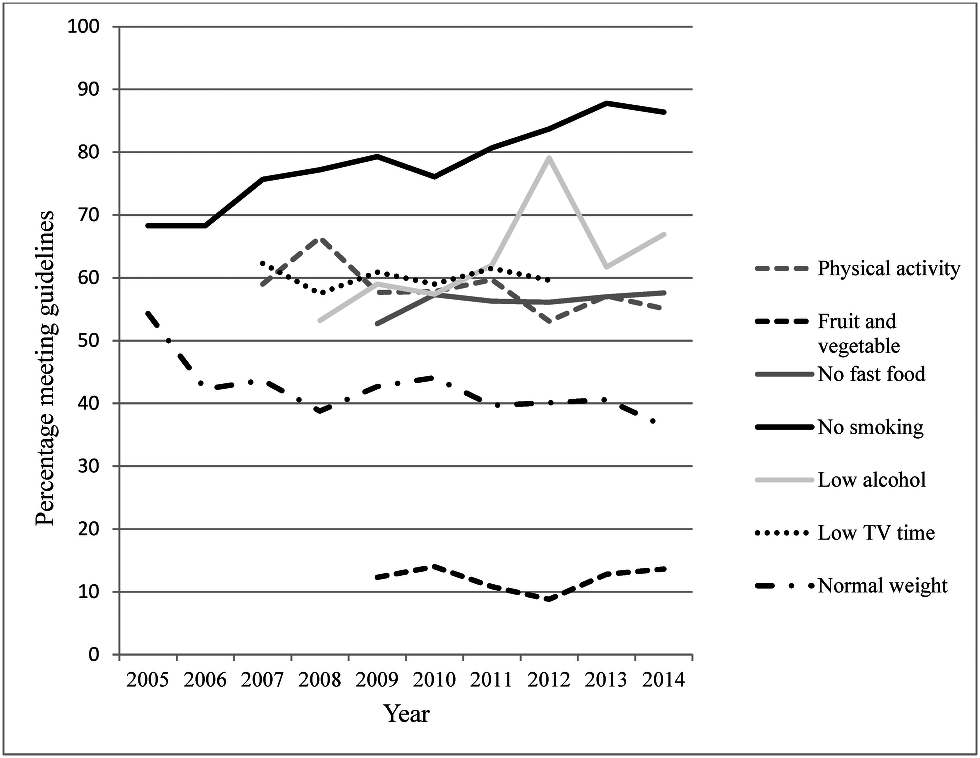 Couples, they discovered, smoke less, eat less fast food and drink less alcohol, and watch less television. Yet overall they weigh more than single volunteers. Even with this self-reported data, though, the authors write: 
Marriage and cohabiting also carry the potential for encouraging unhealthy behaviours, as couples often perform behaviours like eating, watching TV and drinking alcohol together. 
That is, while they're consuming less junk than single individuals, by engaging in these activities together they're likely loosening their own self-imposed rules, allowing them to binge more and focus on health less. This is slightly counterintuitive, given that couples tend to want to live longer in order to spend more time with their partners.
Couples are also out of the dating pool, where putting your best foot forward is essential. An emphasis on physical shape and healthy lifestyle behaviors is an evolutionarily beneficial tool for singles. As Schoeppe says: 
When couples don't need to look attractive and slim to attract a partner, they may feel more comfortable in eating more, or eating more foods high in fat and sugar. When couples have children in the household, they tend to eat the children's leftovers or snacks.
The length of time one has been in a relationship also matters. Cohabitating for over two years seems to be when the pounds start to add up.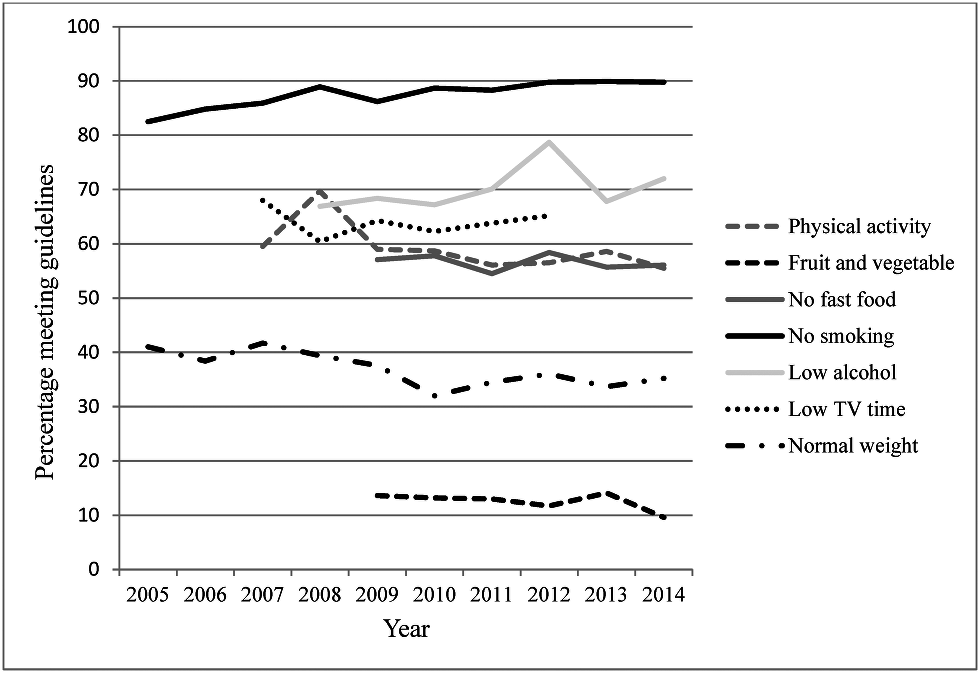 There are a number of factors not included in this survey, such as the quality of the relationship. Happier couples tend to endure stressful times together instead of stressing one another out. Elevated cortisol leads to weight gain; if the relationship isn't working out, that could contribute to packing on pounds. 
Still, one trend in relationships that's booming is fitness. One adage goes, "couples that sweat together, stay together," a trend that I can attest to, having worked at Equinox Fitness for the last 14 years. Couples that exercise together inspire one another, whereas I've talked to a number of members whose partners do not exercise. While not causation, I've noticed a definite correlation with dissatisfaction in these situations. 
Inspiring one another, in a relationship or simply by staying healthy and influencing friends, is an important step in curbing our obesity epidemic. Couples that work out together might feel justified in "cheating" after dinner, which is not how our bodies work: diet is more relevant to weight gain than exercise. You can't "burn off" calories in the way the myth goes. 
The researchers recognize that everyone faces their own issues in an age of constant entertainment distraction and unhealthy foodstuffs on offer at every turn. They conclude:
These findings suggest that health behaviour interventions are needed in both singles and couples, but relationship status needs to be considered in interventions targeting alcohol, fast food, smoking and BMI.
If you really love your partner and want to spend more time with them over the long haul, it makes sense to inspire one another in every sense of the term. That might mean fewer pints of ice cream or slowing down on the vino, but the reward is worth the sacrifice. 
-- 
Derek Beres is the author of Whole Motion and creator of Clarity: Anxiety Reduction for Optimal Health. Based in Los Angeles, he is working on a new book about spiritual consumerism. Stay in touch on Facebook and Twitter.
Pfizer's partnerships strengthen their ability to deliver vaccines in developing countries.
Susan Silbermann, Global President of Pfizer Vaccines, looks on as a health care worker administers a vaccine in Rwanda. Photo: Courtesy of Pfizer.
Sponsored
Community healthcare workers face many challenges in their work, including often traveling far distances to see their clients
Pfizer is helping to drive the UN's sustainable development goals through partnerships.
Pfizer partnered with AMP and the World Health Organization to develop a training program for healthcare workers.
The best-selling author tells us his methods.
Videos
James Patterson has sold 300 million copies of his 130 books, making him one of the most successful authors alive today.
He talks about how some writers can overdo it by adding too much research, or worse, straying from their outline for too long.
James' latest book, The President is Missing, co-written with former President Bill Clinton, is out now.

Progressive America would be half as big, but twice as populated as its conservative twin.
Image: Dicken Schrader
Strange Maps
America's two political tribes have consolidated into 'red' and 'blue' nations, with seemingly irreconcilable differences.
Perhaps the best way to stop the infighting is to go for a divorce and give the two nations a country each
Based on the UN's partition plan for Israel/Palestine, this proposal provides territorial contiguity and sea access to both 'red' and 'blue' America
It's the first time the association hasn't hired a comedian in 16 years.
(Photo by Anna Webber/Getty Images for Vulture Festival)
Culture & Religion
The 2018 WHCA ended in controversy after comedian Michelle Wolf made jokes some considered to be offensive.
The WHCA apologized for Wolf's jokes, though some journalists and many comedians backed the comedian and decried arguments in favor of limiting the types of speech permitted at the event.
Ron Chernow, who penned a bestselling biography of Alexander Hamilton, will speak at next year's dinner.
Big think's weekly newsletter.
Get smarter faster from the comfort of your inbox.
See our newsletter privacy policy
here
Most Popular
Most Recent
Big think's weekly newsletter.
Get smarter faster from the comfort of your inbox.
See our newsletter privacy policy
here
© Copyright 2007-2018 & BIG THINK, BIG THINK EDGE,
SMARTER FASTER trademarks owned by The Big Think, Inc. All rights reserved.