The 7 new classifications of religious styles
The Pew Research Center has classified Americans into seven distinct religious types.
12 September, 2018
Religious typology has never been accurate. The range by which one can claim to be Christian, for example, is much broader than one simple term can encompass. The same holds true for Judaism, Islam, Buddhism — not the umbrella term, per se, but the level of devotion. Religious Buddhists can be as fundamentalist as Evangelicals; they can also be secular and even atheistic.
---
Instead of defining Americans in terms of stated religion, the Pew Research Center created a 16-question survey about the participant's level of practice and belief. The questions were pulled from years of similar research, factoring for redundancies. This process has resulted in a new typology of seven religious styles that will serve as the organization's classification system for better understanding how we practice faith in this country.
The survey was conducted during a two-week period in December 2017 and included 4,729 respondents. As Rich Morin, a senior editor at the center, comments on this classification system,
Our goal was not to replace traditional religious categories but instead to create categories built around personal religious and spiritual beliefs, as well as behaviors and experiences that are broadly shared by people of different faiths.

Morin believes this is even more telling than the label we choose for our belief system because it offers researchers an opportunity to better understand what unites people across various faiths, as well as what divides members of the same religion. He found it particularly interesting that even those on the far end of the religious spectrum, New Age beliefs still influenced their outlook. More expectable realities — the right is more religious, liberals less so — are expressed in the report.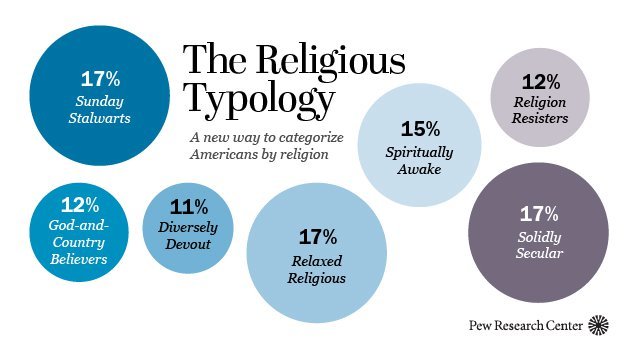 The Seven Types
Sunday Stalwarts. These believers are actively involved in their communities and their faith. Sunday morning is only for one thing for 80 percent of this group. Their level of belief in their doctrines and texts are unquestioned, even though 30 percent believe in psychics and the energetic importance of crystals and trees. Their identity is intimately tied to their faith. This is the oldest of any group, with 32 percent over age 65. Stalwarts are predominately Protestant, but also include Hindus, Muslims, Jews, and many others.
God-and-Country Believers. This group's level of faith rivals the stalwarts, but they are much more politically focused. These are the nationalists and populists that are likely to believe America has a manifest destiny. They are also more intolerant of immigrants and those of other faiths. Evangelical Protestants are the largest contingent of this group, though Catholics, Mormons, and even religiously unaffiliated are included. Fifty percent of this group lives in the South, the highest of any group.
Diversely Devout. For those immigrants and ethnic minorities that are as faithful as the above groups, this category fills the void. A majority of this group — the majority of whom are textural literalists — also believe in crystals and reincarnation. While this might sound odd from an American perspective, New Age beliefs and traditional religious ideology are intertwined in many Latin American and African communities. Being a good person, as in the two previous groups, requires a belief in God. Interestingly, a percentage of this population includes those who claim their religion is "nothing in particular." This is the only group that is not majority white.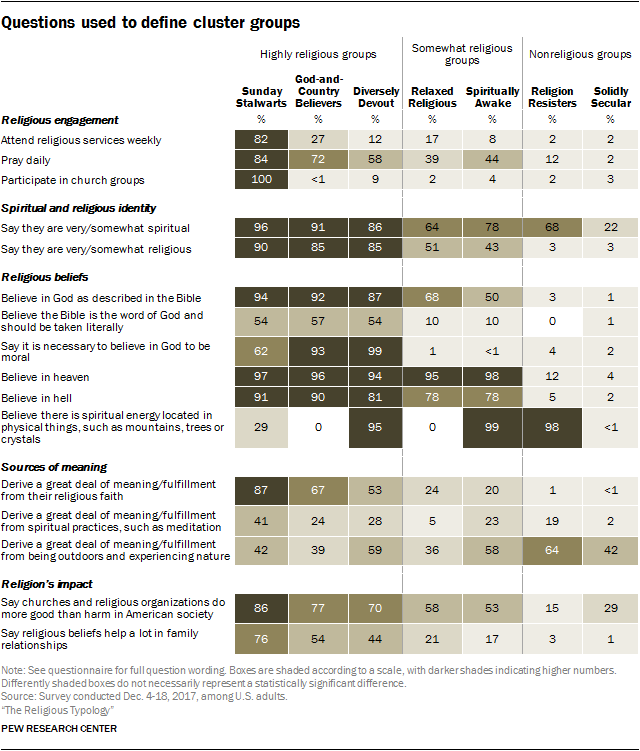 Solidly Secular. This group is comprised predominantly of white men that are relatively affluent and highly educated — 45 percent hold a college degree, the highest of any group; 46 percent earn over $75,000 a year, also tops in this survey. This is where atheists and agnostics conspire, relying more on science and provable facts over speculation and blind faith. Twenty percent of this group describes themselves as agnostic, while it boasts the largest collection of atheists of any group.
Religion Resisters. The previous group might not have much faith, but they're not necessarily rebelling against ideologies. That's the domain of this cohort, which resists traditional religious assumptions, choosing instead to place emphasis on energies and spiritual awakenings. These people are, to use a common phrase, "spiritual, not religious." This group, as with the previous, is more likely to be liberal and vote Democratic. This group has the youngest median age, at 38. They also disapprove of Donald Trump's performance more than any group; 84 percent believe he's not helping.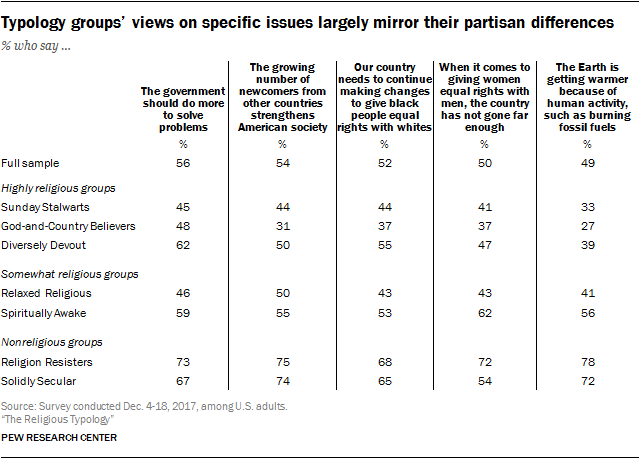 Relaxed Religious. This interesting collection features 70 percent who believe in the biblical God and about 40 percent who pray daily, yet they rarely attend services and do not feel a higher power is necessary to be a good person. Faith is more ambiguous and less proactive. The two top sources of meaning for those in this group are spending time with family and spending time with friends, with caring for pets coming in a close third.
Spiritually Awake. Every member of this group holds some New Age belief, even if some think the Bible is the way to go. Some form of higher power is involved in the daily orchestration of events. This group features the highest percentage of women of any group, at 62 percent.
--
Related Articles
What do we see from watching birds move across the country?
E. Fleischer
Surprising Science
A total of eight billion birds migrate across the U.S. in the fall.
The birds who migrate to the tropics fair better than the birds who winter in the U.S.
Conservationists can arguably use these numbers to encourage the development of better habitats in the U.S., especially if temperatures begin to vary in the south.
The migration of birds — and we didn't even used to know that birds migrated; we assumed they hibernated; the modern understanding of bird migration was established when a white stork landed in a German village with an arrow from Central Africa through its neck in 1822 — draws us in the direction of having an understanding of the world. A bird is here and then travels somewhere else. Where does it go? It's a variation on the poetic refrain from The Catcher in the Rye. Where do the ducks go? How many are out there? What might it encounter along the way?
"In the spring," the lead author Adriaan Dokter noted, "3.5 billion birds cross back into the U.S. from points south, and 2.6 billion birds return to Canada across the northern U.S. border."
In other words: the birds who went three to four times further than the birds staying in the U.S. faired better than the birds who stayed in the U.S. Why?
Part of the answer could be very well be what you might hear from a conservationist — only with numbers to back it up: the U.S. isn't built for birds. As Ken Rosenberg, the other co-author of the study, notes: "Birds wintering in the U.S. may have more habitat disturbances and more buildings to crash into, and they might not be adapted for that."
The other option is that birds lay more offspring in the U.S. than those who fly south for the winter.
What does observing eight billion birds mean in practice? To give myself a counterpoint to those numbers, I drove out to the Joppa Flats Education Center in Northern Massachusetts. The Center is a building that sits at the entrance to the Parker River National Wildlife Refuge and overlooks the Merrimack River, which is what I climbed the stairs up to the observation deck to see.
Once there, I paused. I took a breath. I listened. I looked out into the distance. Tiny flecks Of Bonaparte's Gulls drew small white lines across the length of the river and the wave of the grass toward a nearby city. What appeared to be flecks of double-crested cormorants made their way to the sea. A telescope downstairs enabled me to watch small gull-like birds make their way along the edges of the river, quietly pecking away at food just beneath the surface of the water. This was the experience of watching maybe half a dozen birds over fifteen-to-twenty minutes, which only served to drive home the scale of birds studied.
Explore how alcohol affects your brain, from the first sip at the bar to life-long drinking habits.
(Photo by Angie Garrett/Wikimedia Commons)
Mind & Brain
Alcohol is the world's most popular drug and has been a part of human culture for at least 9,000 years.
Alcohol's effects on the brain range from temporarily limiting mental activity to sustained brain damage, depending on levels consumed and frequency of use.
Understanding how alcohol affects your brain can help you determine what drinking habits are best for you.
If you want to know what makes a Canadian lynx a Canadian lynx a team of DNA sequencers has figured that out.
Surprising Science
A team at UMass Amherst recently sequenced the genome of the Canadian lynx.
It's part of a project intending to sequence the genome of every vertebrate in the world.
Conservationists interested in the Canadian lynx have a new tool to work with.
Artwork: Guillaume le Clerc / Wikimedia Commons
13th-century fantastical depiction of an elephant.
It is easy to see how one can look at 66,000 genomic sequences stored away as being the analogous equivalent of the Svalbard Global Seed Vault. It is a potential tool for future conservationists.
But what are the practicalities of sequencing the genome of a lynx beyond engaging with broad bioethical questions? As the animal's habitat shrinks and Earth warms, the Canadian lynx is demonstrating less genetic diversity. Cross-breeding with bobcats in some portions of the lynx's habitat also represents a challenge to the lynx's genetic makeup. The two themselves are also linked: warming climates could drive Canadian lynxes to cross-breed with bobcats.
John Organ, chief of the U.S. Geological Survey's Cooperative Fish and Wildlife units, said to MassLive that the results of the sequencing "can help us look at land conservation strategies to help maintain lynx on the landscape."
What does DNA have to do with land conservation strategies? Consider the fact that the food found in a landscape, the toxins found in a landscape, or the exposure to drugs can have an impact on genetic activity. That potential change can be transmitted down the generative line. If you know exactly how a lynx's DNA is impacted by something, then the environment they occupy can be fine-tuned to meet the needs of the lynx and any other creature that happens to inhabit that particular portion of the earth.
Given that the Trump administration is considering withdrawing protection for the Canadian lynx, a move that caught scientists by surprise, it is worth having as much information on hand as possible for those who have an interest in preserving the health of this creature—all the way down to the building blocks of a lynx's life.
Big think's weekly newsletter.
Get smarter faster from the comfort of your inbox.
See our newsletter privacy policy
here
Most Popular
Most Recent
Big think's weekly newsletter.
Get smarter faster from the comfort of your inbox.
See our newsletter privacy policy
here
© Copyright 2007-2018 & BIG THINK, BIG THINK EDGE,
SMARTER FASTER trademarks owned by The Big Think, Inc. All rights reserved.