10 science books that will make you see the world differently
To better understand our place in the world, check out these groundbreaking books.
18 January, 2018
Science is often counterintuitive. When we become habituated to our environment our frame of reference reflects the minds of those around us and the geography we live within. Good science doesn't lean on anecdote; it constantly pushes us to think and act better. The following books push boundaries by confronting common wisdom and updating our collective knowledge through a combination of research, integrity, curiosity, and passion. 
---
The Age of Wonder
by Richard Holmes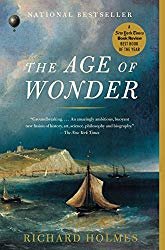 Starting with a history book might seem odd, but without a firm understanding of how germ theory, disease specificity, and the placebo response—among other important breakthroughs—came to be, you won't be grounded in what we now consider basic knowledge. British biographer Richard Holmes does justice to the evolution of eighteenth and nineteenth century science.
"We need the three things that a scientific culture can sustain: the sense of individual wonder, the power of hope, and the vivid but questing belief in a future for the globe."
Behave: The Biology of Humans at Our Best and Worst
by Robert Sapolsky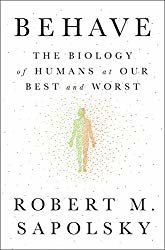 If you want to know why humans behave how we do, start with American neuroendocrinologist Robert Sapolsky's tour de force. Having spent time studying baboons in Kenya, here he trains his gaze on the peculiar, outlandish, and even mundane aspects of humans, traversing neuroscience, psychology, sociology, and anthropology to better comprehend what makes us us.
"We are constantly being shaped by seemingly irrelevant stimuli, subliminal information, and internal forces we don't know a thing about."
The Body Keeps the Score: Brain, Mind, and Body in the Healing of Trauma
by Bessel van der Kolk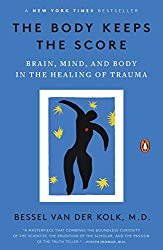 Dutch psychiatrist Bessel van der Kolk began studying post-traumatic stress in the seventies. His masterful work stretches across decades of research in an attempt to piece together a clinical and heartfelt approach to trauma. His understanding of the biology and physicality of his discipline is unmatched. 
"We have learned that trauma is not just an event that took place sometime in the past; it is also the imprint left by that experience on mind, brain, and body. This imprint has ongoing consequences for how the human organism manages to survive in the present."
The Brain's Way of Healing: Remarkable Discoveries and Recoveries from the Frontiers of Neuroplasticity 
by Norman Doidge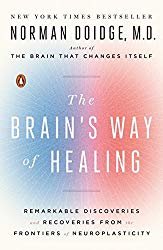 Canadian psychoanalyst Norman Doidge is also a poet, a fact that became apparent with his breakthrough book, The Brain That Changes Itself. His follow-up addresses important issues that research these and more in his beautiful prose. Including an entire chapter on the work of movement genius Moshé Feldenkrais added an even bigger smile to my face. 
"The use of force is the opposite of awareness; learning does not take place when we are straining."
The Emperor of All Maladies: A Biography of Cancer
by Siddhartha Mukherjee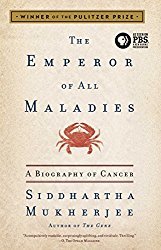 I first read Indian-American physician Siddhartha Mukherjee's debut out of curiosity. A few years later it offered comfort when dealing with my own cancer. His gorgeous style and sympathetic approach, displayed as a columnist for The New Yorker and NY Times, portrays cancer as an integral part of what we are as animals. His follow-up to this exhaustive biography is the highly recommended The Gene. On Twitter he told me his final installment of what he considers to be a trio will be on vaccines. Plenty to look forward to from this masterful writer.
"Cancer is built into our genomes: the genes that unmoor normal cell division are not foreign to our bodies, but rather mutated, distorted versions of the very genes that perform vital cellular functions. And cancer is imprinted in our society: as we extend our life span as a species, we inevitably unleash malignant growth (mutations in cancer genes accumulate with aging; cancer is thus intrinsically related to age). If we seek immortality, then so, too, in a rather perverse sense, does the cancer cell." 
How Emotions Are Made: The Secret Life of the Brain
by Lisa Feldman Barrett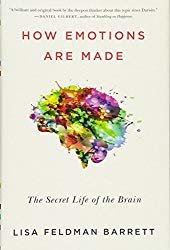 Psychology professor Lisa Feldman Barrett presents one of the most counterintuitive books in recent memory by claiming that we don't react to our environment so much as constantly construct our reality. This groundbreaking work will change how you view your inner world forever, empowering you with the knowledge that pretty much every "reaction" can be changed. (Listen to my chat with her here.)
"With concepts, your brain simulates so invisibly and automatically that vision, hearing, and your other senses seem like reflexes rather than constructions."
The Organized Mind
by Daniel J. Levitin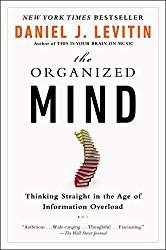 Inattention is one of our greatest modern problems. We know cigarettes and alcohol are addictive; we've come to terms with opioids. Sugar is a killer, one few give up. Yet we seem light years from admitting what technology is doing to our brains. Neuroscientist Dan Levitin's insightful book will change how you view tech—and your life. Fortunately it's all for the better, should you heed his advice. 
"Evolution doesn't design things and it doesn't build systems—it settles on systems that, historically, conveyed a survival benefit (and if a better way comes along, it will adopt that). There is no overarching, grand planner engineering the systems so that they work harmoniously together. The brain is more like a big, old house with piecemeal renovations done on every floor, and less like a new construction."
Other Minds: The Octopus, the Sea, and the Deep Origins of Consciousness
by Peter Godfrey Smith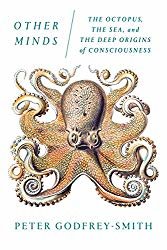 Australian philosopher and professor Peter Godfrey Smith has exposed the unworldly reality of the octopus in such candor that we'll never view this incredible cephalopod the same way. In the process he offers keen insights into the development of sentience and intelligence throughout the animal kingdom, humans included. 
"To some degree, unity is inevitable in a living agent: an animal is a whole, a physical object keeping itself alive. But in other ways, unity is optional, an achievement, an invention. Bringing experience together—even the deliverances of the two eyes—is something that evolution may or may not do."
The Story of the Human Body: Evolution, Health, and Disease
by Daniel Lieberman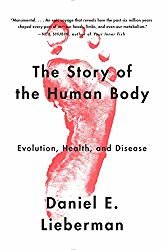 To wrap your head around any facet of human biology, anatomy, and physiology, start with Harvard paleoanthropologist Daniel Lieberman. This eye-opening masterpiece explores the intricate details of digestion as well as our posture and feet, forcing us to reconsider movement patterns and cognitive habits that are actually killing us. His deep dive into mismatch diseases will inspire you to change the course of your day. 
"By developing through myriad interactions between genes and environments, organisms are able to build extremely complex, highly integrated bodies that not only work well, but also can adapt to a wide range of circumstances." 
The Well-Tuned Brain: A Remedy for a Manic Society
by Peter C Whybrow, MD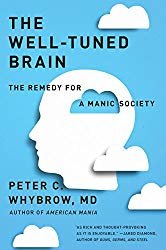 Scouring through the innumerable books with "brain" in the title is challenging, as neuroscience has become a catchword for every possible agenda. English psychiatrist Peter C. Whybrow takes a truly unique and essential take when discussing capitalism's effects on our behavior. He argues that many technological advances are actually enslaving us; our survival as a species is under threat due to our reliance on what's being sold. 
"We find ourselves rewarded less in the role of concerned citizen than in that of self-seeking consumer. Through habituation, we have grown indifferent to those aspects of human culture that fall outside market reference." 
--
Derek Beres is the author of Whole Motion: Training Your Brain and Body For Optimal Health. Based in Los Angeles, he is working on a new book about spiritual consumerism. Stay in touch onFacebook and Twitter.
Related Articles
Through computationally intensive computer simulations, researchers have discovered that "nuclear pasta," found in the crusts of neutron stars, is the strongest material in the universe.
Accretion disk surrounding a neutron star. Credit: NASA
Surprising Science
The strongest material in the universe may be the whimsically named "nuclear pasta."
You can find this substance in the crust of neutron stars.
This amazing material is super-dense, and is 10 billion times harder to break than steel.
---
Superman is known as the "Man of Steel" for his strength and indestructibility. But the discovery of a new material that's 10 billion times harder to break than steel begs the question—is it time for a new superhero known as "Nuclear Pasta"? That's the name of the substance that a team of researchers thinks is the strongest known material in the universe.
Unlike humans, when stars reach a certain age, they do not just wither and die, but they explode, collapsing into a mass of neurons. The resulting space entity, known as a neutron star, is incredibly dense. So much so that previous research showed that the surface of a such a star would feature amazingly strong material. The new research, which involved the largest-ever computer simulations of a neutron star's crust, proposes that "nuclear pasta," the material just under the surface, is actually stronger.
The competition between forces from protons and neutrons inside a neutron star create super-dense shapes that look like long cylinders or flat planes, referred to as "spaghetti" and "lasagna," respectively. That's also where we get the overall name of nuclear pasta.
Caplan & Horowitz/arXiv
Diagrams illustrating the different types of so-called nuclear pasta.
The researchers' computer simulations needed 2 million hours of processor time before completion, which would be, according to a press release from McGill University, "the equivalent of 250 years on a laptop with a single good GPU." Fortunately, the researchers had access to a supercomputer, although it still took a couple of years. The scientists' simulations consisted of stretching and deforming the nuclear pasta to see how it behaved and what it would take to break it.
While they were able to discover just how strong nuclear pasta seems to be, no one is holding their breath that we'll be sending out missions to mine this substance any time soon. Instead, the discovery has other significant applications.
One of the study's co-authors, Matthew Caplan, a postdoctoral research fellow at McGill University, said the neutron stars would be "a hundred trillion times denser than anything on earth." Understanding what's inside them would be valuable for astronomers because now only the outer layer of such starts can be observed.
"A lot of interesting physics is going on here under extreme conditions and so understanding the physical properties of a neutron star is a way for scientists to test their theories and models," Caplan added. "With this result, many problems need to be revisited. How large a mountain can you build on a neutron star before the crust breaks and it collapses? What will it look like? And most importantly, how can astronomers observe it?"
Another possibility worth studying is that, due to its instability, nuclear pasta might generate gravitational waves. It may be possible to observe them at some point here on Earth by utilizing very sensitive equipment.
The team of scientists also included A. S. Schneider from California Institute of Technology and C. J. Horowitz from Indiana University.
Check out the study "The elasticity of nuclear pasta," published in Physical Review Letters.
Scientists think constructing a miles-long wall along an ice shelf in Antarctica could help protect the world's largest glacier from melting.
Image: NASA
Surprising Science
Rising ocean levels are a serious threat to coastal regions around the globe.
Scientists have proposed large-scale geoengineering projects that would prevent ice shelves from melting.
The most successful solution proposed would be a miles-long, incredibly tall underwater wall at the edge of the ice shelves.
The world's oceans will rise significantly over the next century if the massive ice shelves connected to Antarctica begin to fail as a result of global warming.
To prevent or hold off such a catastrophe, a team of scientists recently proposed a radical plan: build underwater walls that would either support the ice or protect it from warm waters.
In a paper published in The Cryosphere, Michael Wolovick and John Moore from Princeton and the Beijing Normal University, respectively, outlined several "targeted geoengineering" solutions that could help prevent the melting of western Antarctica's Florida-sized Thwaites Glacier, whose melting waters are projected to be the largest source of sea-level rise in the foreseeable future.
An "unthinkable" engineering project
"If [glacial geoengineering] works there then we would expect it to work on less challenging glaciers as well," the authors wrote in the study.

One approach involves using sand or gravel to build artificial mounds on the seafloor that would help support the glacier and hopefully allow it to regrow. In another strategy, an underwater wall would be built to prevent warm waters from eating away at the glacier's base.
The most effective design, according to the team's computer simulations, would be a miles-long and very tall wall, or "artificial sill," that serves as a "continuous barrier" across the length of the glacier, providing it both physical support and protection from warm waters. Although the study authors suggested this option is currently beyond any engineering feat humans have attempted, it was shown to be the most effective solution in preventing the glacier from collapsing.
Source: Wolovick et al.
An example of the proposed geoengineering project. By blocking off the warm water that would otherwise eat away at the glacier's base, further sea level rise might be preventable.
But other, more feasible options could also be effective. For example, building a smaller wall that blocks about 50% of warm water from reaching the glacier would have about a 70% chance of preventing a runaway collapse, while constructing a series of isolated, 1,000-foot-tall columns on the seafloor as supports had about a 30% chance of success.

Still, the authors note that the frigid waters of the Antarctica present unprecedently challenging conditions for such an ambitious geoengineering project. They were also sure to caution that their encouraging results shouldn't be seen as reasons to neglect other measures that would cut global emissions or otherwise combat climate change.
"There are dishonest elements of society that will try to use our research to argue against the necessity of emissions' reductions. Our research does not in any way support that interpretation," they wrote.
"The more carbon we emit, the less likely it becomes that the ice sheets will survive in the long term at anything close to their present volume."
A 2015 report from the National Academies of Sciences, Engineering, and Medicine illustrates the potentially devastating effects of ice-shelf melting in western Antarctica.
"As the oceans and atmosphere warm, melting of ice shelves in key areas around the edges of the Antarctic ice sheet could trigger a runaway collapse process known as Marine Ice Sheet Instability. If this were to occur, the collapse of the West Antarctic Ice Sheet (WAIS) could potentially contribute 2 to 4 meters (6.5 to 13 feet) of global sea level rise within just a few centuries."
The world's getting hotter, and it's getting more volatile. We need to start thinking about how climate change encourages conflict.
Christopher Furlong/Getty Images
Politics & Current Affairs
Climate change is usually discussed in terms of how it impacts the weather, but this fails to emphasize how climate change is a "threat multiplier."
As a threat multiplier, climate change makes already dangerous social and political situations even worse.
Not only do we have to work to minimize the impact of climate change on our environment, but we also have to deal with how it affects human issues today.
Big think's weekly newsletter.
Get smarter faster from the comfort of your inbox.
See our newsletter privacy policy
here
Most Popular
Most Recent
Big think's weekly newsletter.
Get smarter faster from the comfort of your inbox.
See our newsletter privacy policy
here
© Copyright 2007-2018 & BIG THINK, BIG THINK EDGE,
SMARTER FASTER trademarks owned by The Big Think, Inc. All rights reserved.