A Crowdsourcing Project 72 Years in the Making: The Sign Post Forest in Watson Lake, Yukon
Travelers from around the globe have been adding their local signage to the Sign Post Forest since 1942.
11 September, 2014
The Sign Post Forest is located in the town of Watson Lake in Canada's Yukon territory. As you may imagine, it's the town's most popular tourist attraction. Since 1942, travelers from around the road have contributed over 77,000 signs from their hometowns. The first was a homesick U.S. Army private. From the Watson Lake website:
---
"While working on the Alcan Highway near Lower Post, BC, Private Carl K. Lindley from Company D, 341st Army of Engineers was injured and taken to the Army Aid Station in Watson Lake to recuperate. During that time Carl's commanding officer got him to repair and repaint the directional post. While Carl was carrying out this task he decided to add his home town sign of DANVILLE, ILLINOIS. Carl was known as the homesick, lonesome soldier and he was aware of the tradition that he started and what is now known as the World Famous Signpost Forest."
For more information and photos about Sign Post Forest, check out: YukonInfo.com & WatsonLake.ca
Above photo credit: Jerry "Woody" / Flickr
Below photo credit: Yufei Yuan / Wikicommons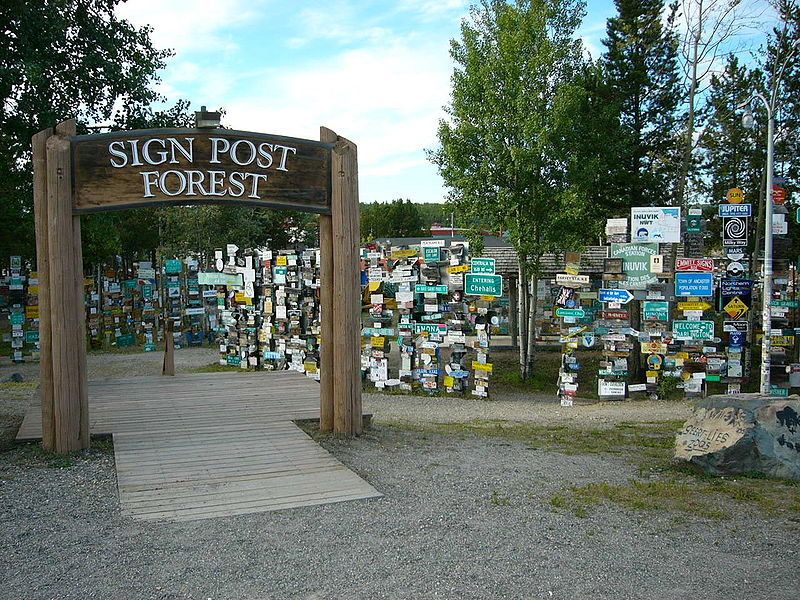 We are constantly trying to force the world to look like us — we need to move on.
Videos
When the Berlin Wall fell in 1989, many Americans jumped for joy. At the time, some believed there weren't going to be any more political disagreements anywhere in the world. They thought American democracy had won the "war of ideas."
American exceptionalism has sought to create a world order that's really a mirror image of ourselves — a liberal world order founded on the DNA of American thinking. To many abroad this looks like ethnic chauvinism.
We need to move on from this way of thinking, and consider that sometimes "problem-solving," in global affairs, means the world makes us look like how it wants to be.
Scientists make an important discovery for the future of computing.
Pixabay
Surprising Science
Researchers find a new state of matter called "topological superconductivity".
The state can lead to important advancements in quantum computing.
Utilizing special particles that emerge during this state can lead to error-free data storage and blazing calculation speed.
French newspapers report that the trial hasn't lived up to expectations.
Image source: Charly Triballeau / AFP / Getty Images
Technology & Innovation
The French government initially invested in a rural solar roadway in 2016.
French newspapers report that the trial hasn't lived up to expectations.
Solar panel "paved" roadways are proving to be inefficient and too expensive.